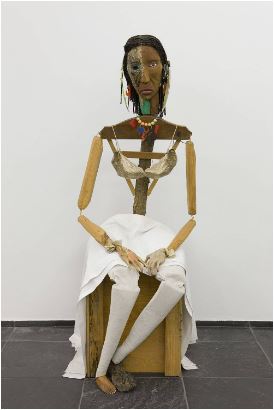 Art Review
BEYOND THE 805
At the Center of the World
Jimmie Durham at the Hammer Museum Los Angeles
Jimmie Durham: At the Center of the World, a retrospective of Durham's work put together by Hammer's curator Anne Ellegood is not only a superb exhibition, infused with the most marvelously incisive wit and visual cunning, it makes a strong case for considering Durham a major contemporary artist, period, and easily one of the best living American artists, not to mention probably the most important indigenous artist on the planet.
One of the biting ironies of this is that Durham does not consider himself an "American artist"--in fact goes out of his way to not recognize the statehood of the United States of America and has imposed a self-exile from American soil since 1986, considering himself a stateless citizen of the world. Nor is this exile a facile European sojourn like those of so many Americans of the past: Durham's is a hard won affair with significant cultural and political implications.
Born as a Wolf Clan Cherokee in Washington, Arkansas at the beginning of World War II, Durham was active in the American Indian Movement [AIM] at the peak of its most radical activities in the 1970s, eventually working his way up to the position of director of the International Indian Treaty Council when it was seeking recognition in the United Nations on an equal footing with other nations. There are few artists who can claim connection to the soil of this nation more than Durham.
Even more bizarre is the fact, thanks to federal legislation enacted in 1990, Durham cannot legally exhibit as an "American Indian" artist without threat of a five-year prison sentence or $250,000 fine or both, since he refuses to register himself as Cherokee with the United States, appropriate/y claiming that the United States government does not have the right or jurisdiction to rule on such matters, thus he will not honor such audacity by submitting to registration. This is wholly consistent with the work's ongoing war against appropriation and his critique of the incessant manufacturing of demeaning stereotypes of indigenous peoples that pervade American media culture.
As Durham mixes images and words throughout his work, often using the language of the place where a piece is initially exhibited, yet, even though he has not shown that much in America a good portion of the work is in English and depends on a fairly good sense of American media history and American history to get the full bite of his references. It leads one to wonder how much of Durham's past audiences have been able to understand his work. What could European audiences have made of so much of the pieces in this retrospective? For that matter, there are dimensions of many works that most English-speaking viewers are not going to get either. Key works use German and Cherokee. Somehow this is appropriate, for there is a sense in much of the work that there are things we cannot all know, sacred secrets pay homage to the right of place and time that shall not be defiled. However, the visual wit is so strong and there is sufficient context in this exhibition that there is plenty to take in even in an extended visit, or two, or three.
One of Durham's great talents is his ability to move between multiple voices, an entire pantheon of archetypes, repeatedly interrupting one voice with another, playing with self-reference and his own persona with a dexterity and ease that allows a multidimensional bite and deeper wit to emerge often to hilarious effect.
My favorite in this regard is a piece titled The Guardian (free tickets) which has a sign containing a text ostensibly voicing the piece's Janus persona addressing the viewer. Soon after this figure gets going on an explanatory narrative of the piece's meaning the text is interrupted: SORRY FOLKS! THIS IS THE ARTIST JIMMIE DURHAM INTERRUPTING HERE! AS SOON AS JANUS MENTIONED OPPOSITES I COULD SEE HE WAS GOING IN THE WRONG DIRECTION. ... it's hilarious, but poignant.
Durham proceeds to make a point about inherent flaws in thesis/antithesis thinking, eventually thanks us for our patience, and ends with (BIT YOU STILL HAVE TO PAY), as we all indeed will still have to pay for the errors of our neat little binary categories, inclusion and exclusion, identity and alienation, our idealistic lies of race and nationality, even if we achieve a more enlightened understanding of ourselves.
Durham profits much by the breadth and depth of this exhibition which attempts to compensate to some small extent for previous neglect of his work by American institutions, shows his work to much greater advantage than many of his solos shows- which have shown work within a narrower range, or the appearance of a single piece in a larger group exhibition; for it is in a show of this scale that we see how truly pervasive and deep is his humor and wit, how thorough his intellectual integrity, how consistent and canny his cultural critique.
Durham throughout displays his keen and unnerving talent for exploiting and exposing what Jonathan Griffin, writing in Art in America rightly calls the "formal and conceptual strategies of appropriation and capricious contextualization" that surround both indigenous art and contemporary politics of the Self and identity.
The exhibition is up at the Hammer Museum on the UCLA campus in Los Angeles through 7 May, 2017; from there it will travel to the Walker Art Center, Minneapolis [22 June to 8 October 2017], the Whitney Museum of American Art, New York [3 November 2017 to 28 January 2018], and then to the Remai Modern, Saskatoon, Canada [23 March to 5 August 2018
Guava, pine branches, oak, snakeskin, , polyester bra soaked in acrylic resin and painted gold, watercolor, cactus leaf, canvas, cotton cloth, metal, rope, feathers, plastic jewelry, glass eye. 70 × 23 ⅝ × 35 in. (177 × 60 × 89 cm). Stedelijk Museum voor Actuele Kunst (SMAK), Ghent, Belgium. Image ©S.M.A.K. / Dirk Pauwels.