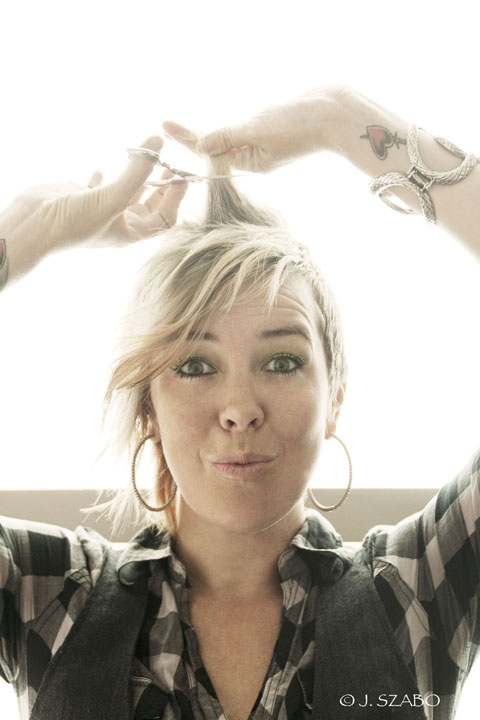 Jillian Nye grew up in Claremont, California. Her first love was musical theater, where she learned to sing, dance, and perform. After high school, her next step in life was to go to cosmetology school. When I spoke with Jillian she said that hairstyling and doing make-up are some of her favorite ways to express her creativity. She later began to look for other mediums in which she could express herself and learn about art. The women in her family are very talented watercolor artists, so she began taking courses to learn. Even in viewing her very first paintings, it is clear that Jillian has an innate artistic talent. Her next venture was to Pomona, where she opened up a vintage store in her studio home, because clothing is yet another outlet for her creativity. While in Pomona, her art teacher recommended her to the Cal Poly art program for children, and Jillian soon began teaching watercolor and portrait drawing while also experimenting with other forms of art such as oil and acrylic painting. She moved to Ventura 3 years ago when her and her son decided to live and volunteer at the McGrath State Park. She lived there until hearing about WAV; after learning about WAV's artistic, communal, and environmental goals, she realized that it would be an amazing opportunity, and she now resides here.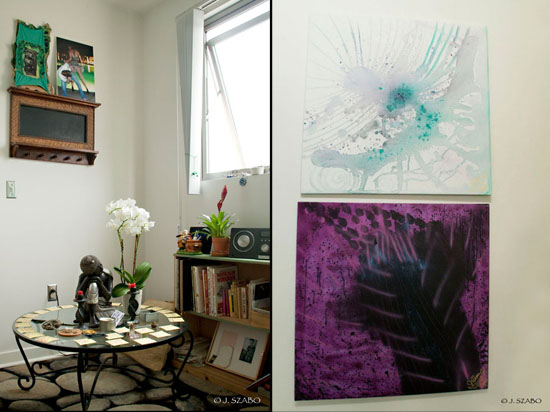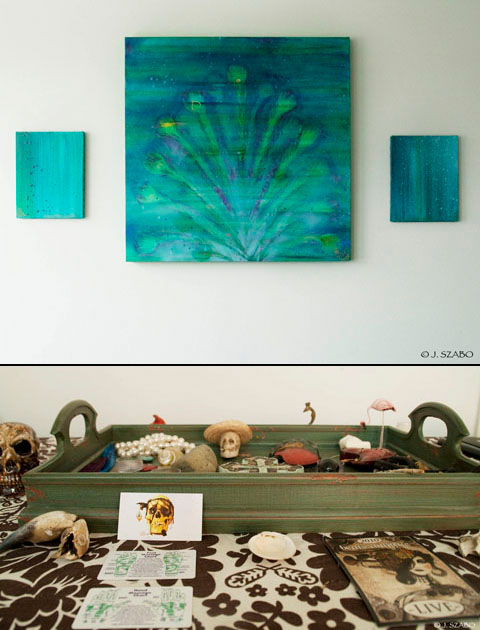 When I asked her what her inspirations are for art, she told me that her emotions are very active in feeding her creativity. She says that music enhances these emotions and allows her to express her feelings accurately. She believes that art should be revealing, inspiring, and entirely authentic, and this shows in all of her endeavors. Jillian says that almost everything she creates, performance or visual, reflects the dynamic of femininity and strength inside her. One example of this would be Hir Bois, which is her drag performance group that presents at Pride festivals and university events. Another example of this dualistic aspect to Jillian is her creation of

Art and Beauty

, an 8 week workshop at the Prototypes Women's Center in Ventura designed to help struggling women create art and enhance both their inner and outer beauty while also helping them overcome their adversities. Though this workshop is over, Jillian says that she would be happy to work on hosting another if contacted about it.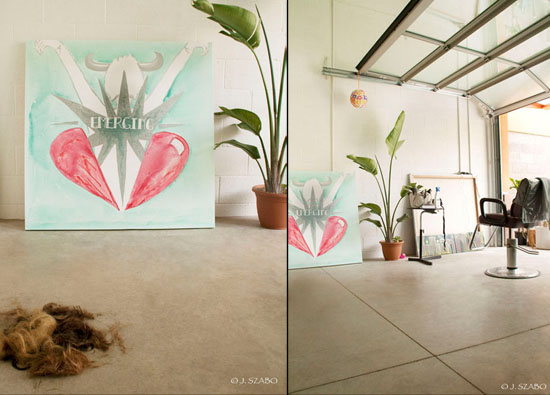 Spirituality is an enormous part of creating art for Jillian, which is why she has a strong urge to combine meditation, beauty, art, music, and community to enhance her work's importance. She plans to continue combining these aspects both in her First Friday exhibitions and in side projects. The community is very important to Jillian because it is through the work of a community that a healthy environment is created, and it is in a healthy environment that one can create art that truly heals the mind, body, and soul. One way in which she urges the community to contribute to environmental causes is by recycling. Recycling/reusing others' clothes is a great way to renew your closet without using new materials! In addition, one of Jillian's favorite forms of art is taking recyclable materials and turning them into pieces of artwork, as she has done with wine bottles on her front porch. Another one of her causes is her call to the hair salon community to use excess hair to help relieve oil spill damage in the ocean, as she demonstrated at the last First Friday. Her hope is that this demonstration will urge salons to get involved in this important issue.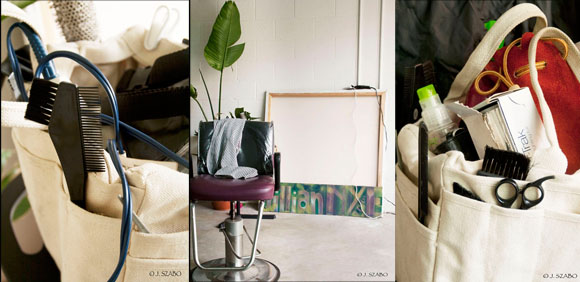 If anyone is interested in one of Jillian's causes, please contact her. She is making plans for a new weekend long event in which she would help women retreat from their lives and alleviate their bodies and minds' troubles through art, music, and food. She also plans to host monthly clothing exchanges. Of course, she continues to paint and exhibit her artwork as well as her spiritual and personal visions through the themed First Friday events that she hosts.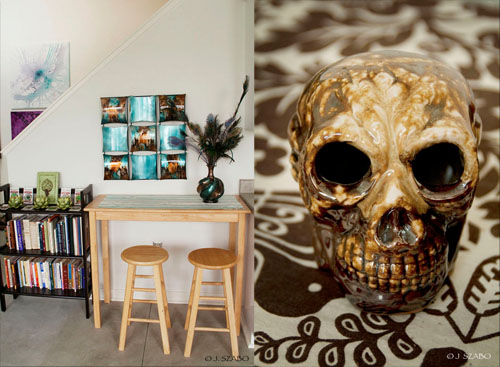 During Ventura's Pride event, which WAV will be hosting on August 28th, Jillian and a friend are planning on doing "gender makeovers" on those who attend as a way to incorporate the expression of art and beauty into Pride. You can contact Jillian via her website http://wavartists.com/JillianNye.html.
photo credit: Jaclyn Szabo