Julia Pinkham

April 2- 19, 2015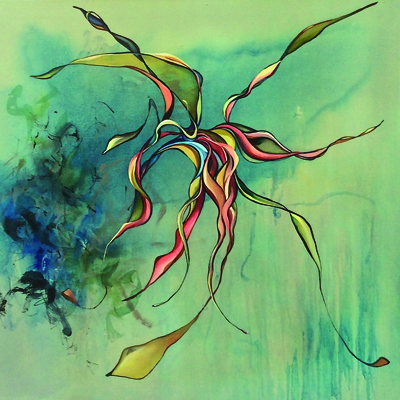 "

Above the Edge of the World
"acrylic on canvas 36" x 36"
To continue the success of Julia Pinkham's "Flight Plan" exhibition we extend the show with

Part II

, adding new paintings to the show and providing another chance to meet the artist (again) in person on

Santa Barbara First Thursday, April 5, 5:00 to 8:00 PM
As abstract and surrealistic as Julia Pinkham's paintings often seem, her inspiration always comes from her daily experience and observations of nature. While much of her recent work dealt with discoveries at the beach, the new pieces in her "Flight Plan" exhibition are rooted in her interest in the endangered monarch butterflies and artistically reflect on their metamorphosis of life.

JULIA PINKHAM has been working full time as an artist since I979. Her career included creative endeavors such as creating a line of clothing of her own hand-painted fabrics, designing prints for a textile company in New York and creating jewelry for Zarah Company of California.

She has written and illustrated a series of Nature Encyclopedia coloring books for Stemmer House Publishers and her watercolor paintings of endangered species were published as greeting cards and T-shirts being sold worldwide. Since 2000 she has been concentrating on creating fine art.

Having lived most of her life by the sea, Julia's artwork has been strongly influenced by nature and the ocean in particular. Her abstract works in mixed media and acrylic reflect her ongoing interest in natural forms. Her work expresses a spontaneous sense of freedom, energy and movement.
Tuesday–Sunday, 12:00–5:00 PM
First Thursday until 8:00 PM
and by appointment only.