Diane Ippel: A renaissance woman
Diane Ippel is a singer, a musician, a hammered dulcimer expert, a photographer, a jewelry designer, a teacher, an environmentalist, a mother, and so much more. Yes, she is truly a renaissance woman of our time. Diane believes that everything happens for a reason. When she heard about WAV earlier this year, she knew that she had stumbled upon it because it was the right move for her. "I have such a strong urge to be green, which is what WAV encourages. I am so excited to create a new culture here," says Diane. She packed up as many of her belongings as soon as she could and made the long trip from Illinois to California. Now, she could not be happier. "I love being near my son [who is also a WAV artist] and being near all of these amazingly talented artists," she says.
Diane has always had a passion for artistic expression. "I've been singing since I could speak." Not long after that, she began to play the guitar and the autoharp. She says that her entire family is gifted artistically, and this gift carried over to her. Her natural talents propelled her to go to school for Art Education. She knew that she wanted to share her knowledge of music and art with the world. She later worked at the Academy of Movement and Music with children. When asked why she loves to work with children, she replied "the first years of a child's life are when they have the most freedom to express art how ever they want to. I love the age when kids still draw purple cows." Though she no longer teaches, this outlook reflects her interest in being very unique and imaginative when creating art.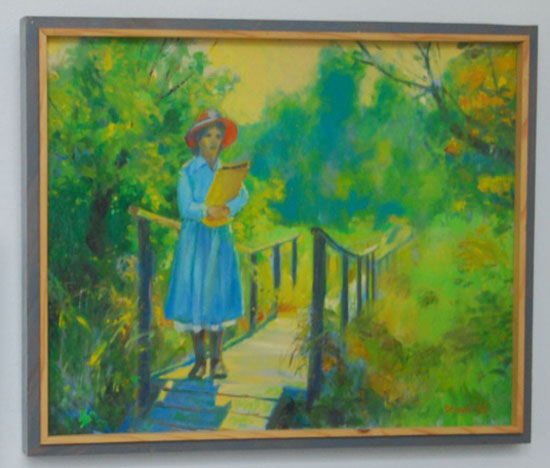 One can see this when watching her perform music. Diane managed to create her own method of play on the autoharp, and she executes this special twist beautifully. She also plays the hammered dulcimer in an inventive way, playing multiple notes at once and therefore creating lovely sounds that are not normally heard. Listening to her play the hammered dulcimer can only be described as a very intimate, emotional, and lovely experience. She enjoys using songs with traditional or "Old Music" styling's, because they are familiar and pleasant to people. Yet, her eclectic style is very much all her own. This talent does not go unknown, for Diane is an acclaimed dulcimer player who started the Hammers and the Noters Dulcimer Society of Illinois. Another one of her claims to fame is founding and coordinating the Gebhard Woods Dulcimer Festival, which has now been around for 18 years. Other accomplishments throughout the years have included being accepted to become part of the Illinois Art Council's not-for-profit organizations, and performing at WAV's private dedication ceremony.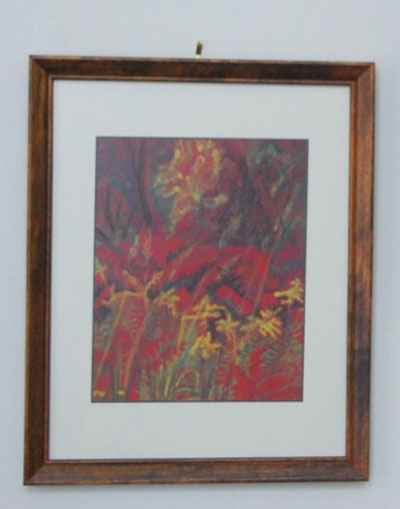 In 2002 she began to collect beads wherever she performed her music, and this inspired her to begin jewelry making. Similar to the way she creates her music, Diane has designed her jewelry so that each piece she creates is unique and unlike other jewelry found in the world. Originally she only worked with glass beads and gems, because she loves transparency in art and is fascinated with how light shines through glass (this could also explain her interest in stained glass work). Now, she is interested in working with different elements; she uses rare precious and semi-precious gems and stones, such as meteorites, lava onyx, and strawberry quartz. Diane does this so that no two pieces are exactly the same, "that way the owners can create their own memories with the jewelry." The way she designs each piece is also very artistic. "I begin with one element, then I find other stones or gems that echo this same appearance and feeling, so that each piece has at least 3 elements to it." The continuity seen within her jewelry reflects this process. All beaded jewelry is set on a strand of sterling silver or gold, and she personally tests each style to make sure that it is enjoyable to wear. Her newest jewelry also includes African Trade beads, which are absolutely beautiful, unique, and full of color. "They are all antiques. You can tell because they have a matte look to them, which means they have been traded through many hands in Africa over the years." Whether using glass, gems, stones, or African Trade beads, it is clear that making jewelry is yet another form of artistic expression at which Diane Ippel excels.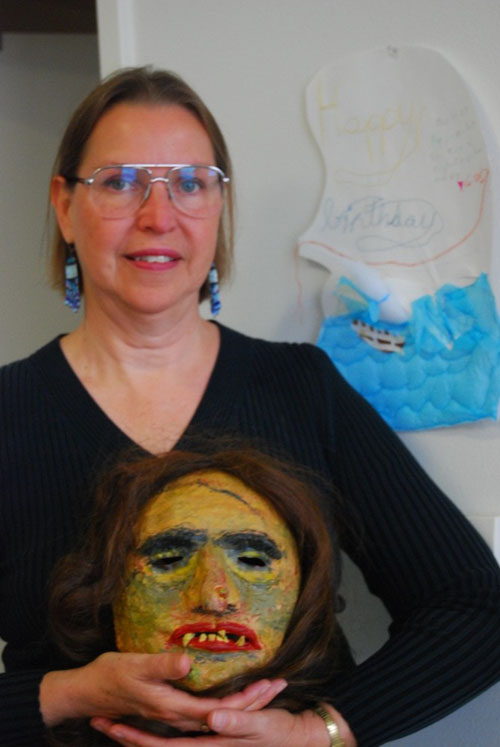 Diane currently has a new CD out titled "Bank of Flowers." This features Diane on the guitar, the autoharp, and the dulcimer. Also, the CD cover art features her photography, taken in her own garden. Please contact her for information about having her perform at hotels, weddings, concerts, etc. Her jewelry is being sold in multiple stores and museums in Illinois, however please contact her or visit her website for more information on locations in the 805. Her studio is open to the public every First Friday at WAV.
For more information on Diane Ippel please click on link.
Photo Credit: Alex Dunn