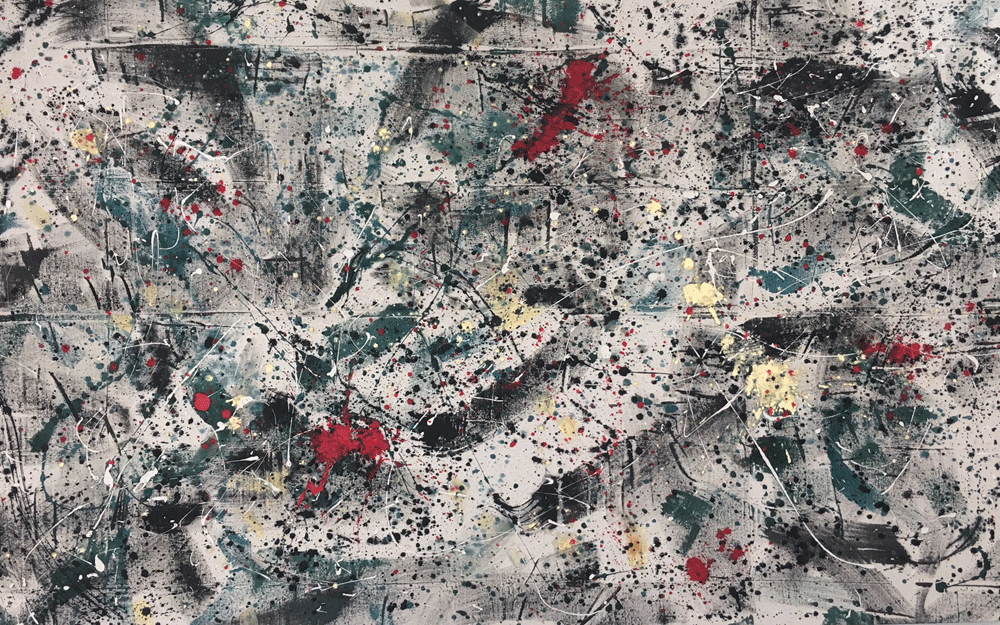 Vonder Gray's exhibition of new work at the WAV is an important show for this artist, the WAV and the greater Ventura art community. Continuing her recent forays into improvisational abstraction, featuring large, sometimes unstretched, paintings on canvas, the new work is more open, expansive, confident, and larger in conception.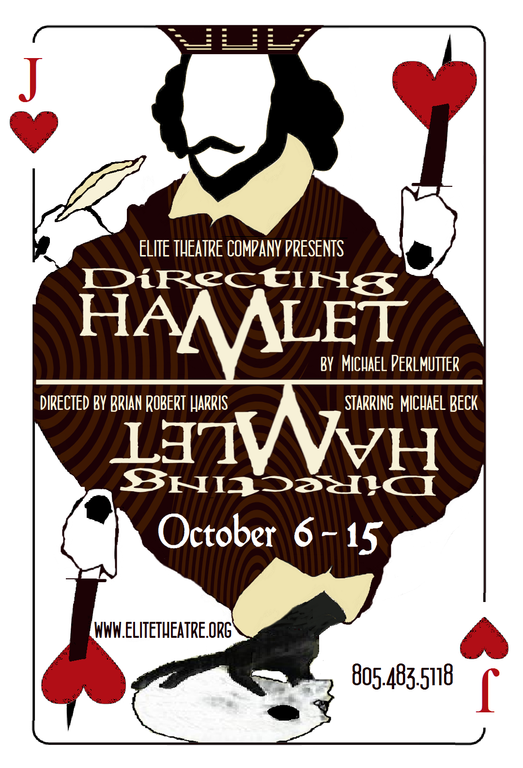 Review-
First, let us hear it for doing new theatre, new scripts, producing local playwrights' new plays, or more courageously yet, workshopping new plays. Plays do not bloom, full-grown, out of the head of Zeus. As they say in Silicon Valley, if you are not doing something new, you have no future.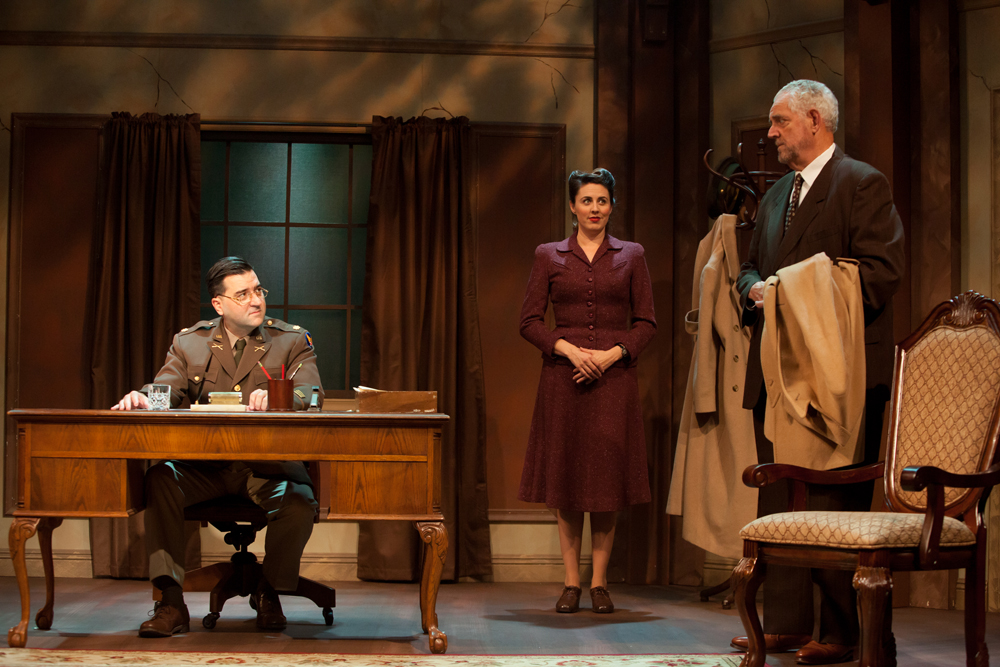 Review-
Rubicon Theatre in Ventura's downtown cultural district is doing Sir Ronald Harwood's
Taking Sides
through 12 November 2017. Harwood did The Pianist and has repeatedly shown interest in World War II-related moral dilemmas. Taking Sides fits right in. It's basically a military tribunal "trial" by the American occupation command in Berlin of Wilhelm Furtwangler, the great German conductor who stayed in Nazi Germany throughout the Nazi era and World War II.
Patrick Vest as Major Arnold, Tara Donovan as Emmi Straube and Peter Van Norden as German composer Wilhelm Furtwängler in Taking Sides by Academy Award-Winner Sir Ronald Harwood and directed by Ovation Award-winner Stephanie Coltrin.
Photo Credit: Josh and Veronica Slavin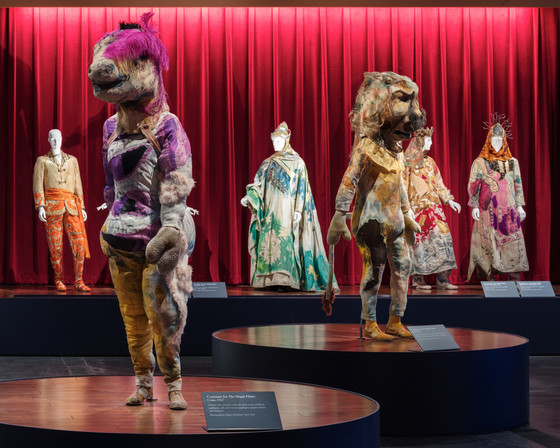 BEYOND THE 805
Art, Theatre, and Costume Design
The exhibition Chagall: Fantasies for the Stage at the Los Angeles County Museum of Art [LACMA] on view until 7 January 2018 is a special kind of exhibition. It deals with Chagall's involvement with specific dance performances during his mature years when he was at the height of his powers drawing from long-held connections to music, stage, and dance. Due to the difficulty of exhibiting this type of material, it is probably, unfortunately, a once-in-a-lifetime experience and may never be repeated.
Installation view, Marc Chagall designed costume for the Magic Flute opera, Chagall: Fantasies for the Stage at the Los Angeles County Museum of Art through 7 January 2018, copyright 2017 Artists Rights Society [ARS] New York / ADAGP Paris. photo: Copyright Fredrik Nilsen.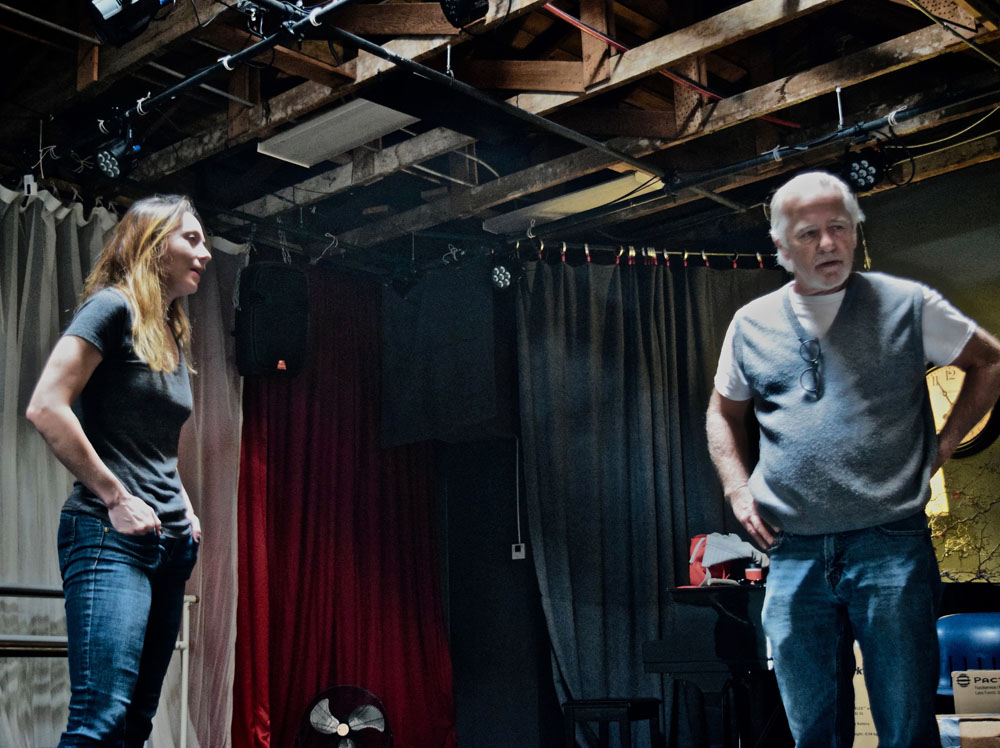 Ventura is getting a special treat: Two of the 805's best acting talents, Jessi May Stevenson and Taylor Kasch, are teaming up to do David Harrower's Blackbird, one of the most remarkable plays written in decades.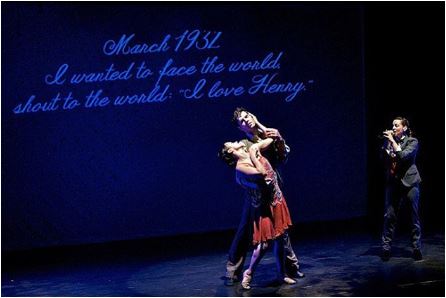 Dance
Anaїs
by Mixed eMotion Theatrix
9 September 2017 -- The greatest strengths of Anaїs, a Dance Opera, other than the conception and timing of doing this work at this time to begin with, is, first, the work of both the lead dancer, Kate Coleman, and the voice, Holly Sedillos, at its center. Second, the choice of doing it with a minimal set backed by a projection scrim and using live and recorded sound, in short, a multi-media piece.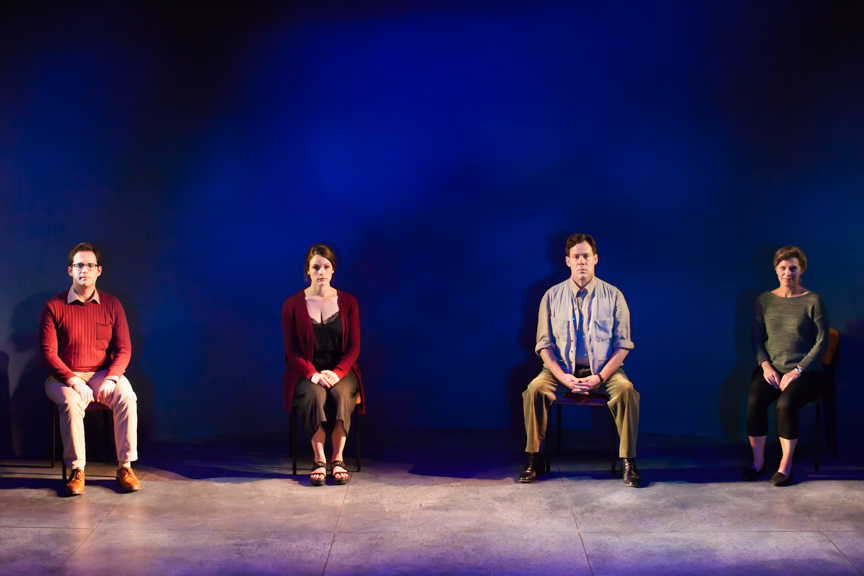 Rubicon theatre presents a fabulous West Coast premiere of Nick Payne's Incognito. Runnng 90 minutes without intermission, the play was originally commissioned and performed by Nabokov and Live Theatre, in Newcastle, UK in 2014 and opened in the US 3 May, 2016 at the Manhattan Theatre Club.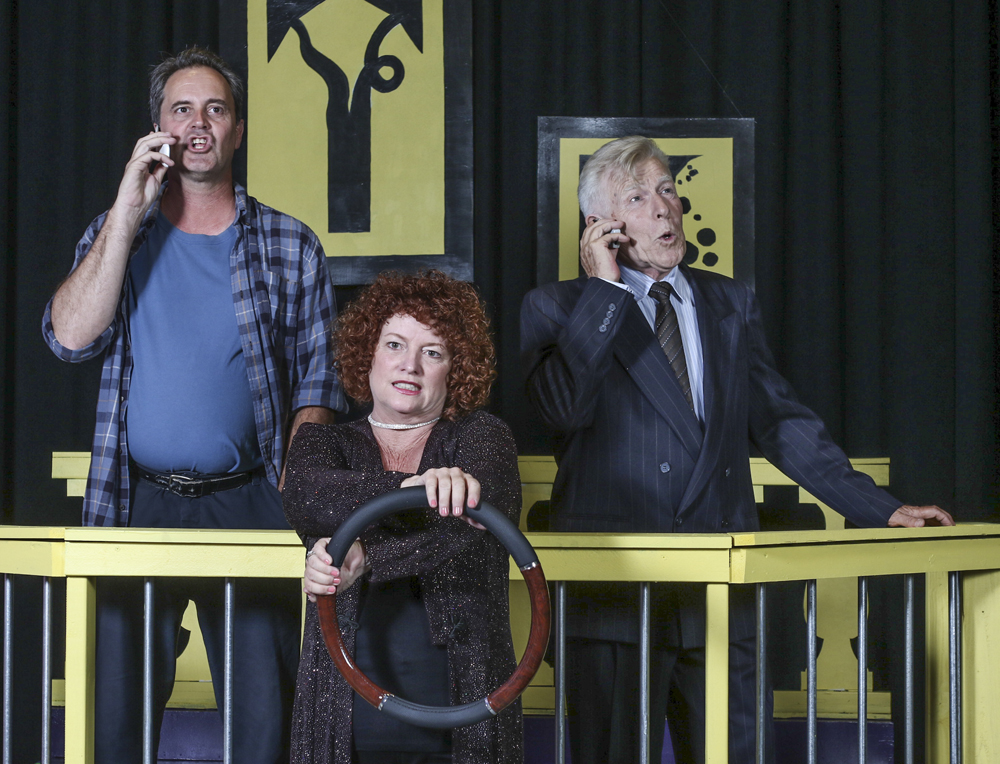 Theatre
Review
Becky's New Car
The Santa Paula Theatre Company is currently offering a delightful production of Steven Dietz's Becky's New Car, an easy-going farce written for a tight ensemble.
The play is set in summer "in a town very much like Seattle …" and is about a fairly normal middle-class woman, Becky, in a conventional ho-hum marriage. Becky works in an auto dealership while her husband, Joe, runs a roofing business. One day a somewhat disconnected, eccentric billionaire, Walter Flood, enters her office and through a misunderstanding offers Becky the possibility of a somewhat parallel existence.
(l)Scott Blanchard, Cynthia Killion, and Ronald Rezac in Steven Dietz' hilarious comedy BECKY'S NEW CAR playing through October 1 at the Santa Paula Theater Center.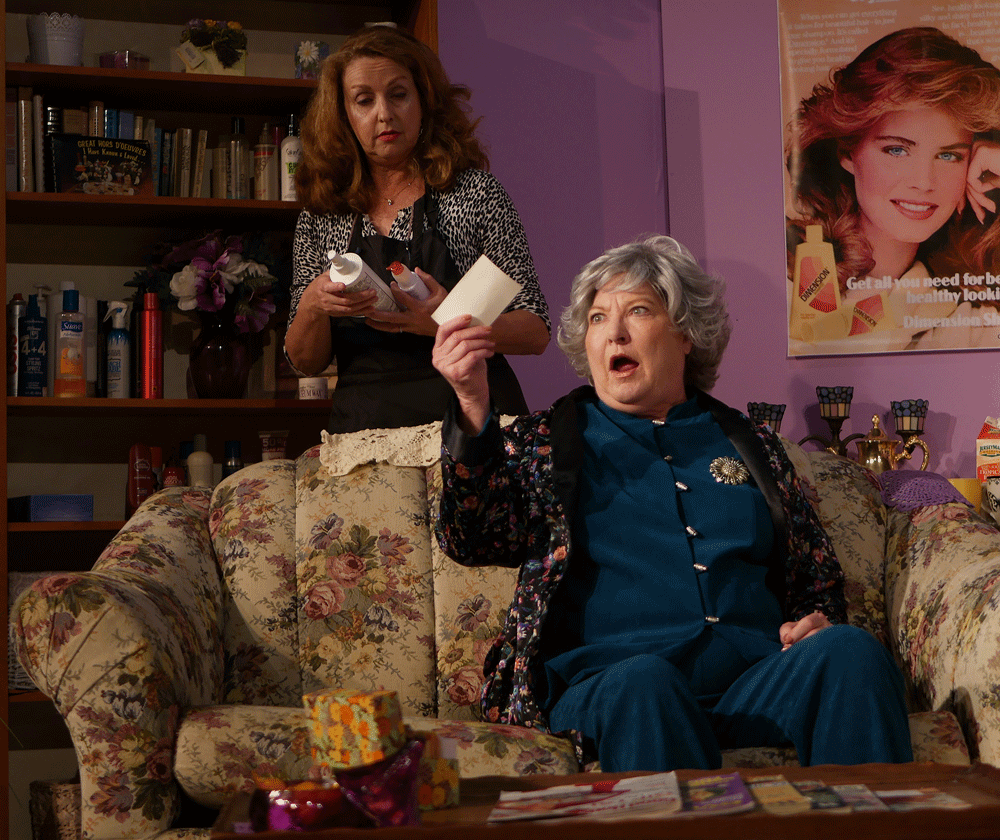 Steel Magnolias at the Elite
The play, Steel Magnolias has been a favorite of both professional and community theatre audiences for almost three decades, enjoying somewhat of a rebirth across the country since its revival with a Broadway debut in 2005.
Kim Prendergast
as
Truvy
and
Peggy Steketee
as
Clairee
,
Elite Theater Co Oxnard, CA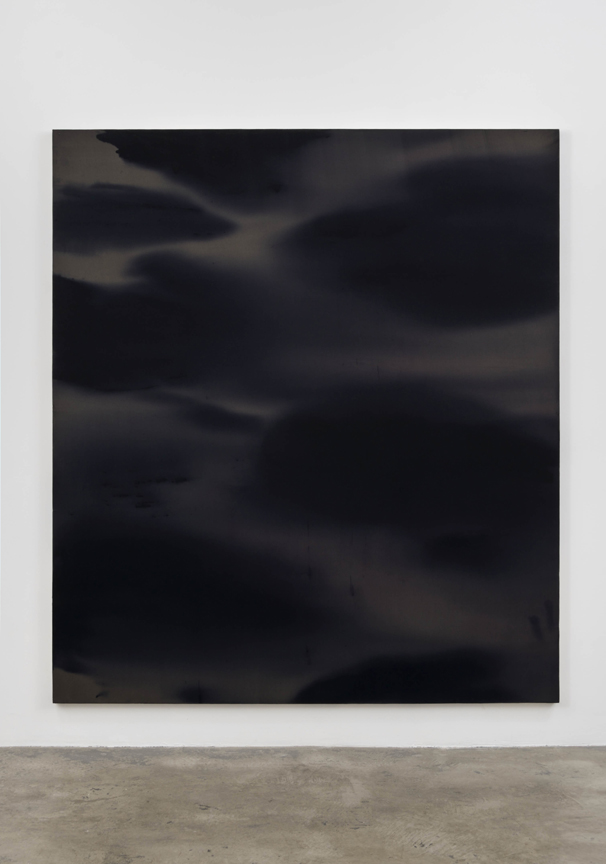 #Throw Back Mondays
(originally posted 6/7/13)
Society805 interviews Mara De Luca in conjunction with her exhibition at Luis De Jesus gallery in Culver City.
Mara De Luca, Elegy II (Night Clouds), 2012, acrylic and collage on canvas, 96 x84 in, Luis De Jesus LA