3 minutes reading time
(692 words)
2018 Medici Award Winners
Studio Channel Islands Names 2018 Medici Award Winners
Artists Gerd Koch and Pat Richards Dodd to be honored at SCI's annual gala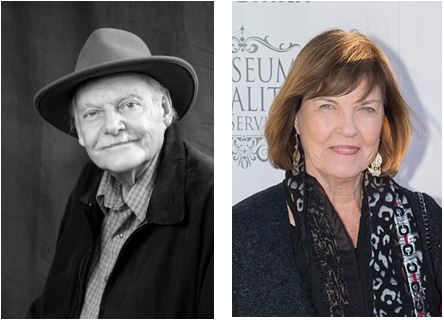 Camarillo, Calif. — Studio Channel Islands (SCI), in celebration of its 20th anniversary, has announced Gerd Koch and Pat Richards Dodds as the 2018 Medici Award recipients. Both Koch and Dodds are founding members of the nonprofit arts organization and have contributed significantly in the development and success of the organization over the past two decades. The Medici Award is SCI's most prestigious honor presented to individuals whose support for the arts is unparalleled and whose work to advance SCI is deserving of its highest recognition. The award will be presented at the annual Art à la Mode Gala, scheduled for September 29 at SCI's Blackboard Gallery.
"This year's honorees are both passionate supporters of Studio Channel Islands and its mission to provide opportunities and venues for artists to engage with the community and share the many benefits art provides," said Peter Tyas, SCI executive director. "Gerd Koch and Pat Richard Dodds have played significant roles in transforming Ventura County into a place where the arts flourish. Gerd joined SCI at its inception, working with the artists-in-residence to bring exhibitions of outstanding art to SCI's original site on campus at the newly-founded California State University, Channel Islands. These exhibitions drew the attention of art critics and established the reputation of SCI as destination worthy of the journey out from the art scene of Los Angeles. Pat was one of those founding artists who developed SCI's first studio space at the new university and worked tirelessly to promote the quality and range of artist work at SCI's studios over the next 20 years."
An instructor since 1953, Koch has contributed to the success of many well-respected contemporary artists. His work actively hangs in numerous California museums, including the Los Angeles County Museum, Pasadena Art Museum, Santa Barbara Art Museum, Carnegie Art Museum, as well as in private collections including the Universities of Montana and North Carolina. A long-time Ventura resident, Koch has influenced the arts in Ventura County for more than six decades, striving for excellence and demanding the best from everyone he works with. Throughout Koch's time with SCI, he has brought a plethora of exhibits that have made SCI a respected gallery space, "To really enjoy the visual arts, it is helpful to have more knowledge of the creative process and to look beyond it simply as entertainment," says Koch. Artists, locally renowned and internationally accomplished, have benefited from Koch's tutelage, including Pat Richards Dodds, John Nava, Suzanne Caporael, Roxie Ray, Elain Thompson, among others.
Camarillo resident, Pat Richards Dodds is one of SCI's original artists-in-residence. Dodds' strong commitment to community has fueled her drive to cultivate a community of artist work spaces for emerging and established artists—a key aspect of SCI. In 2005, Dodds helped to establish the SCI Award for Excellence, an annual award presented to outstanding college and university students pursuing a career in art. The award helps the most inspiring and promising graduates launch their careers with an exhibition at the Blackboard Gallery, and a cash stipend, funded by Dodds and her husband Tom Dodds, is awarded to the exhibition winner. Dodds' own work has been exhibited at the Museum of Ventura County and at the LA Art Association. Through her use of vibrant color, she creates environments that seem to move on the canvas offering a strong presence of fluidity as cast bodies of water in motion or the skies circling above.
The Art à la Mode Gala offers an evening of gourmet dining, an opportunity to see talented artists demonstrating their craft and a chance to walk away with a work of art or other item from the live and silent auctions. The gala is SCI's largest fundraiser with proceeds going to support its art education and outreach programs, and contemporary art exhibitions offered through its artist studios and Blackboard Gallery in Old Town Camarillo. SCI is currently seeking corporate and individual support through sponsorships and auction donations.
For more information on sponsorship opportunities, auction donations and gala tickets, visit www.studiochannelislands.org or call 805-383-1368.
Comments
No comments made yet. Be the first to submit a comment