2 minutes reading time
(369 words)
33 Variations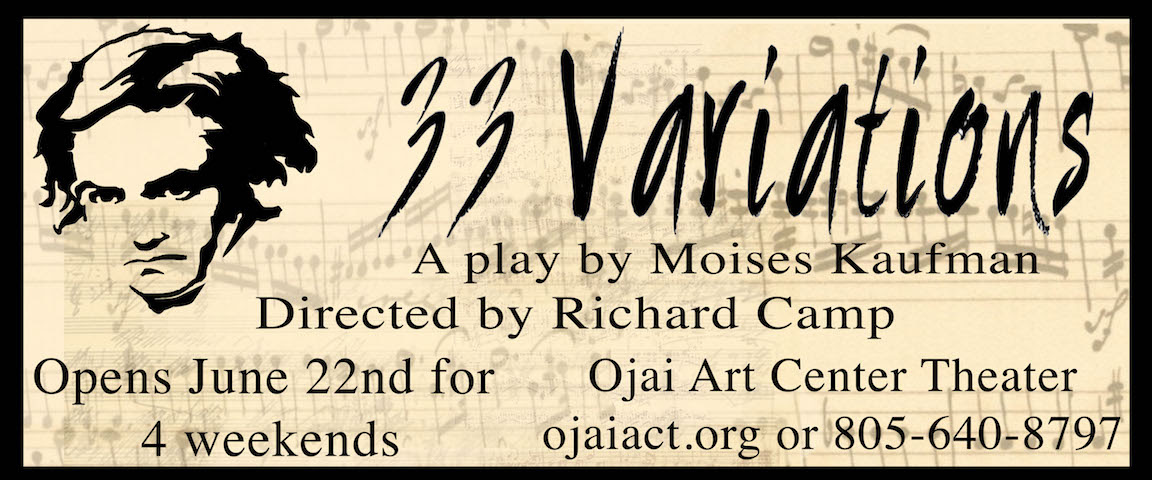 "33 Variations," a play bridging two centuries surrounded by the music of Beethoven, live on stage each performance
Ojai, CA The 2018 season for the Ojai Art Center Theater has been a huge success so far with On Golden Pond, Macbeth and Bakersfield Mist playing to sold-out houses and the reaction from the community so warmly gratifying. The season is on a winding road that has and will continue to break new ground in theatrical offerings for the OACT. That is exemplified through the next production, 33 Variations, opening June 22.
"33 Variations is another relatively new play with which many may not be familiar," said Richard Camp, OACT Artistic Director who is also directing this production. "It holds a special place in my heart because it deals with the passion, power and humor of my favorite composer of all time, Ludwig van Beethoven. If music be the food of love, then this play is a feast of styles and elements. Shifting between the present and the 1800's (Beethoven, played by Cecil Sutton, is a character in the play), modern-day characters interact with those from the past, in an attempt to solve a musical mystery but, not in a way you might expect."
Eye-popping visual images are projected onto and over the entire set, and the audience will hear Beethoven's incomparable music throughout the play, powerfully performed by the extraordinarily gifted classical pianist Aaron Embry. "It's a phantasmagoria of sights and sounds," says Camp.
Playwright Moises Kaufman (The Laramie Project) richly captured the depths of Beethoven's passion by juxtaposing the composer's struggle with deafness with those of a musicologist Dr. Katherine Brandt (portrayed by Tracey Williams) who is dealing with her own physical ailments.
As Camp says, "Two hundred years apart, the passion of Dr. Brandt and Beethoven meld into a story about family, obsession, and ultimately about love… showing that love is the driving force that keeps us living, yearning, exploring, and discovering the places in the heart that serve as reservoirs for our human compassion."
33 Variations opens June 22 for four weekends. Friday and Saturday at 7:30 pm and Sunday matinee at 2 pm. Tickets are available online at www.OjaiACT.org or call 805-640-8797 to reserve seats.
Comments
No comments made yet. Be the first to submit a comment