5 minutes reading time
(943 words)
OPC announces its 20th Anniversary Gala Benefit... CELEBRATING 20 YEARS OF VISIONARY VOICES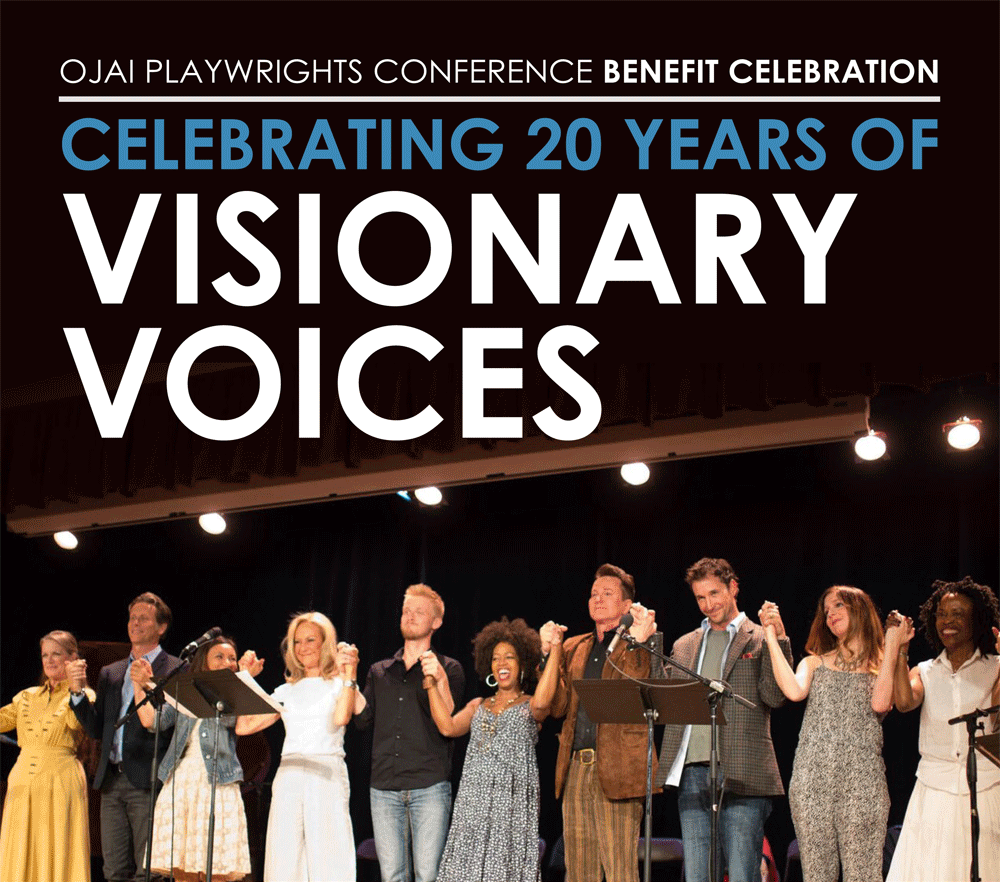 One Night Only! Saturday, April 8, 2017 at 4p.m.
at Matilija Hall and Topa Mountain Winery in Ojai!
Playwright Danai Gurira, Board President Carl Thelander & Producer Gary Ungar to be Honored!
Ojai, CA...The Ojai Playwrights Conference announced today performers and honorees for its 20th Anniversary Benefit Gala – "Celebrating 20 Years of Visionary Voices" Scheduled for Saturday, April 8, 2017, the Benefit begins at 4:00pm at Matilija Auditorium with an extraordinary event created especially for this evening. 20 amazing OPC artists celebrate 20 years of creative excellence with original dramatic works that honor the ground-breaking efforts of OPC and the necessity of the artist's visionary voice in today's world. The all-star lineup includes performances by Luis Alfaro, Lucy Alibar, Robert Askins, Jon Robin Baitz, Perla Batalla, Stephen Belber, Bekah Brunstetter, Bill Cain, Davis Gaines, Nick Gandiello, Linda Gehringer, Sam Hunter, Terrence McNally, Christopher Gabriel Núñez, Jiehae Park, Sarah Treem, Gideon Wabvuta, Steven Weber, Charlayne Woodard & Musical Direction by Michael Sobie. Following the show, the festivities continue at Topa Mountain Winery, with a evening of fine wines, festive cocktails, a "Farm to Table Feast" prepared by some of Southern California's finest chefs, and a live auction featuring fabulous trips and entertainment packages!
ABOUT THE HONOREES AND EVENING
The honorees for this very special 20th Anniversary event are: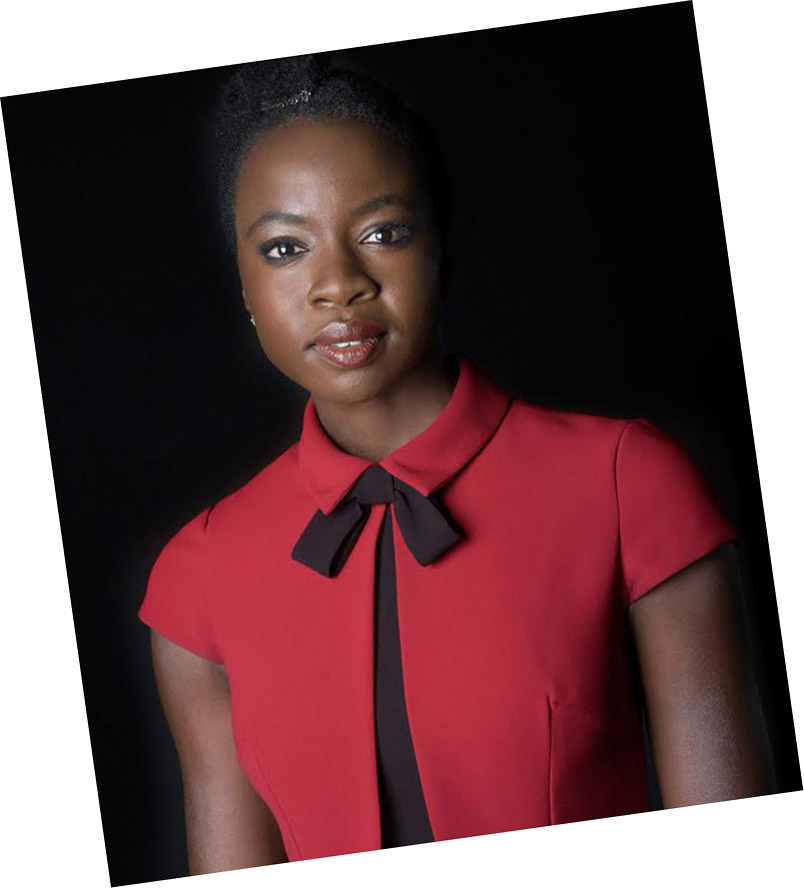 DANAI GURIRA is an internationally renowned playwright, actress, activist and philanthropist. She has been developing her extraordinary plays at OPC for over a decade. We honor Danai for starring in TV's The Walking Dead and numerous feature films, and her acclaimed plays from In The Continuum to her Broadway hit, Eclipsed. Establishing an international relationship between OPC and the Almasi Arts Alliance in Africa, we honor Danai for her artistic vision and humanitarian activities that bring the world together in greater understanding and hope.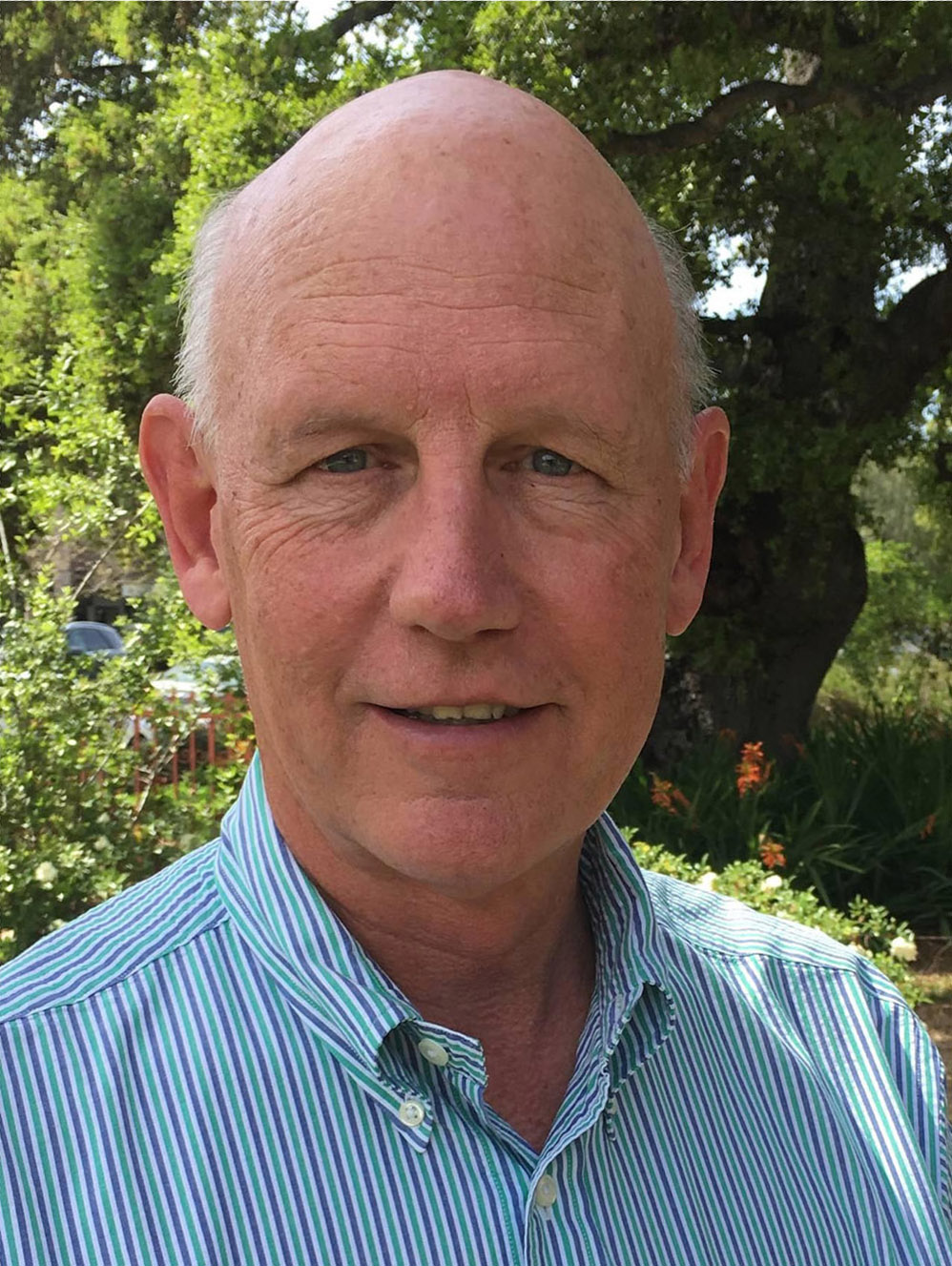 CARL THELANDER, OPC's visionary Board President, has guided the Conference through an unprecedented period of artistic growth and financial health. Not only does Carl lend his strong leadership to the OPC mission and give generous financial support to all OPC operations, he also opens his home to artists and staff for communal meals and guest housing throughout the year. We honor Carl for his unselfish, loving and steady guidance of OPC.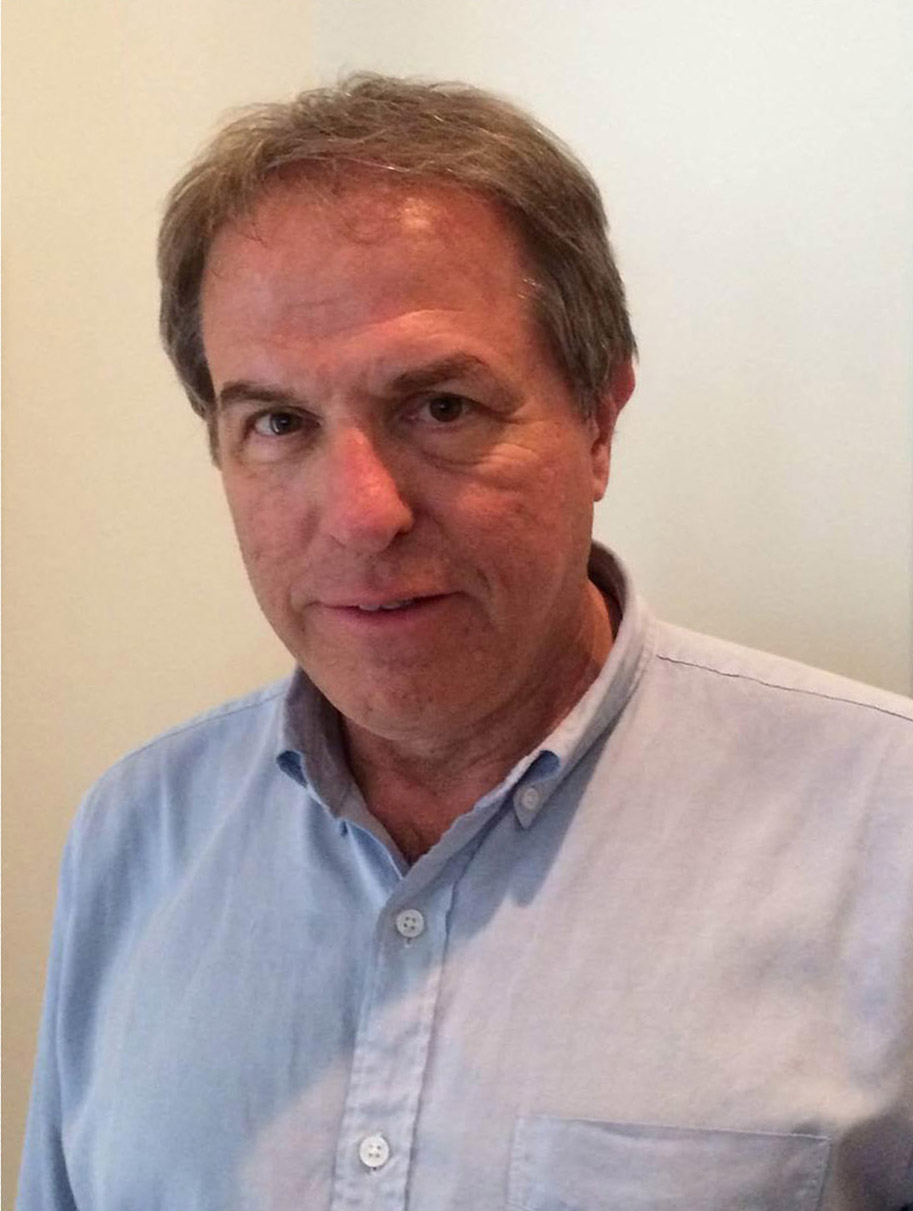 GARY UNGAR is an internationally renowned producer, creative representative and developer of leading film, television and theatrical talent, including Guillermo Del Toro, Jennifer Kent and Damien Chazelle. He has been involved from the early stages with Mr. Chazelle's current hit, La La Land. A longtime OPC Board Member, he has been a visionary force connecting OPC with emerging talent from around the world and with innovative thinkers from the larger entertainment community. We honor Gary for his generosity of spirit in deepening the artistic impact of OPC throughout the community.
This original evening of theatre will be directed by OPC Artistic Director/Producer Robert Egan. An afternoon of artistic passion and theatrical power! Monologues, scenes and songs will soar and inspire us all to embrace the great OPC work that lies behind and ahead.
Comments Producing Director Robert Egan, "We are thrilled to have so many of our talented, committed OPC playwrights and artists coming to Ojai for our 20th Anniversary Celebration. I cannot think of a better opportunity to envision the future. Brave, immediate, surprising and engaged -- this is a once in a lifetime opportunity to see this collection of writers, singers and actors on stage at the same time. Join us! It is not to be missed!"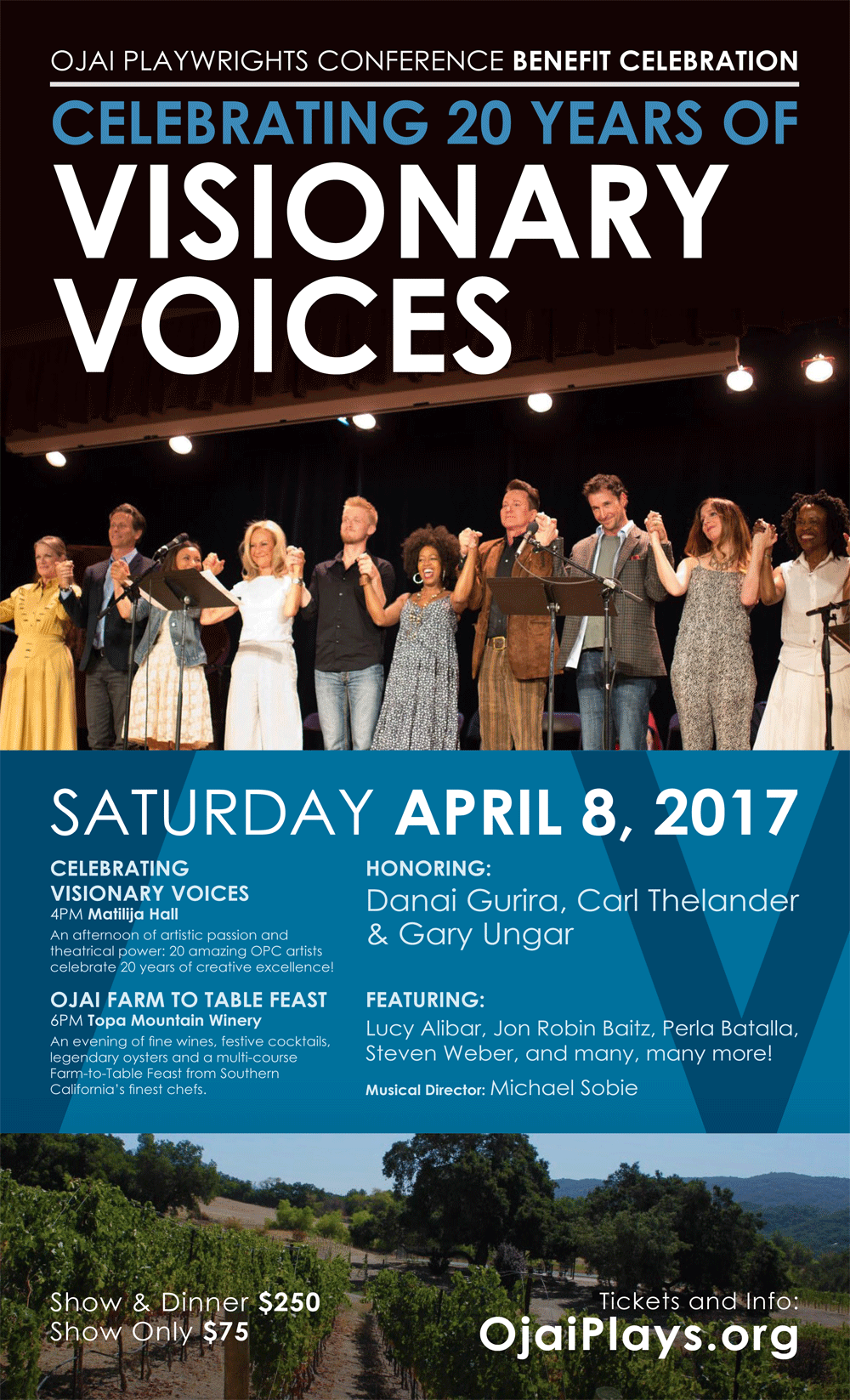 ABOUT OJAI PLAYWRIGHTS CONFERENCE
Every summer, theatre professionals and enthusiastic audiences from Southern California converge in Ojai Valley to participate in the development of new plays for the American theatre. Under the direction of Artistic Director/Producer Robert Egan, carefully selected playwrights from all over the world join together for an intensive two-week, in-residence workshop program that culminates in OPC's popular public workshop series – known as the "OPC Summer New Works Festival."
In addition to the presentation of new play workshops, prominent artists from the theatre community appear in engaging public forums for an exchange of ideas on a range of cultural and artistic subjects in the "Intersections Series." The Ojai Playwrights Conference is also committed to nurturing the writing talents of Southern California youth. Through the OPC Youth Workshop program, high school students participate in a mentoring program with visiting theatre professionals and create their own dramatic works, which are performed during the Festival.
Many of the plays developed at OPC have received high praise and recognition including Tony Awards, Pulitzer Prize nominations, The Susan Smith Blackburn Prize, Steinberg/ATCA New Play Awards, Obie Awards and Helen Hayes Awards. Additionally, plays developed at OPC have gone on to prominent productions at theatres throughout the United States and around the world, from the Mark Taper Forum, The Public Theater, Goodman Theatre, Seattle Rep, La Jolla Playhouse, The Old Globe, Oregon Shakespeare Festival, Broadway, and London's West End to theaters in Asia and Africa. This year, OPC's 20th Anniversary Summer New Works Festival will take place from July 31 through August 13, celebrating 20 years of nurturing the visionary voices of artists for the stage.
ABOUT TICKETS AND LOCATIONS
Ticket options for the Benefit are $75 for the Show only; $250 for the Show, Dinner and Auction; $1,000 for a Patron Package of Two; VIP Packages for Eight and Ten which includes preferred seating and program advertising are available for $3,000 and $5,000. Tickets may be ordered online at www.ojaiplays.org. This event will sell out, so early ticket orders are encouraged.
The Benefit Performance will begin at 4:00pm at Matilija Hall, 703 El Paseo Road, Ojai, 93023 – Followed by dinner and auction at 6:00pm at Topa Mountain Winery, 821 West Ojai Avenue, Ojai, CA 93023.
Related Posts
Comments
No comments made yet. Be the first to submit a comment