3 minutes reading time
(518 words)
Three Week Comedy Theatre Camp Inside a Real Theatre!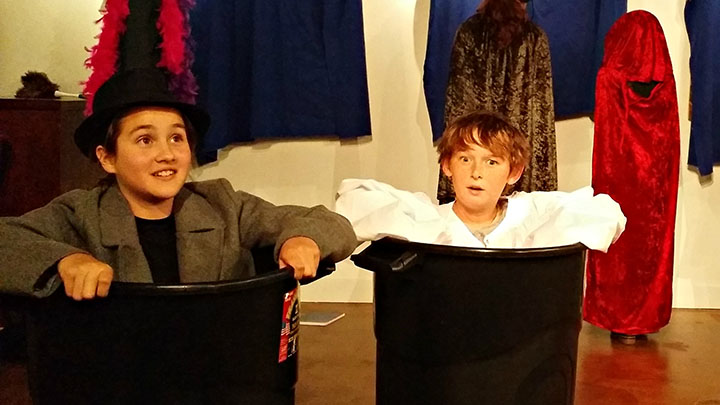 For the first time ever,
Gold Coast Theatre Conservatory
and
Young Artists Ensemble
will join together to present a
Summer Theatre Camp
. This inaugural camp offering provides an opportunity for young people in grades 3 – 12 to present a full-length comedy play, while learning comic timing, character development, voice, and movement skills. The camp setting is Mondays through Fridays from 9 am to 3 pm, July 9 through 27. Performances are in the Theatre on the Hill at the Hillcrest Center on Friday and Saturday, July 27 and 29, 2018. Classes are in Thousand Oaks at the Four Friends Gallery,
1414 Thousand Oaks Blvd
. for the first two weeks and will move up to the Theatre on the Hill,
403 W. Hillcrest Drive
for the final week of tech rehearsals in the theatre. Space is limited to 20 students and there is no double-casting.
"This summer program is designed for kids who don't want to do a musical, but want to have a fun time rehearsing a play and learning how to perform comedy," says Founding Artistic Director Stephanie Wilson.
"We are very excited to continue our relationship with Gold Coast, now in a Summer Camp setting," says Scott Buchanan, CRPD Cultural Program Supervisor. "Gold Coast provides a strong foundation in teaching the skills of theatre, so they are a great complement to what Young Artists Ensemble provides." The Conservatory has written a play specifically for this session called "The Absurdly Hysterical Vaguely Midsummer Dream", a comedy in two acts. Says instructor and director Billy Parish, "We enjoy personalizing the play just for the students, so each will have something challenging to do that fits their skills and pushes their comfort level just a bit. And this allows us to provide an ensemble experience, so there are no 'leads'- everyone is a star."
In addition to rehearsing for the final production, students attend master classes with guest teachers in Audition Technique, Stage Combat, Character Breakdown, Movement, Diction, and Comedy. Classes are taught by Billy Parish, graduate of the London Academy of Music and Dramatic Arts, The National Theater Institute and the Moscow Art Theater, and Kati Olexiewicz who currently teaches Sunday classes for Conejo Recreation and Parks District and worked as a child-actor supervisor and counselor for the Los Angeles American Girl Revue and Production Associate at Cabrillo Music Theatre.
Since 1994 Gold Coast Theatre Conservatory has been giving young people a solid foundation in the basics of theatre. The fun and engaging training at Gold Coast Theatre Conservatory is designed for young actors to work with their peers, providing a unique youth theater opportunity for all ages. The best education is a well-rounded one, so The Conservatory encourages students to explore every aspect of the theater.
Gold Coast Theatre Conservatory and Young Artists Ensemble are supported by tuition and through the support of private donors and the City of Thousand Oaks. Tuition for Summer Camp is $600 per student. Some partial scholarships are available. For information call 805/427-5314 or visit www.goldcoasttheatreconservatory.com. Tickets for the performance are $10 and can be purchased at (805) 381-1246 or www.hillcrestarts.com.
Comments
No comments made yet. Be the first to submit a comment