3 minutes reading time
(603 words)
West Coast premiere of 'What Happened When' by Rattlestick's Daniel Talbott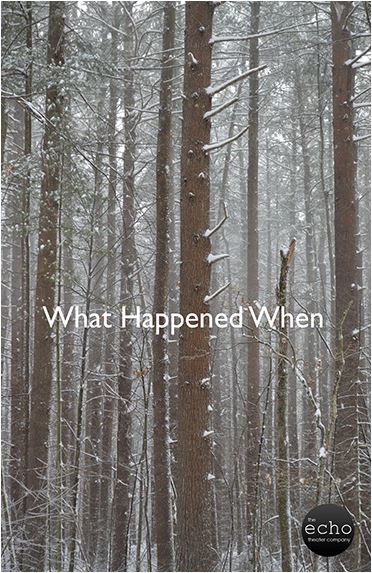 Echo Theater Company presents West Coast premiere
of 'What Happened When' by Rattlestick's Daniel Talbott
Following 3-week limited engagement, production will re-open
this summer and again in fall, each time with a different cast
LOS ANGELES (March 12, 2018) — Brooding, compelling, funny and startling. Memories unravel and dark truths are revealed in a haunting ghost story by Rattlestick Playwrights Theater's Daniel Talbott (Slipping). Chris Fields directs the West Coast premiere of What Happened When for The Echo Theater Company, opening at Atwater Village Theatre on April 12. Following the production's three-week run through April 26, What Happened When will re-open this summer and again in the fall, each time with a different cast.
On a snowy night in a rural farmhouse, three siblings huddle together in the dark with a flashlight, while the audience (unseen by them) gathers closely around.
"Expect to be fully immersed in Daniel's beautiful, provocative and disturbing memory play," says Fields.
The ensemble for What Happened When includes Kenzie Caplan, Randall Clute, Matthew Gallenstein, Mara Klein, Ellen Neary, Chris Stack, Joey Stromberg and Libby Woodbridge. Clute, Neary and Stack will kick off the initial run, which runs Tuesdays, Wednesdays and Thursdays at 8 p.m. — evenings when the Echo/Circle X co-production of Yusuf Toropov's An Undivided Heart is dark. Performances will resume later in the year, on off-nights for Echo productions of Cry It Out by Molly Smith Metzler in the summer and Gloria by Brenden Jacobs-Jenkins in the fall. Each run will feature a different combination of ensemble members.
The creative team includes set designer Amanda Knehans, lighting designer Rose Malone, sound designer John Zalewski and costume desiger Elio Oliver.
What Happened When enjoyed a sold-out run when Rattlestick premiered it off-Broadway at HERE Arts Center in New York. It was later produced by The Side Project in Chicago and was published as part of the "Plays and Playwrights" anthology. TIME OUT Chicago calls it "a work of spare and haunting power."
Founded in 1997 and dedicated to producing new work, the Echo Theater Company was received 13 Ovation Award nominations for its 2017 productions, including "Best Season." The company was anointed "Best Bet for Ballsy Original Plays" by the LA Weekly in its 2014 Best of L.A. issue and was a recipient of a 2016 "Kilroy Cake Drop"– one of only 13 theaters in the country to be surprised by cakes to honor the efforts they are making to produce women and trans writers. Under the leadership of founding artistic director Chris Fields, the Echo has introduced Los Angeles to playwrights such as David Lindsay-Abaire, Adam Rapp, Sarah Ruhl, Adam Bock and Miki Johnson among others. The company is also recognized for its acting ensemble; in the Los Angeles Times, theater critic Charles McNulty wrote, "Echo Theater Company, which has cultivated a community of top flight actors, would be my go-to place in Los Angeles for symbiotic ensemble acting." KCRW's Anthony Byrnes stated, "It's time to start paying attention to the Echo Theater Company… What's made these choices pay off is the acting and casting has been superb. The company has made bold choices and backed them up."
The initial run of What Happened When opens on April 12 with performances thereafter on Tuesdays, Wednesdays and Thursdays at 8 p.m. through April 26. There will be one preview performance on Wednesday, April 11 at 8 p.m. Tickets are $34, except the preview performance which is Pay-What-You-Want. Atwater Village Theatre is located at 3269 Casitas Ave in Los Angeles, CA 90039. On-site parking is free. For reservations and information, call (310) 307-3753 or go to www.EchoTheaterCompany.com.
Recommended for mature audiences 18 and up.
Related Posts
Comments
No comments made yet. Be the first to submit a comment