4 minutes reading time
(878 words)
Ojai Music Festival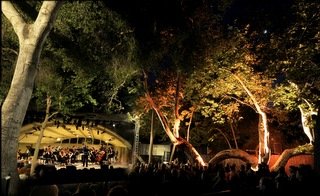 New Music
Ojai Music Festival
Here in the 805 we have some of the most world-renown arts festivals in the United States. In Santa Barbara we have the annual Santa Barbara Film Festival, which has grown into a major force in the international film world, now being the closest thing to the Cannes Film Festival in the Western Hemisphere. Others try to claim this title of course, but Santa Barbara's Film Festival walks its talk. In the realm of music, and more precisely New Music, the Ojai Music Festival has garnered a world-wide reputation unique to itself.
Running for four days [this year the Ojai Music Festival will run from Thursday 7 June through Sunday 10 June 2018, at various venues] the festival continues to bring the leading edge of musical composition and performance to our ears.
In recent decades New Music has seen a blending from all directions reaping the benefits of a virtual renaissance across multiple musical genres from contemporary symphonic composing, electronic music/New Music, to contemporary New Jazz, to World Music, to Contemporary Opera and beyond, drawing on a tremendous international pool of young top-flight performing talent and rapidly evolving developments in contemporary composing. As Jay Campbell of the JACK quartet said during a pre-Festival interview and performance, the technical abilities of the performers in this arena have reached "insane levels" of technical virtuosity.
Founded in 1947, the Ojai Music Festival has brought together top-flight performing artists and composers with an international audience curious about what is new in the world of composing and performing music within intimate performance settings. All right here in the 805 in Ojai. Thus creating a unique and extremely high caliber musical experience for all involved.
As its program states: "The festival presents broad-ranging programs in unusual ways with an eclectic mix of rarely performed music, refreshing juxtapositions of musical styles, and works by today's composers. The four-day festival is an immersive experience with concerts, free community events, symposia, and gatherings. Considered a highlight of the international music summer season, The Ojai Music Festival has remained a leader in the classical music landscape for seven decades."
The Ojai Music Festival was created with a rather unique format that solved the problem of the tension between the need for ongoing, long term stability and direction and the need for innovation and new perspectives brought in by new leadership. Typically arts and music festivals have a single director for a few years, which provides continuity and the ability to make long-term decisions and work with the multi-year lead times today's top-flight bookings require. Then the need for new blood and ideas enters in, often chaos ensues and at the very least disruption as the festival transitions to a new director, who, more often than not, comes in with completely different priorities and approaches.
The Ojai Music Festival did something different. They select an Artistic Director who presides over the festival for a longer stint, often for more than a decade, who then selects a Music Director for each year's festival. This creates new input every year and brings in fresh perspectives on a much more aggressive timeline than usual. Further, because of the extreme long-term stability of the festival, its core organization and funding, it is able to select its new directors years in advance and the music directors are also selected years in advance, at this point, four years in advance. Thus they are able to get priority bookings for key artists while maintaining an extremely dynamic intellectual approach to each year's content. Content that has included a fair share of World and North American premiers, specially commissioned works, or rarely performed works of unique character and quality.
Through this unique structure of its Artistic Director appointing an annual Music Director, the Ojai Music Festival has been able to bring a ""who's who" of music to Ojai over the years, including such greats as Aaron Copland, Igor Stravinsky, Olivier Messiaen, Michael Tilson Thomas, Kent Nagano, Pierre Boulez, John Adams, Esa-Pekka Salonen, Robert Spano, Pierre-Laurent Aimard, David Robertson, Eighth Blackbird, George Benjamin, Dawn Upshaw, Leif Ove Andsnes, Mark Morris, Jeremy Denk, Steven Schick, Peter Sellars, and Vijay Iyer."
This year's Music Director is Patricia Kopatchinskaja, who will be followed by
Barbara Hannigan (2019), Matthias Pintscher (2020) and Mitsuko Uchida (2021) as future Music Directors. Chad Smith has also been announced as the next Artistic Director, starting in 2020 [Thomas W. Morris is the current Artistic Director and will continue his leadership through 2019].
The Ojai Music Festival will draw thousands of highly engaged music enthusiasts
from across the country to the Ojai Valley. In its continuing efforts toward more fully engaging the local community, the festival includes free attendance for selected events and free access for most events via live and archived video streaming at OjaiFestival.org.


2018 Ojai Music Festival single tickets are available and may be purchased online at OjaiFestival.org or by calling (805) 646-2053.
2018 Ojai Music Festival single tickets range from $45 to $150 for reserved seating and lawn tickets for $20.
Pre-concert interviews are broadcast through the Festival's free live streaming program.
For up-to-date Festival information, artist biographies and photos, and access to concerts, and other information visit the Ojai Music Festival website at OjaiFestival.org.
Visit OjaiFestival.org for details.

Related Posts
Comments
No comments made yet. Be the first to submit a comment