Review-
The Rubicon Theatre Company of Ventura is currently showing the West Coast Premier of a very special project. Not really a play as such, or even what used to be called a "review", The Devil's Music: the Life and Blues of Bessie Smith is an extremely well-done hybrid whereby we, the audience are brought into a live speak-easy performance by Bessie Smith, the early pre-war Blues legend whose influence has shaped so much music since, from post-war small-band jazz to rock and roll.
What makes this evening special is the magic and power of Miche [pronounced "Mickey"] Braden's performance as Bessie Smith, "Empress of the Blues", and the fine ensemble of James Hankins on bass, Gerard Gibbs on piano, and Anthony Nelson Jr. on saxophone backing her up. The musicians not only play, but enter into a revealing and well-done banter with Smith between numbers, lending depth and context not otherwise available in a typical "review" performance.
Every so often a living artist is able to empathize with another artist and enter into a past artist's work in a way that not only retains a certain very difficult to reach authenticity, but to further reveal that artist's relevance to the current times.
This is what Braden does, she inhabits her role as Bessie Smith so completely, with such depth that we come to know and understand the music of Bessie Smith in a new, and much more deeply rewarding way. We learn things we did not know before; things that are important, not only for the music of Bessie Smith, but for the understanding of the music of our own times, and we learn things about our past, our history and the struggles of Blacks in America, and of the history of our American culture, that we did not know before or did not feel in quite this way.
None of this would have been possible, of course without the rich talent of Braden and her ensemble; but also much credit is due the excellent writing of Angelo Parra and the direction and conception of Joe Brancato, who with Branden did the original Off-Broadway production in 2001 that was named one of the ten top Off-Broadway production of the year by the New York Daily News. Branden also did the musical arrangements and direction.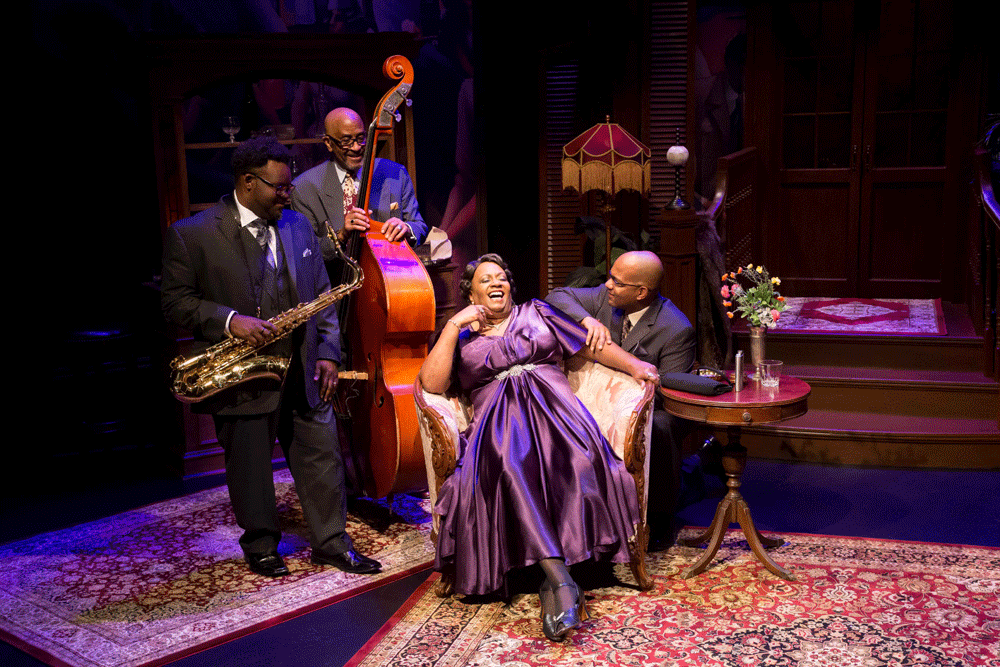 Anthony E. Nelson, James (Jim) Hankins, Miche Braden and Gerard Williams Gibbs star in the
Rubicon Theatre Company's
premiere production of
"
THE DEVIL'S MUSIC: THE LIFE AND BLUES OF BESSIE SMITH"
Photo Credit: Ronnie Slavin
The original show was described as a "bawdy, bluesy, boozy rollicking night out at the theatre" and the Rubicon production certainly is that. The Rubicon adds to this a luscious set by Brian Prather, excellent lighting design by Todd Wren, costumes by Patricia Doherty, and sound design by Jonathan Burke.
The piece begins as Bessie Smith avoids crowds and ducks into a familiar speak-easy to drink gin and provide the patrons a little live performance of some of her most-loved hits.
But there are odd little moments, interruptions, premonitions of an end that draws near, that Smith's fast life may be catching up with her. It turns out this will be Bessie Smith's last performance: she dies in a tragic car crash only hours later, eclipsing an unlikely and legendary career that was already going into eclipse due to a shift in musical tastes toward swing and big band jazz.
One of the great ironies of Bessie Smith's life is that the very musical shifts that were causing problems for her career would in turn be eclipsed by a post-war era that would return to the very musical roots that Bessie Smith promoted and even to Bessie Smith herself. The post-war era featured innumerable covers of Smith's most popular blues, from "I Need a Little Sugar in My Bowl" to the "St Louis Blues" played by everyone from a long succession of new generations of Blues musicians, to Bee-Bop-era jazz renditions, to early rock and rollers. At one point, Janis Joplin paid for a decent headstone for Bessie Smith's grave, making sure that the world would not forget the incredible influence of Bessie Smith's music on her music and the birth of rock and roll.
Bessie Smith was so far ahead of her time that most of her music, if played today, still fits right in and many people who heard the blues covers of her tunes in the 1950s and 60s thought they were hearing a current, new tune. Yet Smith had sung those tunes decades earlier to enthusiastic audiences across the country. When she died she was the highest paid working Black musician in the country.
Miche Branden pays fine tribute to the best of Bessie Smith. She does not hide the bawdy and sexual side to her nature or her flaws, but revels in the natural power of Bessie Smith accepting herself as who she is, no apologies to no one, thank you very much. As Lady Ga Ga would say, "I can't help myself, I was born this way." Well, Bessie Smith was the original on that score, setting the mold that would be followed by countless later musical legends.
All in all, the show is funny, the music fabulous, the spirit flowing; a fine entertainment all the way around, playing through 12 March 2017.
___________________________________
West Coast Premier
The Devil's Music: the Life and Blues of Bessie Smith
By Angelo Parra
Rubicon Theatre Company
Produced by Christina Burck, Karyl Lynn Burns, and James O'Neil
Conceived and directed by Joe Brancato
Starring Miche Braden
Accompanied by Gerard Gibbs on piano, Anthony Nelson Jr. on Saxophone, James Hankins on stand-up Bass
Musical direction and arrangements by Miche Braden
Brian Prather set, Todd Wren lighting, Patricia E. Doherty costumes, Jonathan Burke sound
David King Technical Director, T. Theresa Scarano properties, C. Renee Alexander Production Stage Manager
At the Rubicon Theatre, 1006 East Main Street, Ventura, California in Ventura's Downtown Cultural District
Running through 12 March 2017-

EXTENDED – 4 Added Performances!
Wednesdays at 2 pm and 7 pm, Thursdays, Fridays at 8 pm, Saturdays at 2 and 8 pm, and Sundays at 2 pm