4 minutes reading time
(834 words)
Hilariously funny 'Bad Jews' next up at Odyssey Theatre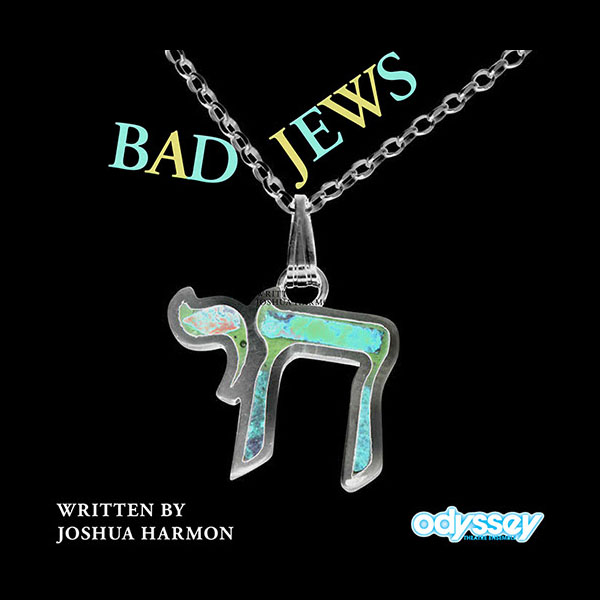 LOS ANGELES, CA — Savage, vicious and ferociously funny. Dana Resnick directs Bad Jews, a fierce yet hilarious take on family, faith and legacy by Joshua Harmon, running April 21 through June 17 at the Odyssey Theatre.
There's nothing like a death in the family to bring out the worst in us. In Joshua Harmon's biting comedy, a beloved grandfather has died and a treasured family heirloom with religious significance is up for grabs — but who's the most deserving? Is it bossy, overbearing, self-declared "super-Jew" Daphna Feygenbaum (played by Larkin Bell – Colony Collapse at Boston Court)? Or her wealthy, less observant cousin Liam (Noah James – Stanley Jerome in the Odyssey's Broadway Bound) who has a shiksa girlfriend (Lila Hood – The Man Who Came to Dinner at Actors Co-Op)? Meanwhile, Liam's younger brother Jonah (Austin Rogers – White Marriage at the Odyssey) finds himself in the impossible position of peacemaker as the two rivals argue, insult and try to outwit each other to the bitter, hilarious end.
"It's comedy, but it hits in a very real place," says Resnick, who has been friends with Harmon ever since they met in the MFA program at Carnegie Mellon. "As we watch this family tear each other apart, we laugh at the jokes — but we recognize ourselves. This is the second time I've directed this play, and it triggers my own questions about where we should draw the line in the fight for what we believe. It's riveting to watch how far people will go when their authenticity is being challenged."
Bad Jews premiered at New York's Roundabout Underground in the 62-seat Black Box at the Steinberg Center in 2012, transferring to the Roundabout's 424 seat off-Broadway Laura Pels Theatre the following year. Rave reviews included a New York Times "Critic's Pick," and the play was nominated for Lucille Lortel, Outer Critics Circle and John Gassner awards. The New York Post declared it "delicious, nasty fun… a smart, divisive conversation starter" and the New York Daily News gave it four stars, calling it "fast and funny, pungent and poignant." Bad Jews catapulted Harmon into the global theater spotlight and has since gone on to become one of the most produced plays in the U.S. Harmon's other plays include Significant Other (opening at the Geffen Playhouse in April) and Admissions, which premiered earlier this month to critical acclaim at Lincoln Center. Harmon is a graduate of Northwestern University, Carnegie Mellon University and Julliard.
The Odyssey's creative team for Bad Jews features set designer David Offner, lighting designer Tom Ash, sound designer Marisa Whitmore, costume designer Vicki Conrad, prop master Josh La Cour and dramaturg Arnab Banerji. The assistant to the director is Gregory Velasco Kucukarslan and the stage manager is Emma Whitley.
A professor of theater arts at Loyola Marymount University, Dana Resnick has been directing for over 15 years in Los Angeles, New York City, Chicago, Washington D.C., Charleston, Milwaukee and Pittsburgh. She is the recipient of the Stephen Bochco Award in Directing and the John Jutkowitz Award for Outstanding Achievement in the Performing Arts. Favorite past productions include Bad Jews at Pure Theatre in Charleston, SC, In The Heart of America at Prop Thtr in Chicago and The Island at the Piccolo Spoleto Festival (winner, "Best in Theater"). Dana was the head of the theater department at Star Education, a non-profit based in Los Angeles that provides enrichment for public elementary school students throughout California. She holds an M.F.A. in Directing from Carnegie Mellon and a B.A. in Theater from Washington University in St. Louis.
The Odyssey Theatre Ensemble was founded in 1969 when Ron Sossi decided to demonstrate that experiment-oriented theater could have populist appeal and be fiscally solvent while maintaining the highest artistic standards. Wildly successful and innovative productions such as The Serpent and Brecht's The Threepenny Opera immediately gained the Odyssey its reputation for producing dangerous, magical and experimental work. Now celebrating its 49th season, OTE continues to explore, produce and present works on the forefront of contemporary theater art in its three-theater complex in West Los Angeles.
Performances of Bad Jews take place on Fridays and Saturdays at 8 p.m. and Sundays at 2 p.m. from April 21 through June 17. On Sunday, April 22 only, the performance will be at 5 p.m. with no 2 p.m. matinee. Additional weeknight performances are scheduled on Wednesday, May 9; Thursday, May 17; Wednesday, May 30; and Thursday, June 14, all at 8 p.m. Talkbacks with the cast follow the performances on Wednesday, May 9; Friday, May 18; and Sunday, May 27. Tickets range from $30 to $35; there will be three "Tix for $10" performances on Friday, April 27; Wednesday, May 30; and Thursday, June 14. The third Friday of every month is wine night at the Odyssey: enjoy complimentary wine and snacks and mingle with the cast after the show.
The Odyssey Theatre is located at 2055 S. Sepulveda Blvd., West Los Angeles, 90025. For reservations and information, call (310) 477-2055 or go to OdysseyTheatre.com
Comments
No comments made yet. Be the first to submit a comment