Cabrillo racks up eight nominations for the
2015 OVATION AWARDS
Southern California's most prestigious theatre awards recognize MEMPHIS with seven nominations, plus OKLAHOMA!
(Thousand Oaks,CA) Cabrillo Music Theatre received eight Ovation Award Nominations for the 2014-2015 season, as announced by L.A. Stage Alliance. The Ovation Awards are the most prestigious recognitions in Southern California theatre, and the only peer-judged awards, making them comparable to Broadway's Tony Awards. Cabrillo's regional premiere of MEMPHIS received seven nominations, including Best Musical, Actor, Director, Choreographer, Musical Director, Costume Design, and the entire cast of 26 was nominated for Best Ensemble. Cabrillo's recent production of OKLAHOMA! was nominated for Best Choreography. The 2015 OVATION AWARDS will take place on November 9th at the Ahmanson Theatre in Los Angeles.
Nominations are as follows:
MEMPHIS:
Best Production of a Musical (Large Theatre)
Lead Actor in a Musical - Todd Adamson
Acting Ensemble of a Musical
Director of a Musical - Robert W. Schneider
Choreography - Kenna Morris Garcia
Musical Direction - Cassie Nickols
Costume Design (Large Theatre) - Mela Hoyt-Heydon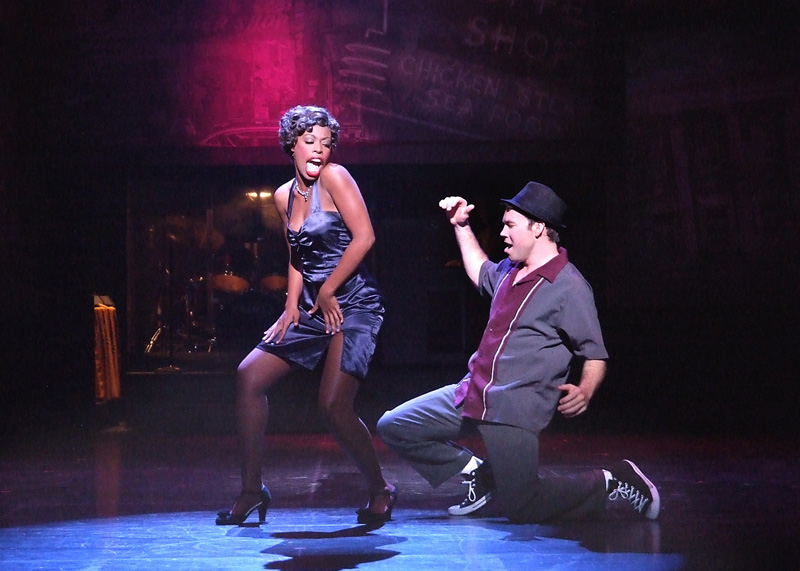 Lakeisha Renee Houston and Todd Adamson "Memphis" Photo Credit: Ed Krieger
Choreography - John Charron
MEMPHIS becomes Cabrillo's fifth production to be nominated as Best Musical, following JEKYLL & HYDE (2008), SINGIN' IN THE RAIN (2008), THE SOUND OF MUSIC (2011), and LEGALLY BLONDE (2013). John Charron's nomination for Best Choreography in OKLAHOMA! marks the second straight year he has been nominated for a Cabrillo show (BYE BYE BIRDIE). Through the years, Cabrillo Music Theatre has been nominated for 51 Ovation Awards, winning seven. Cabrillo's very first Ovation nomination went to a then-unknown Katharine McPhee, playing Annie Oakley in 2005's ANNIE GET YOUR GUN.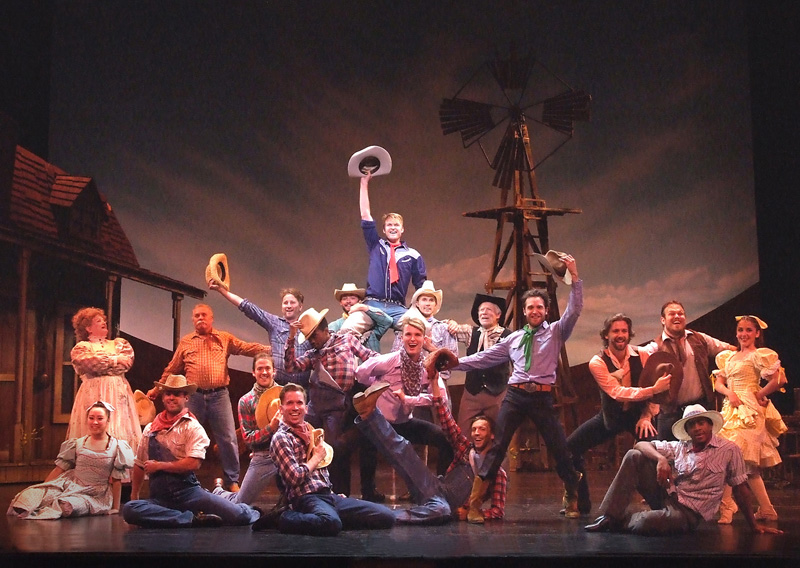 John Switzer and Ensemble "Oklahoma" Photo Credit: Ed Krieger
"We're honored to be recognized by the voters of the L.A. Stage Alliance with eight nominations," said Lewis Wilkenfeld, Cabrillo Music Theatre's Artistic Director. "We're especially thrilled to see the strong recognition for MEMPHIS. Our audiences completely embraced the show, a new musical that had just played Broadway, and these nominations really support our decision to bring a variety of shows to our audiences!" Adds Wilkenfeld, "Our biggest dilemma is deciding who to root for in the Choreography category – Kenna Morris Garcia, for her dazzling work in MEMPHIS, or John Charron, whose impressive moves in OKLAHOMA! stopped the show every night!
But this is a really nice problem to have!!"
The 2015 OVATION AWARDS brings together the very best theatre talent in Southern California, and this year's ceremony will take place on Monday, November 9th at the Ahmanson Theatre in Los Angeles. Cabrillo Music Theatre is planning a large envoy to attend, including cast and crew members, Cabrillo staff, and Board members. Cabrillo fans are encouraged to attend, to share in the fun and cheer for the Cabrillo Family.
ABOUT THE 2015 OVATION AWARDS
The 2015 OVATION AWARDS will take place on Monday, November 9th, at 7:30PM at the Ahmanson Theatre in Los Angeles. To find out more information about attending as part of the Cabrillo Family, please call (805) 497-8613 X1.
CABRILLO MUSIC THEATRE'S 2015-2016 Season, dubbed "A Season For All Seasons," features a musical for each season of the year, including DAMN YANKEES (Fall 2015), A FUNNY THING HAPPENED ON THE WAY TO THE FORUM (Winter 2016, Scherr Forum), Stephen Schwartz's CHILDREN OF EDEN (Spring 2016) and Disney's THE LITTLE MERMAID (Summer 2016).