Tuesday, 08 October 2013 22:04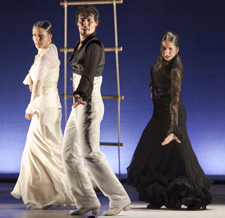 Review
Flamenco dancer and choreographer Jesus Carmona is an athlete with heeled shoes. As part of Santa Barbara's Flamenco Art Festival during last month's Hispanic Heritage Month, Barcelona native Carmona and company hit the Granada stage with his production Cuna Negra & Blanca (Black and White Cradle).
Friday, 23 August 2013 03:15

On September 28, an ensemble of dancers and musicians arrive from Spain to bring the drama and glamour of Flamenco dance to Santa Barbara on The Granada Theatre stage.