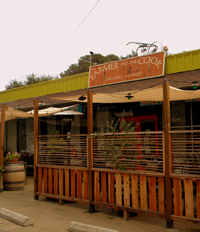 Farmer and the Cook owners, Steve & Olivia, are dedicated to growing and providing fresh, organic food. After nearly 11 years, they have built much more than a place to stop in for lunch – they have created a community gathering place for friends old and new.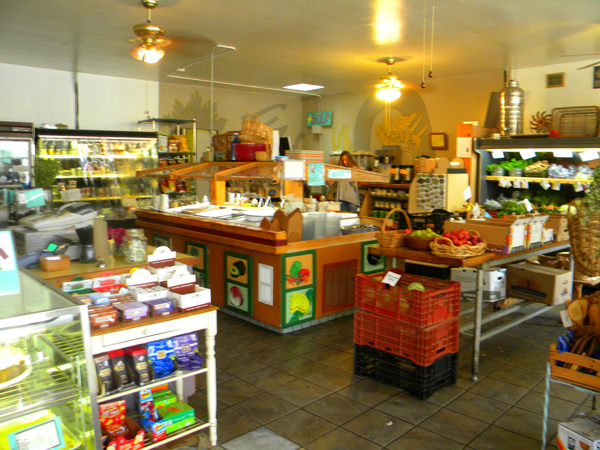 When Farmer and the Cook owners, Steve and Olivia, founded their organic farm and market in 2001, it was more than just a simple business endeavor. While wandering through an organic grocery store in San Francisco that year, Steve insisted upon purchasing a nine dollar tomato grown at his friend's farm. Suffering from sticker shock (but still buying the expensive produce) Olivia said to Steve, "Wouldn't it be great to have an affordable organic farm and restaurant attached to one another?"
Nearly eleven years of hard work later, Steve and Olivia have built much more than a place to stop in for a guilt-free and delicious lunch – they have a created a gathering place for friends old and new.
While I sat with the couple who so generously took time out of their day to talk with me, I felt that I was being welcomed into an old friend's home. "I know everyone in this room," Steve told me as he glanced behind his shoulder to greet Larry, a friendly regular at Farmer and the Cook. In response, Olivia jokingly quizzed Steve about his impressive claim and to no one's real surprise, Steve actually knew every diner in the room.

Farmer and the Cook is truly a place where one can come to relax and feel welcome, whether you are Johnny Depp, Reese Witherspoon, a local mechanic, or a member of the close-knit staff. Without waitresses during the week, patrons do not feel rushed after they are served. Instead, they bus their own tables and stay for as long as they wish.
"As far as a community gathering place, we didn't have that in mind, but I kind of knew it would happen. If I didn't have waitresses, it could just be a place where people could come and hang out. We did a lot in the beginning to build a community atmosphere," Olivia told me.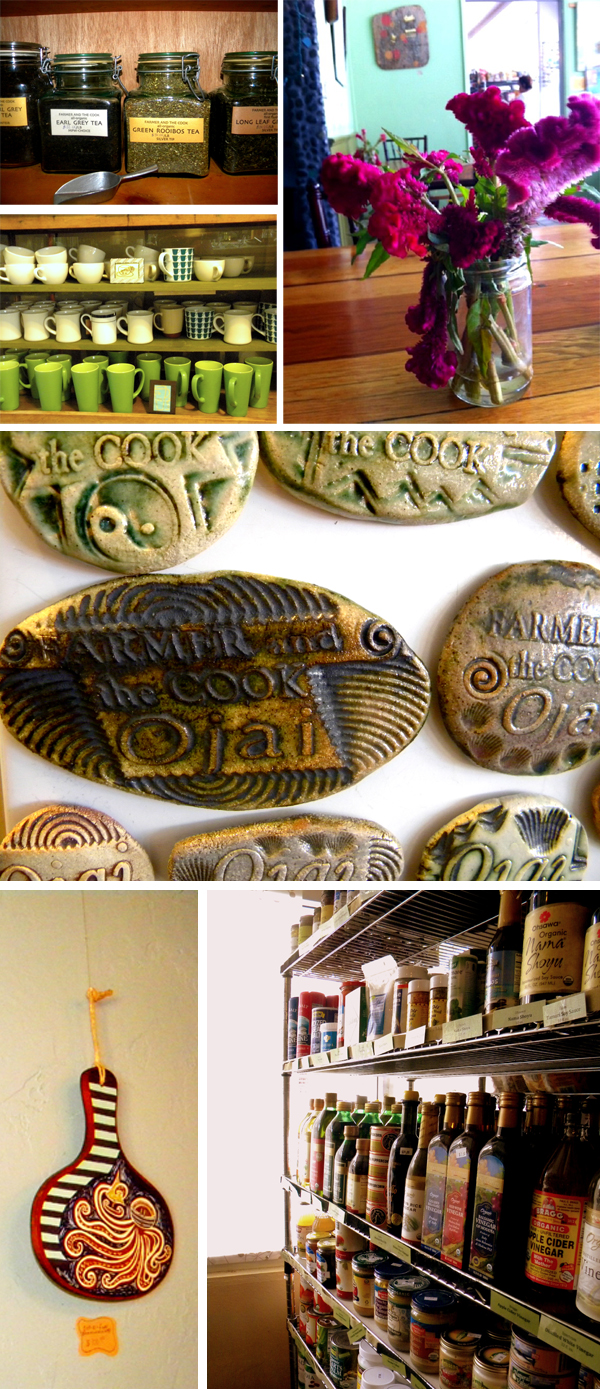 The eclectic and charming décor of the market lends itself to encouraging the community feel. Olivia says she loves to watch people seated sporadically at one of the many long picnic style benches, and slowly begin to make conversation with each other. After a while, sometimes hours, a group of new acquaintances will form at the bench that was previously single diners keeping to their own business. Coming to Farmer and the Cook with an empty stomach, patrons often leave with a satiated appetite and a new friend (or two) to boot.
Steve and Olivia adamantly support their fellow local business owners and friends by means of personal recommendations. A yogi herself, Olivia spoke excitedly about Lulu Bandha's yoga studio in Ojai, which is a perfect way to spend the morning before coming to lunch at Farmer and the Cook. After lunch, one can join Lanny Kaufer or Joel Robinson for educational nature walks around Ojai. Joel can impressively identify over 140 species living and thriving on the ten acre farm which is a mere two mile drive from the market.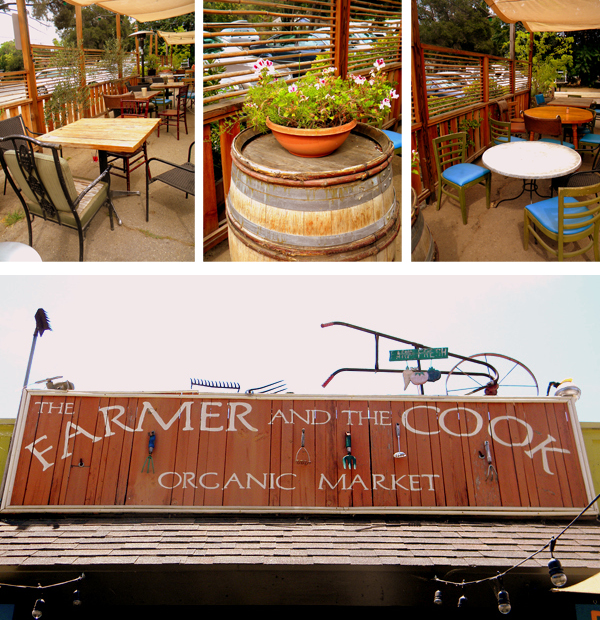 These types of business and friendly relationships are continually growing and expanding for the Farmer and the Cook owners. Many of their new acquaintances are fostered at the Ojai Farmer's Market. "We make a lot of friends there," said Steve. "There are an amazing number of people from out of town who come to the Farmer's Market and find out about Farmer and the Cook. One-on-one experience is good; it lends credibility to what you are doing, and we are all about that."
Those personal connections were crucial for Steve and Olivia when they first started a small-town "off-the-beaten-path" restaurant.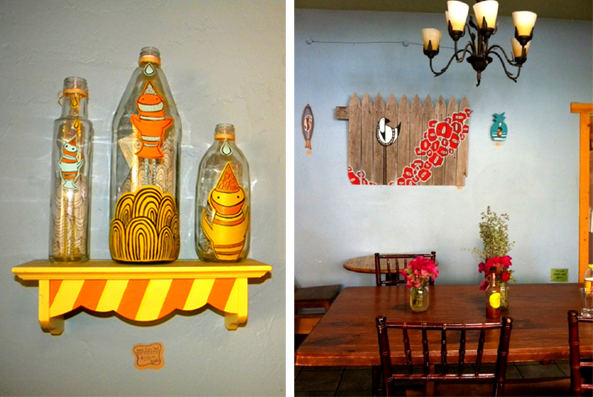 "It was slow when we started," Steve explained. "Unless you're going to Taft, to get your car smogged, or to feed your horse, you're not going anywhere on your way here." There was not a pressing reason for anyone to visit Farmer and the Cook until the demand for fresh, organic, vegetarian cuisine skyrocketed.
When the appeal of organic food rapidly increased, the internet helped drastically in bringing business to the market. Olivia recalled a day, about four years ago when business was still almost entirely local, and a tourist came into the market. Curious as to how the man had found Farmer and the Cook, Olivia discovered that he had done a search on his GPS for an organic restaurant and it brought him to her doorstep. This was the first time Olivia had heard of a GPS.
"We are a destination restaurant," said Olivia, "which only works if you are world-renowned, or if you have the internet." Thankfully for Steve and Olivia, and for us, we have the internet.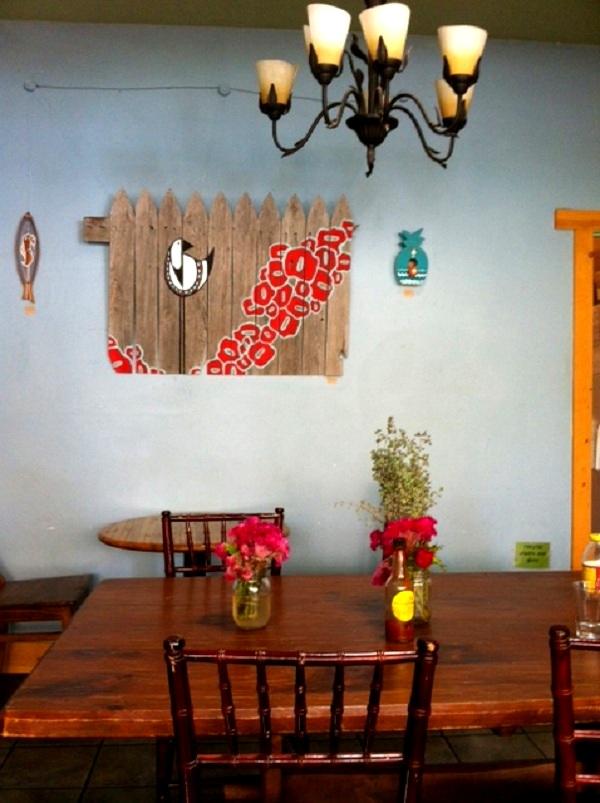 With the nearly impossible feat in today's economy of opening and maintaining a restaurant business, in addition to Steve and Olivia's added challenge of location, "why did they commit themselves to being organic?" one might ask.
For Steve, the answer was simple – organic is what he has always done. As an organic farmer for 30 years before opening Farmer and the Cook, Steve has farmed in Hawaii and in many locations throughout California.
Steve was part of the "back to the land" movement in the late 1960's as one of the pioneer organic farmers. He learned his trade from professional gardeners such as Alan Chadwick. Steve said candidly that the "garden got out of hand and before I knew it, I had a business." One can only hope to be so lucky as to have his or her passion transform itself into a fulfilling career.
Not only is Steve a superbly qualified farmer, he is a walking database on the subject of organics. Combined with his field training, Steve has a degree in English Literature from the University of California, Santa Barbara. This pairing has allowed Steve to become the President of the Cornucopia Institute, an organization that is a self-proclaimed promoter of "economic justice for family scale farming."
With the Cornucopia Institute, Steve has been an active voice in shedding light upon the negative corporate influence in organic farming. "Everyone has drunk the organic kool-aid. They've allowed corporations to water down regulations and they do this for the benefit of business, despite the fact that if they continue to whittle away at the good part of organic, consumers will be disaffected. If you lose the good will of the consumers, you don't have anything left."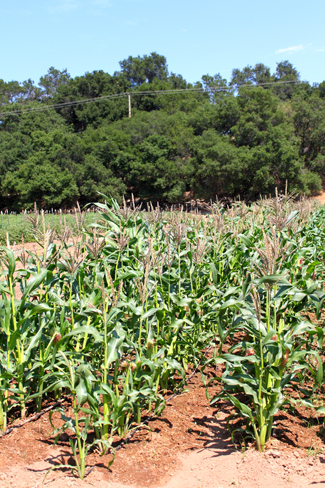 Steve recently teamed up with New York Times reporter, Stephanie Strom, in writing about what is wrong with the organic movement right now. "It is very arcane and it is very complex," Steve explained. To learn more about this highly debated topic, visit www.cornucopia.org.
Conjoined with Steve's plethora of professional correspondence, is his weekly newsletter, the Forager, which he sends to roughly 300 people and includes in his produce boxes. These produce boxes are put together every Wednesday and Thursday and are a product of Community Supported Agriculture.
"Produce from a CSA is guaranteed to be fresh, everything is picked the day you get it" explained Steve, who personally composes the 60 boxes distributed by Farmer and the Cook. Early in July, Steve recognized that he included cabbage in the produce boxes for the previous five weeks. Aware that people were sick of cabbage, Steve wrote the Forager as a satirical congratulation to his customers for ranking in the 99th percentile of a fictitious survey conducted by the "United Cabbage Association."
"Only Garden Grove's 'Little Seoul,' Hollywood's 'Little Kiev,' 'Little Armenia,' and vast neighborhoods in central LA's K-Town scored higher," read the newsletter. However, there will be no more cabbage for the next 100 days, Steve assured them.
Becoming a member of a CSA and a recipient of a produce box is a significant commitment and lifestyle change. "Most people who quit complain that it is too much food," said Olivia, "but I have a feeling that if you gave them less food they would still quit. It is a lifestyle." And Steve makes sure that his customers get the most out of their undertaking.
The cost to receive the produce boxes is about $1200 per year, but the average value of produce in Steve's boxes is $1500-$1600 per year. "If I have the produce, I give it to them," he says, further explaining the many ways Farmer and the Cook is not just a way to make money for the couple.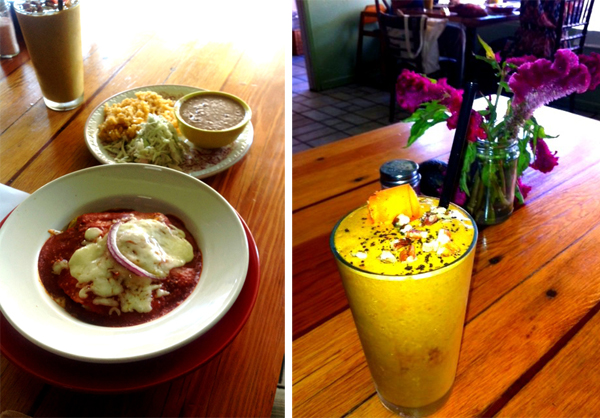 "Steve is like the Jewish Grandmother of organic food, he just wants everyone to eat!" Olivia said lovingly. And eat, I did.
Steve and Olivia recommended I try the Enchiladas (Steve's favorite item on the menu), along with a tall glass of "Scarrot Cake." The enchiladas were quite possibly the best I had ever tasted, and definitely the freshest. The "Scarrot Cake" smoothie, prepared by Rory, the "smoothie guy" was like sipping on a healthy slice of delicious carrot cake – imagine that!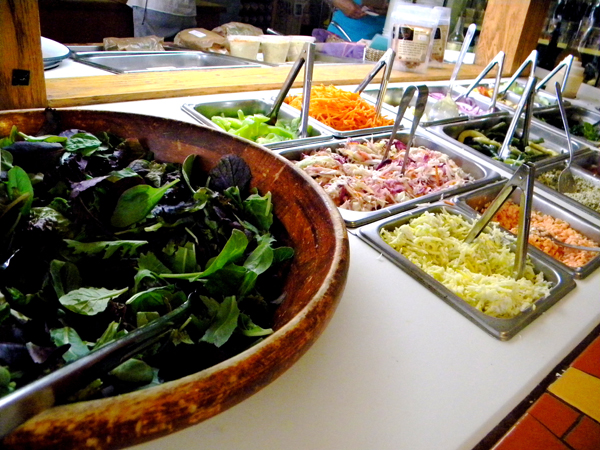 The most popular items in the market are the salad bar and chai, according to Olivia. Farmer and the Cook was the first establishment in Ojai to make chai, and they have to refill at least 10 times a day to meet the demand.
On weekdays at the market there is a very affordable daily Mexican menu. As a result of suggestions from members of the young staff, Olivia happily mentioned that they now have live-music night on Thursdays. On Friday and Saturday nights, one can enjoy a more formal restaurant atmosphere with waitresses, chilled wine, and thoughtfully created pizzas. To prepare for these special nights, Olivia walks through the farm in the morning, picks whatever Steve is growing, and creates a unique menu as she goes.
As Olivia gave me a tour through her market which is essentially her second home, her eyes lit up with pride for what she has worked so hard to create. However, unlike Steve, Olivia has not always been in the business of organics.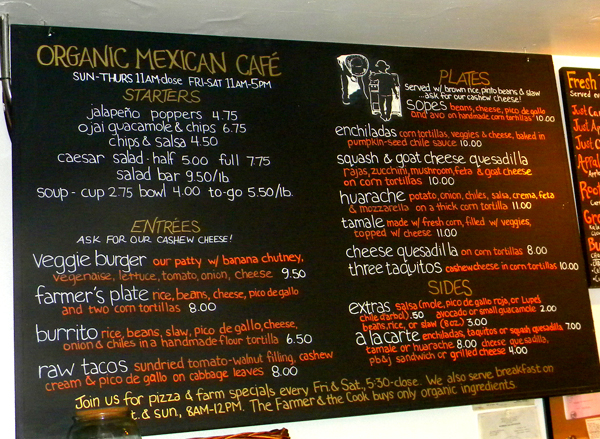 Olivia previously owned City Bakery in Venturaand is a dietician by training. Olivia remembered when Steve first suggested that the restaurant, as well as the farm, should be completely organic.
"I said Steve, no way! If we make the market organic we will never make any money. I was right for the first eight years, but we've finally become fashionable."
For Olivia, commitment to providing an organic lifestyle for the community came as a result of a lack of fulfillment as a dietician. "People would just not follow my advice. I never got the sense of satisfaction of accomplishment. Doctors would only refer patients to me when they had outsourced every other option. Patients would come to me plagued with irreversible illness."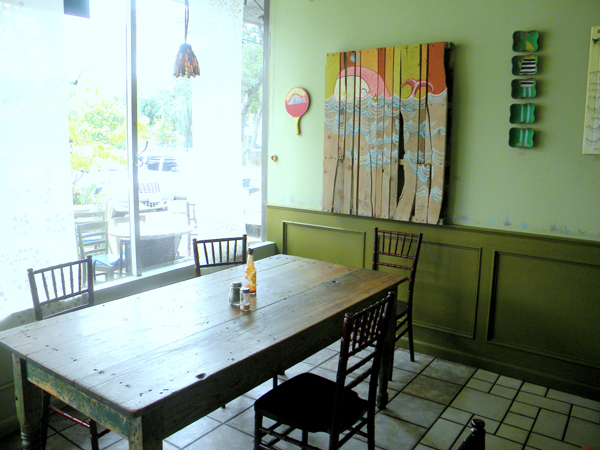 This frustration sparked Olivia's desire to be the "cook" half of Farmer and the Cook. "I thought if people would not listen to my advice, then I would just open an organic restaurant and cook the food that I was telling them to eat," said Olivia. She insisted that "healthy food can be delicious, and you can get to a point where you crave healthy food - it becomes a lifestyle."
The ability to provide a means for a healthy, organic lifestyle for the residents of her home-town of Ojai is only part of the benefit of owning Farmer and the Cook. The most rewarding aspect of her career? The freedom, says Olivia. "I can go jump in the creek in the middle of the day if I want to," and judging from the excitement in her voice, she frequently visits the creek during a spare moment.
While we spoke, Olivia told me about her son, a recent graduate of the University of California, Santa Cruz. In discussing his future plans he told her he would not like to enter the restaurant business because he "actually wants to change the world, mom." Maybe despite her son's beliefs, Olivia is doing what she can to leave a positive mark upon the world, starting at the community level.
"Farmer and the Cook is a way of combining business with a feeling of accomplishment. I'm supporting all of these organic farmers, which are worldwide, and I feel like I'm doing something good for people. It is more than just cooking".
If you spend a few hours, or even minutes with Steve and Olivia, you will know they mean exactly what they say. They genuinely care about what they do, and they do it well. "Doing a small little thing to change the world is about all that any of us can really do," said Olivia.
At the end of the day, as I stood up to leave, the smiling patron Larry said, "This little place has changed a lot of people's lives." His sentiments seem to voice a consensus among the many friends of Farmer and the Cook.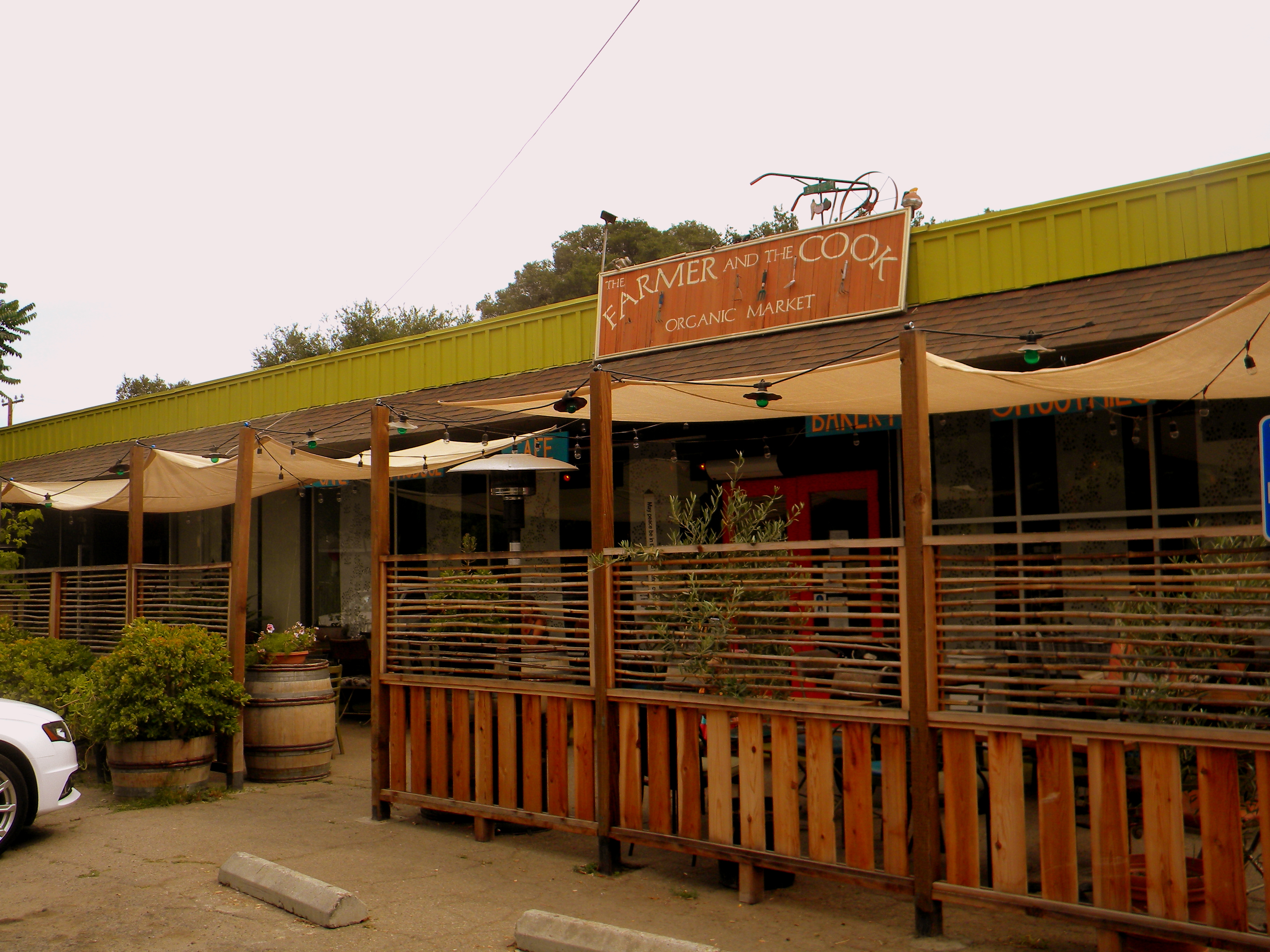 Farmer and the Cook

is located at