Visual Arts (53)

Art Review
Buenaventura Arts Association 3D Open Competition
The Buena Ventura Art Association [BAA] is exhibiting its annual 3D Open Competition show through 20 May 2017. This annual exhibition and competition, while it does not draw many of the top sculptors and 3Dartists living and working in the 805, it does draw enough talent to remain one of the more interesting, if not the best, 3D group show in the 805.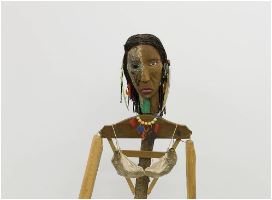 Art Review
BEYOND THE 805
At the Center of the World
Jimmie Durham at the Hammer Museum Los Angeles
Jimmie Durham: At the Center of the World, a retrospective of Durham's work put together by Hammer's curator Anne Ellegood is a superb exhibition, infused with the most marvelously incisive wit and visual cunning.
More...