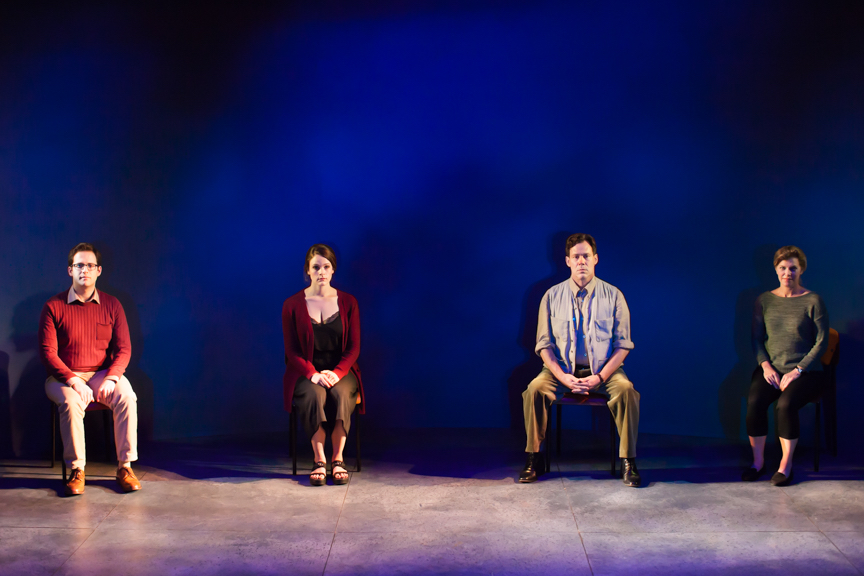 Mark Jacobson, Claire Adams, Joseph Fuqua and Betsy Zajko star in the Rubicon Theatre Company's West Coast premiere production of "INCOGNITO" by Nick Payne and
now playing at the Rubicon Theatre in Ventura. Photo Courtesy of Rubicon Theatre
Rubicon theatre presents a fabulous West Coast premiere of Nick Payne's Incognito. Runnng 90 minutes without intermission, the play was originally commissioned and performed by Nabokov and Live Theatre, in Newcastle, UK in 2014 and opened in the US 3 May, 2016 at the Manhattan Theatre Club.
The play demands, and gets, extraordinarily tight ensemble work and features a magnificent exploitation of a minimal set. Scene changes are rapid and accomplished by nothing more than changes in the accents, attitudes, and demeanor of the actors. It is a great game to watch, full of ideas and puzzles, and odd, interesting characters.
To play these characters, Rubicon gives us one of the strongest casts assembled on a Ventura stage in recent years. Joseph Fuqua, one of the most talented and a favorite of the Rubicon universe gives us sure, satisfying characterizations and a particularly sympathetic reading of the Thomas Harvey character based on the pathologist who absconded with Albert Einstein's brain after his autopsy.
Fuqua is joined by Betsy Zajko who has acted at the legendary Steppenwolf theatre and is a member of the increasingly almost as equally legendary Rogue Machine Theatre in Los Angeles. It shows. Zajko's technique is particularly grounded and precise, which is a great benefit in this whirlwind of character and scene changes.
These two are joined by two actors making their debut to the Rubicon stage: Mark Jacobson and Claire Adams. Jacobson plays an array of parts that includes some of the most unlikable and obnoxious characters in the play, something both he and the audience seems to relish, as well as the part that pulls the heartstrings at the center of the play: HM, based on a real patient suffering a form of amnesia that leaves him in a perpetual present without any ability to remember new events for more than half a minute. Jacobson pulls off some significant theatrical pyrotechnics.
Rounding out the foursome is Claire Adams, who plays a group of characters that provide much of the warmth in the play, in some cases, the sexual partner of a key character. Adams supplies a nuanced sensuality and in some scenes a sexiness the helps prevent the play from descending completely into a rather bleak and cold place. Adams does this quite well, providing a balance to the proceedings which is sorely needed in a Payne script.
For in Payne's world even sex is not much about things physical, but more about self and identity. In a scene between Harvey and his wife, who is confronting him about his affair with a "young thing", it is more about the blow to Elouise Harvey's sense of self than what goes on between the sheets, and she strikes back accordingly.
Payne's work, in this and previous plays is based on a tremendous range of scientific and technical reading which tends to lead it into a cooler theatrical world where time and place are disjointed and connected by only the most cerebral continuities.
All in all, these four actors play no less than 21 parts. If this sounds confusing; it often is. But this is in keeping with the thrust of the play's meaning which is about the tenuousness of our sense of self and time and personality and how much of our consciousness is held together by little more than memory and various little tricks and lies of our brain. It also lets us know how vulnerable that link to our brain is; how thoroughly it can be disrupted.
Each actor's parts incorporate a loose constellation of types that permit their portrayal by a single actor without costume changes, which in itself raises questions about the possibilities and limits of identity. Maybe we are not as unique as we would like to think.
It also means the play is, on a more meta-level, also about acting itself and what do we really do when we are on stage; what is this thing we call theatre with actors and a space and an audience taking it all in sequentially through time. How do we, the audience, reconstruct the story arcs necessary to understanding what is going on?
If there is a weakness in this production, don't fault the Rubicon; look to the script, which could have been edited to fewer characters and given greater clarity and force. Many scenes develop ideas and situations that seem to be leading to somewhere, but never arrive. Some seem gratuitous, such as the murder scene, the point of which is covered anyway in another scene and the elimination of which would not diminish or hamper the effectiveness of the play.
But these are nitpicks, for without the range and power of this script we would not have this wonderfully powerful play that questions our very concept of self in a delightfully bitter-sweet evening of great theatre.

Incognito by Nick Payne
Directed by Katharine Farmer
Starring Claire Adams, Joseph Fuqua, Mark Jacobson, Betsy Zajko
Featuring original music by Roger Kellaway
Through October 1, 2017
Rubicon Theatre
Located in Ventura's downtown cultural district
1006 East Main Street, Ventura, CA 93001