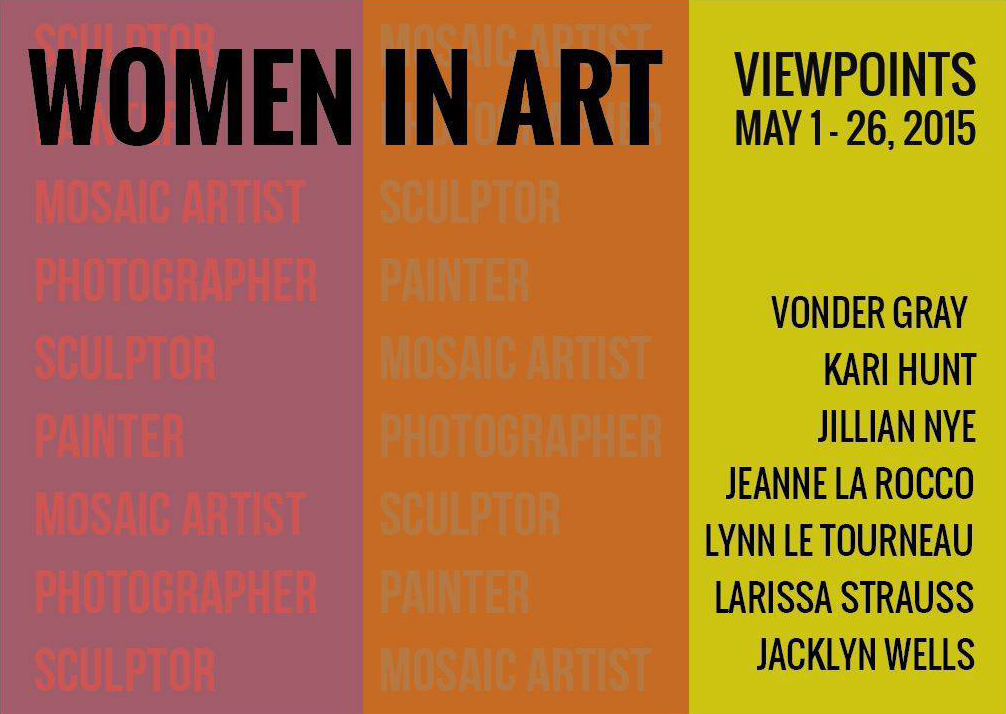 WOMEN IN ART: VIEWPOINTS
May 1st- May 26th, 2015
Kari Hunt Jillian Nye Jeanne La Rocco Lynn Le Tourneau Larissa Strauss Jacklyn Wells Vonder Gray
Opening Receptions: 1st Friday May 1, 6:00-9:00pm Saturday May 2, 5:00-8:00pm @ The WAV
a show curated by Vonder Gray
Having just returned to WAV after 2 years in LA, I was wracking my brain to come up with a group show to present in the Gallery at WAV. I seem to be in 'super-manifester' mode ( I have a beautiful new space at WAV after all! ) because all these amazing women began showing me their new and exciting work and the idea for WOMEN IN ART (the 1st of many I hope) was born!
Kari Hunt is a photographer (and friend of my daughter's for many years) whose moody and haunting images have always intrigued me.
Jillian Nye's point of view is always interesting and her beautiful watercolors have matured over the past few years.
Jeanne La Rocco is a talented assemblage artist, but her sculptures with books are stunning and innovative.
Lynn Le Tourneau is an oil painter whose colorful, vibrant, internationally shown works are filled with movement and emotion.
Larissa Strauss' mosaics are all over Ventura's public art spaces; and each one is more beautiful than the last. She has an ability to make one delight in the sparke of each moment she's captured.
Jacklyn Wells is a young photographer whose self-portraits combine darkness and innocence in a mature and unique point of view.
Frances Spencer is a talented and prolific writer whose newly completed play The Vendor is a short play that shows, with humor and empathy, how to make the best out of the life we are given.
4 Evenings of Theater: The Vendor by Frances Spencer
Starring Vonder Gray Directed by Leslie Paxton
Friday May 8, 8pm
Saturday May 9, 7pm
Friday May15, 8pm
Sunday May 17, 7pm