4 minutes reading time
(872 words)
Review: James Conlon's Sensuous Carmen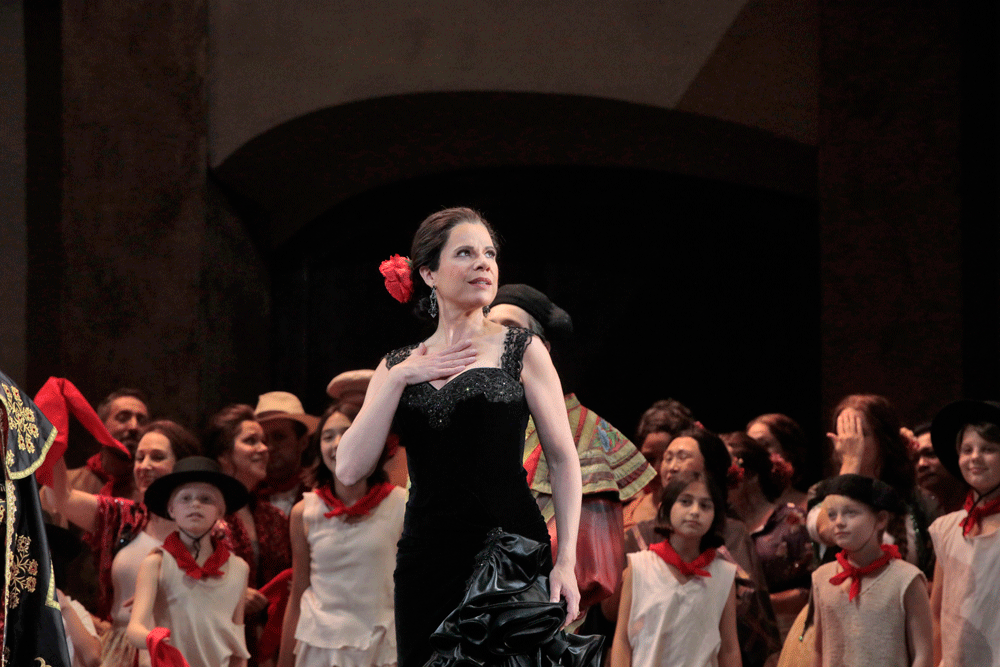 Theatre
Review
James Conlon's Sensuous Carmen
His love affair with Carmen began at the age of 13 for Los Angeles Opera conductor and formidable company mentor James Conlon, who has conducted Bizet's popular masterpiece dozens of times in other cities, but never before in the city of angels. Singing in the children's chorus as a kid, Conlon explained during a pre-performance chat to about 200 in the Music Center's Grand Lobby, he apparently couldn't help himself and was told repeatedly to please stop conducting during Act IV while on-stage. Thus, a natural conductor was born. Los Angeles Opera's Carmen, which runs through October 1st at the Dorothy Chandler Pavilion of the Music Center, is guided heart and soul by the seasoned artistic provenance of James Conlon.
First and foremost, as maestro Conlon made clear during his presentation before the Wednesday, January 20th performance, George Bizet's opera about toreador's and murder in Seville, is nevertheless through and through French to its core. That clarity (Bizet never set foot in Spain) and an understanding Conlon has for the French way of making art - let's just call it sensuous – defined LA Opera's production and enlightened seasoned Carmen junkies and novitiates alike.
LA Opera's Carmen is consumed not in the tragedy so much as the sensuosity of the story. Carmen's ultimate fate is both assembled and dissembled in characterization as well as musically, with a luscious focus on beauty in Conlon's hands. Carmen's independent nature, her jealous lovers, and her ultimate murder at the hands of one of them occur always in the context of sensuosity, a psychic vehicle too often overlooked in productions the opera which focus more often on the anti-heroine's end. The LA Opera Chorus for example, under the meticulous tutelage of Chorus Director Grant Gershon, performed their several passages with a unique and sanguine elegance and beauty of blend, coloration, and voicing; a delicate aesthetic seldom heard in an opera chorus. And Conlon's tempi; leisurely, paced for clarity of diction as well as to delight audiences with Bizet's magnificent tunes and orchestrations, made for a leisurely pace through the opera's three acts – very French.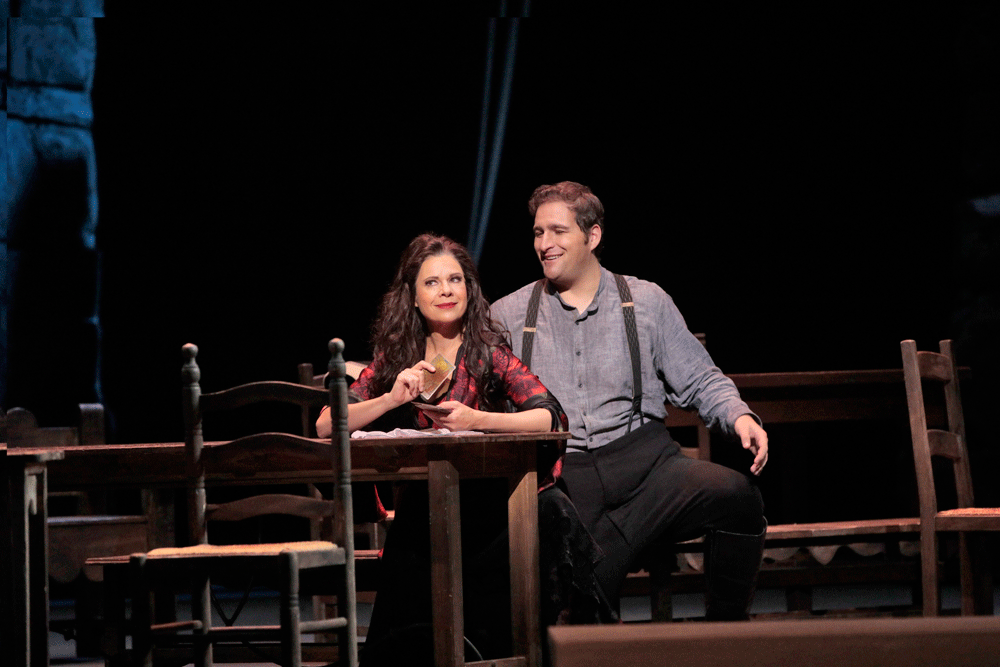 A brilliant cast for LA Opera's Carmen was led by Grammy Award-winning soprano Ana María Martínez, whose characterization of the title role was as powerful in its subtle and subdued, smoking authority as any seen by this opera fan in many years. Martínez' presence on stage, devoid of histrionics, telegraphed a powerful message - Liberté! Carmen's fateful foil, Don José, sung by the stunning tenor Brandon Jovanovich on September 20th was realized as both love-crazed and troubled, but Jovanovich also revealed his character's complex and sympathetic humanness. Both Martínez and Jovanovich matched each other in technique, phrasing, and expression during their several gorgeous solo arias and exquisitely tailored duos. The entire production of nearly four hours was finely honed and delicately spun to match Conlon's elegant and spacious conducting; the denouement and final moments of the opera, stage managed with a clean sense of fatality.
The supporting cast, directed with uncanny intuition by Director Ron Daniels included the brilliant young soprano Amanda Woodbury as anything but a shrinking Micaéla, her voice soaring in beauty and power at several peak moments during her short but stunningly musical moments on stage; and bass Alexander Vinogradov, whose toreador Escamillo was also realized without bombast or Viagra as is so often the case in lesser productions. In his LA Opera debut, Vinogradov brought a calm dignity and gloriously articulated voice to the role. Liv Redpath (Frasquita); Kelley O'Connor (in her LA Opera debut as Mercédés); Brian Michael Moore (Le Remendado); Theo Hoffman (Le Dancaïre); Philip Cokorinos (Zuniga); Juan Carlos Heredia (Moralés); Abdiel Gonzalez (Gypsy); and Melissa Treinkman (Vendor) were a perfect ensemble cast, leaning on each other theatrically and reaching out to each other musically for consistently luscious virtuoso ensemble singing. Solo Dancers Manuel Gutiérrez Cabello and Oscar Valero, both making their LA Opera debut, gave color, energy, and authenticity to the crowd scenes, abetted by choreographer Nuria Castejón. The revered children's choruses in Carmen were ably prepared by Anne Tomlinson, Artistic Director of Los Angeles Children's Chorus.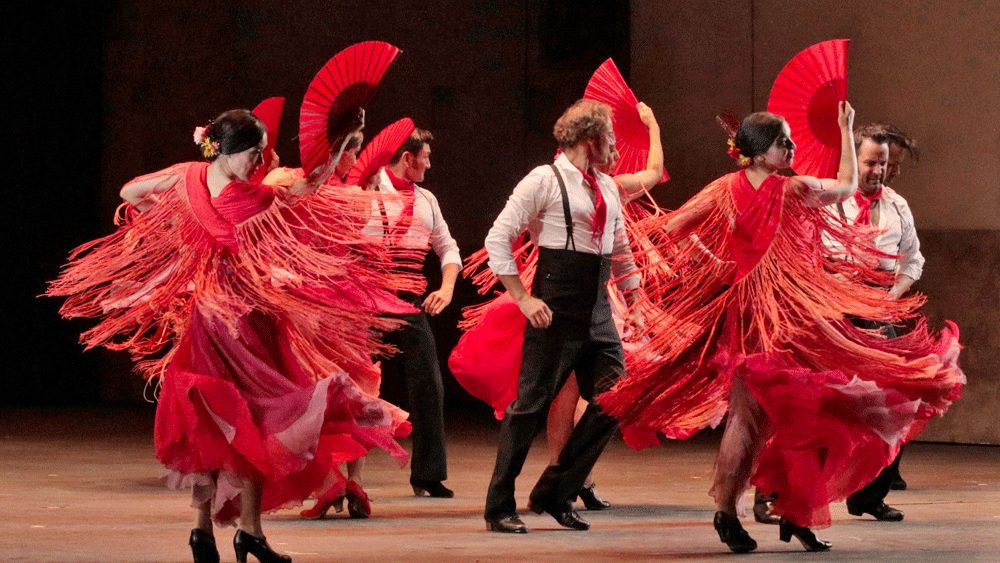 Scenery Designer Gerardo Trotti created three major set designs, one for each of the three acts of the opera, all sprinkled with Moorish ruin, suggesting not Seville literally, but Spain historically, with its transcontinental cultural diversity. Lighting Designer Duane Schuler lit these edifices in dark hues mostly, but occasionally (the scene outside the bullring in the last act) in the shocking glare of Spanish mid-day sunlight. Dramatic! Jesús del Pozo's original costumes, in collaboration with Principal Costume Designer Denitsa Bliznakova, featured earthy tones to suit the slums and cigarette factories of Seville in which the story takes place. A packed house gave the cast an enthusiastic and lengthy standing ovation.


Starring Ana María Martínez, Riccardo Massi, Brandon Jovanovich, Amanda Woodbury
Alexander Vinogradov, Liv Redpath, Kelley O'Connor, Brian Michael Moore, Theo Hoffman
Juan arlos Heredia,

Philip Cokorinos
Saturday, September 23, 2017, at 7pm Thursday, September 28, 3017, at 7:30pm
Sunday, October 1, 2017, at 2pm
Dorothy Chandler Pavilion


*****
Comments
No comments made yet. Be the first to submit a comment