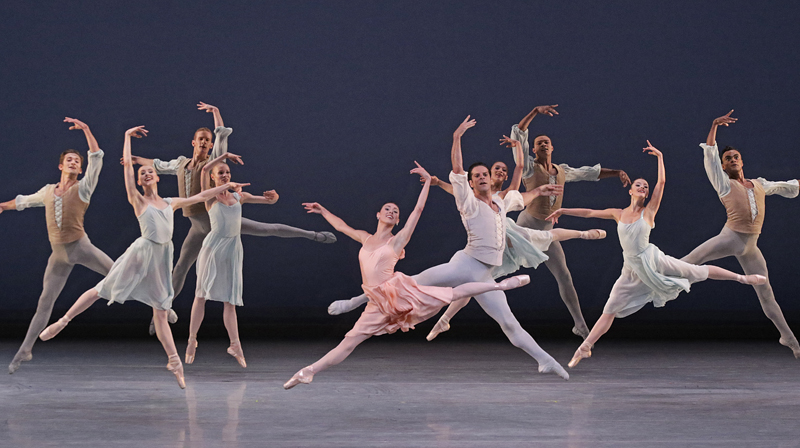 Harrison Coll, Claire Kretzschmar, Lars Nelson, Lauren King, Tiler Peck, Marcello Gomes, Rachel Hutsell, Preston Chamblee, Indiana Woodward and Taylor Stanley perform
George Balanchine's Allegro Brillante
Review
With

a star-studded cast, BalletNow featured a diverse selection of pieces curated by Tiler Peck, principal dancer for New York City Ballet. Ranging from traditional ballet to more contemporary to jazz, the show that graced the Music Center stage would delight newcomers and experienced audience members alike.
The program for Friday, July 28th began with "1-2-3-4-5-6", an improvisation piece, followed by "Chutes and Ladders." This joyful pas de deux was marked with strength and grace, as well as contemporary elements that made it hard to take your eyes off Jeanette Delgado and Kieber Rebello, both principal dancers for Miami City Ballet.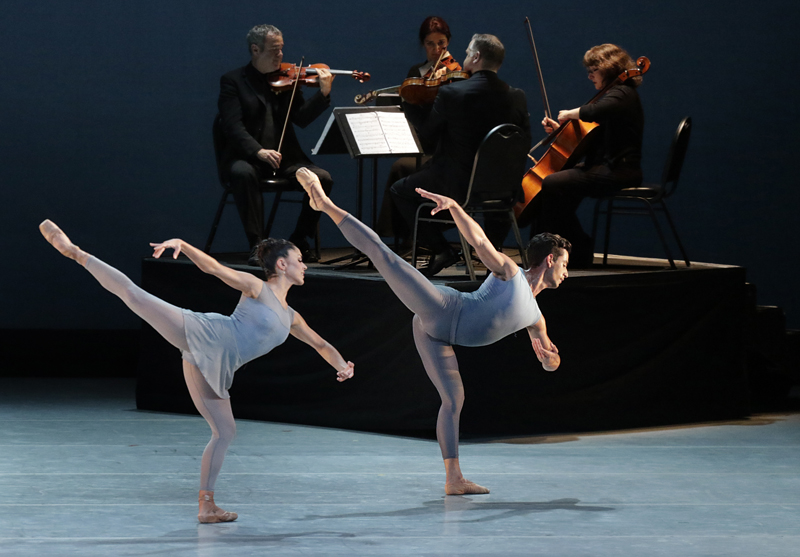 Jeanette Delgado and Klebor Rebello perform
"Chutes and Ladders".
Next to the stage were Isabella Boylston and James Whiteside, principal dancers for American Ballet Theatre, with a precise and technically sound "Pas de Deux from Romeo and Juliet". Lauren Cuthbertson and Reece Clarke captivated next with the beautiful and emotional slow modern piece "Pas de Deux from After the Rain." With intertwined and intimate partnering to the simple, ethereal music, the two commanded the audience's attention. Picking up the mood before intermission, the Balanchine piece "Allegro Brillante" brightened up the stage with the dynamic movements of ten dancers, including Tiler Peck herself and Marcelo Gomes.
"Fancy Free" closed out the show with a longer, lively jazz piece full of character and retro charm. Following three sailors (Marcelo Gomes, Cory Stearns, & Daniel Ulbricht) as they attempt to woo two beautiful ladies (Jeanette Delgado, Tiler Peck), each movement brimmed with energy and stage presence with each dancer's distinct personality. The story made for a fun finale to the beautiful and diverse performance of BalletNow.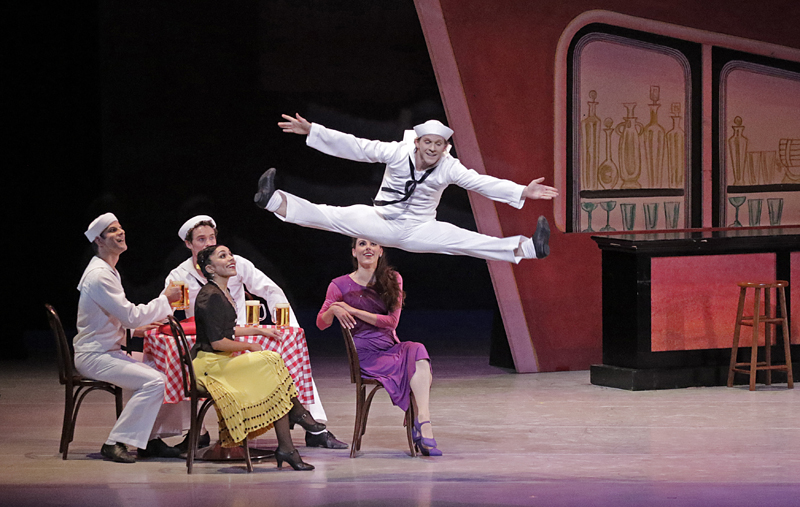 Marcello Gomes, Cory Stearns, Jeanette Delgado, Tiler Peck and Daniel Ulbricht perform Jerome Robbins' Fancy Free