Ventura is getting a special treat: Two of the 805's best acting talents, Jessi May Stevenson and Taylor Kasch, are teaming up to do David Harrower's Blackbird, one of the most remarkable plays written in decades.
It is also one of the more difficult scripts to do in recent theatre. Harrower's writing puts severe demands on the acting. No worries, Stevenson and Kasch create a stage chemistry capable of summoning a reality straight from the depths of hell: After getting a glimpse of rehearsal; what I witnessed was special indeed, the kind of stuff you fly to New York or London to see. If then.
I can assure you this is going to be one of the best, perhaps the most important event in this season's theatre and art calendar for the 805.
Just to give an idea of how strong a play Blackbird is, one critic who saw its New York City debut said the play "shook him to his core" --not a common response from a hardened New York critic.
The play was a sensation when it opened in 2007 at the Manhattan Theatre Club with Joe Mantello directing, Jeff Daniels and Alison Pill in the leads. In spite of rave reviews for his acting and the depth of the performance, Daniels felt he had not exhausted the richness of the play and, teaming up again with the same director, Mantello, sought to do the play again on Broadway, this time with the well-known Michelle Williams doing the female lead.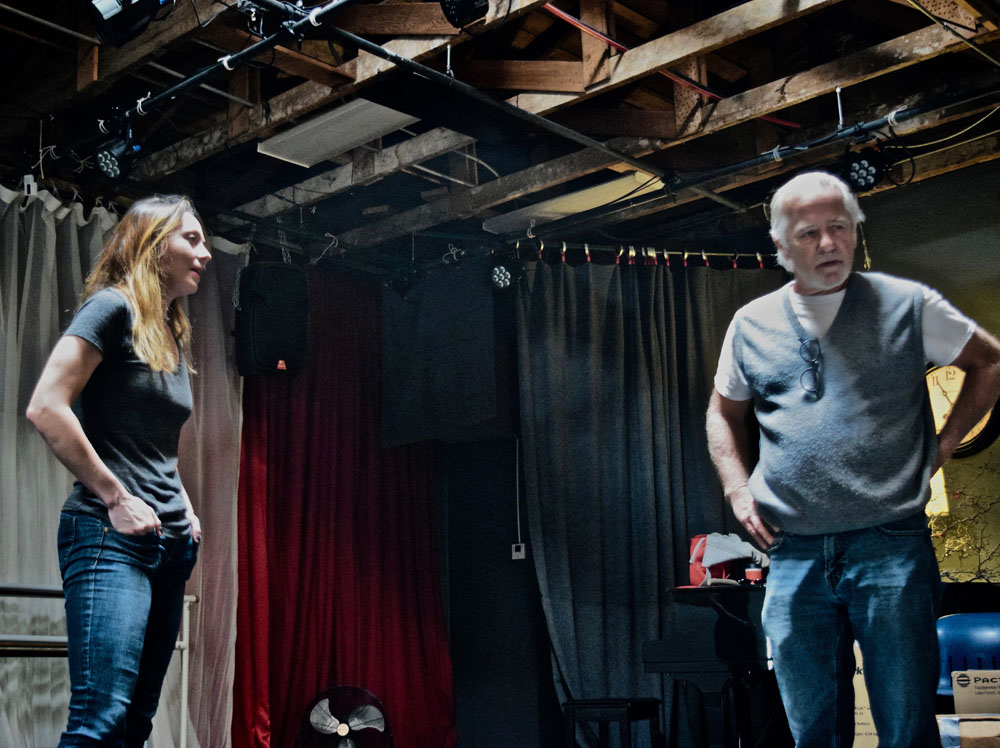 Cornering a predator, Jessi May Stevenson and Taylor Kasch in rehearsal for David Harrower's sensational drama,
Blackbird at Namba in Ventura.
Photo Credit: Sarah Thomas
The play is a small scale, barely 90-minute drama featuring a woman, Una, who finds and visits a man she knew decades earlier, but has not seen since she was 12 years old.
Set in a bland, trashy, office breakroom, at first everything seems almost banal, bumbling, oddly normal. We are not clear what Una's intentions are. Why is she here? What is going on between these two?
Harrower's deft and dispassionate script sympathetically lures us into the world of these two beings, carefully dissecting their past, revealing their secrets, layer by layer. We are fascinated, pulled in. Like drivers coming upon the scene of a ghastly highway accident, we sense the possibility of an approaching horror, yet we are slowly brought closer, captivated, we cannot help ourselves, unable to look away.
As a producer, director, and actor, Kasch has shown a predilection for difficult work, in particular, plays with challenging, highly charged psychological subject matter. Jessi May Stevenson is emerging as one of our most intelligent young actresses, coming off a brilliantly moving performance in Santa Paula Theatre Center's Mullingar, and deftly directing Becky's New Car, she is more than ready to take on a part that pushed the great Michelle Williams to her limits. Don't miss it. At Namba.

Blackbird by David Harrower
The Director: Richard Kuhlman
Producer: Flying H Group in conjunction with NAMBA
Actors: Jessi May Stevenson, Taylor Kasch
Light Design: Taylor Kasch
Graphics: Amy Lynn Stevenson
Tickets 20 adults 18 seniors
Performance 10/27, 10/28, 11/3, 11/4 2017

NAMBA Performance Arts Space
Ventura, California 93001
805-628-9250