This is an amazingly nutrient-dense cookie that's perfect to take with you to work or on a hike. The energy you'll get from it lasts for hours, just like the lambas (elven) bread in The Fellowship Of The Ring. My favorite part is the Nu Naturals brand stevia, which has no bitter aftertaste at all. This cookie is a true sugar-free treasure! And, you can have fun flavoring it in whichever direction your heart desires...coconut shavings & nutmeg...or maybe lemon extract, poppy seeds, & dried cherries!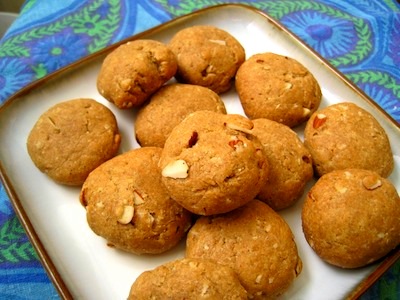 I recommend using fresh ground amaranth flour, if possible. A blender with a grain milling attachment works great to grind whole grain amaranth. Or, if you're patient enough to mill just a few tablespoons at a time, a coffee grinder works well too. You can use packaged amaranth flour, but the delicate oils in the grain oxidize (become rancid) just a short time after grinding (as is the case in most other pre-ground grain products), and this isn't good for the body at all.

I also recommend culturing your amaranth flour 24 hrs ahead of time, so it becomes much more easily digestible, and the vitamins & minerals are more efficiently assimilated by the body....here's how: Mix until well blended: 4 cups fresh ground amaranth with 1.25cups water and .25tsp acidophilus powder (or two capsules of any live probiotic supplement).

Okay. Let the amaranth flour, water, and probiotic mixture sit for a day, covered with a dish towel, at room temperature in a dark place like your pantry, so that the cultures can neutralize the phytic acid in the whole grain flour and begin to break down the complex starches.

Our ancestors have been preparing grains this way for millennia, and they were healthy with strong teeth & bones late into life.

Here's what you'll need the next day when you're ready to mix-in the rest of the ingredients and bake:

7/8 cup virgin coconut oil
1tsp Nu-Naturals liquid vanilla stevia
2tsp Nu-Naturals powdered Stevia
2tsp Vanilla extract (or lemon extract, etc.)
1tsp Sea Salt (Himalayan is what I have been using)
2tsp Nutmeg (or whichever ground spice you like best)
up to 2 cups coconut shavings or dried cherries, etc.

Mix this cream mix together in a small saucepan: melt 7/8 cup virgin coconut oil on low heat and turn heat off as soon as it all melts. Then, add 1tsp Nu Naturals brand Liquid Vanilla Stevia AND 2tsp Nu Naturals brand Non-Bitter Stevia Powder, 2tsp vanilla extract (or other extract), 1tsp whole sea salt, and 2tsp ground nutmeg (or other favorite spices). Mix until evenly smooth.

Combine cream mix with cultured flour mix until evenly blended, then add your chunky elements like dried fruit or coconut shavings, and if feeling adventurous (and if sugar is allowable for you), dark chocolate chips (preferably malt-sweetened) or carob chips. Yay!

Place heaping Tbsp size cookies on a coconut oiled baking sheet (you can arrange them really close to one another as they don't run at all) and bake at 375 degrees for 20 minutes. Enjoy!