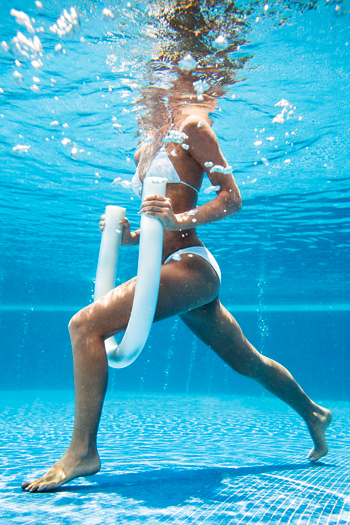 Thousands of people are exercising in the water these days, and not just because it's nearly summer, but because of the numerous physical benefits. Low-impact water workouts combine cardiovascular exercises with strength training and with little risk of injury. Because of water's buoyancy and the body support it provides, joint, muscle, and bone injuries are almost eliminated. The best part-- you don't even have to know how to swim to get a great water workout!
Don't think a water workout is for the faint at heart. Water provides 12 times the resistance of air because of its increased density. As the water pushes against the body, the movements become more difficult, requiring muscles to work harder. Calories are burned and muscles are toned.
Refreshing water also carries many therapeutic qualities, alleviating pain and stress on joints & muscles as well as keeping exercisers cool even in the middle of an intense workout. Most importantly, water cradles and supports us, eliminating ballistic stress and the constant pounding experienced on the joints and limbs from land-based modes of exercise.
Water based exercises are a perfect complement to high-intensity boot camp style training, allowing you to add supplementary workouts without over-stressing sore muscles. Lather on the sunscreen, get your feet wet and give these sample exercises a try:
WARM UP
Water walking with hand webs and water shoes: Water walking is as simple as it sounds. In water that's about waist-high, walk across the pool swinging your arms like you do when walking on land. Avoid walking on your tiptoes, and keep your back straight. Tighten your abdominal muscles to avoid leaning too far forward or to the side.
Water shoes will help you maintain traction on the bottom of the pool as well as protect your feet from becoming raw. To increase resistance as your hands and arms move through the water, wear hand webs.
LOWER BODY
Leg Lift: Stand in shoulder-deep water and hold onto the edge of the pool lightly for balance. Extend your right leg straight out to the side as far up as you can bring it but, only go as far as you can while keeping toes pointing toward the pool wall (don't let your ankle turn) and keeping your hips straight toward the wall. Complete 8-10 times. Repeat on left leg.
Water Squats: Stand in the water with feet about hip-width apart. Bend your knees slightly as you push your hips back as if you are sitting on a chair. Keep your knees behind your toes. Keep your feet planted firmly on the ground. Squeeze your glutes as you raise up. Return to start position and repeat. The water provides extra resistance and makes this move more challenging.
UPPER BODY
Lateral Raises: Stand in shoulder-deep water with arms hanging straight down against your sides. Slowly extend both arms straight out to the sides all the way up to the water-level but not coming out of the water. Pause briefly, and then press down to starting position focusing on the resistance in both directions. You should feel like your flapping your wings.
Bicep curl / Tricep extension: In a forward stance, begin curling arms toward your chest. Before reaching your chest, extend them backwards until they are pushed behind your back focusing on the resistance in both directions.
CARDIO
Swim/Walk interval laps: Swim 1-2 laps (use any swim form you prefer: crawl, backstroke, etc). Walk 1-2 laps in the pool. Repeat sequence 4-6 times.
image via http://www.bodyandsoul.com.au