A powerful and timely new realization of an American masterpiece.
Review-
Russian American Jews composing an opera about racism in the Deep South circa 1935 featuring a virtually all-black cast? George and Ira Gershwin were considered out of their minds if not outright un-American at the time for such boundary-bending audacity. Their masterpiece, Porgy and Bess, from a libretto by Dubose Heyward based on his novel Porgy was shunned after its initial debut and all but forgotten for decades. In recent years, though, especially since the civil rights movement of the 60's, the opera has been revived and re-spirited on several occasions using diverse media and genres; recognized at last, as a major American folk opera of unparalleled genius and universal humanitarian message and appeal.
Santa Barbara's Ensemble Theatre Company is offering the Broadway stage adaptation, delicately redacted and lovingly re-imagined by MacArthur Foundation Genius Grant recipient (2001) and Pulitzer Prize-winning (Topdog/Underdog-2002) African American playwright, screenwriter, and novelist Suzan-Lori Parks through February 26th at the New Vic Theater. Parks' The Gershwin's Porgy and Bess (2011) has been moved in ambiance from the Great Depression to a 60's John Coltrane, Miles Davis jazz sensibility, including a reworking of the score for an ensemble of five musicians by Dierdre L. Murray. Parks has successfully pared down the nearly four-hour original opera libretto to a more manageable hour and a half for modern theater audiences. Iconic songs from the opera – Summertime; Bess, You Is My Woman Now; and It Ain't Necessarily So, among so many others - are present in the new scoring, though occasionally and deliciously obfuscated by Murray's elastic meters and thick contemporary jazz harmonies and the band's frequent improvisations which kaleidoscope tunes from familiar to unfamiliar and back again. Fascinating!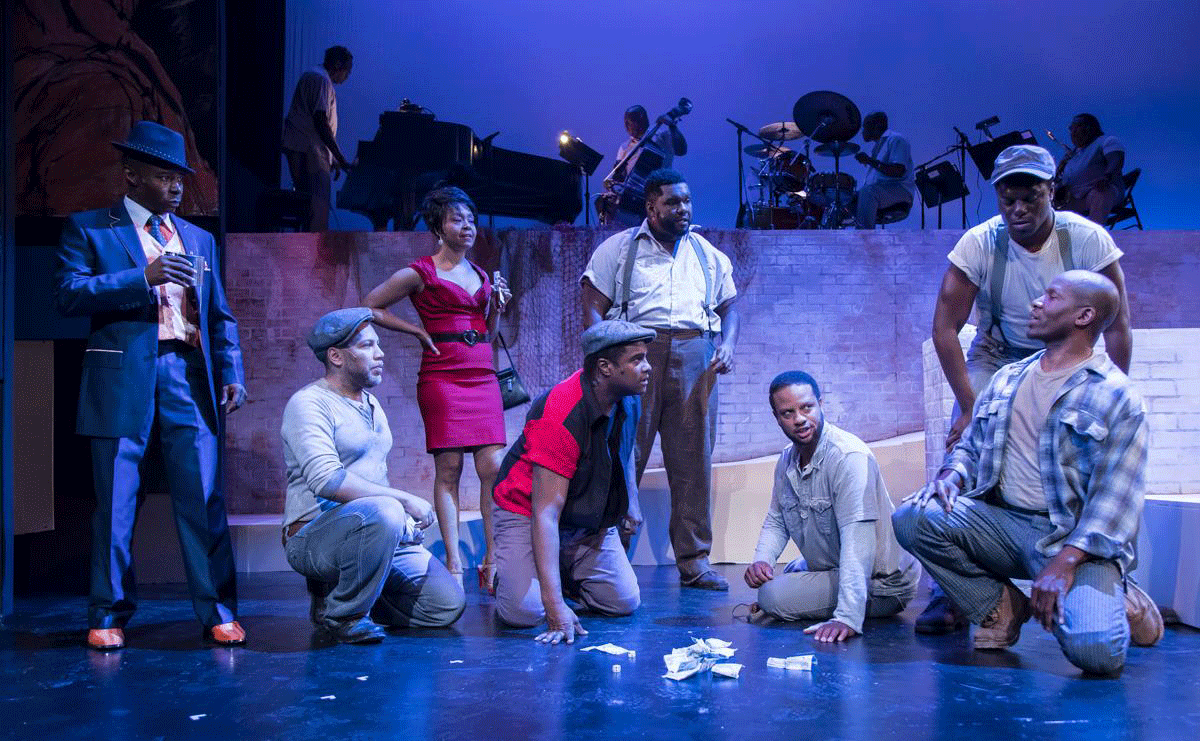 (L-R) Frank Lawson, LeSean Lewis, Karole Foreman, KB Solomon, Phillip Brandon, Elijah Rock, Davon Williams, and Aaron Braxton.
Photo Credit: David Bazemore
ETC Artistic Director Jonathan Fox's unerring genius as a director seems particularly inventive and focused when he works in musical theater, as his riveting production of Sweeney Todd at ETC last year, and A Little Night Music before that have made clear over the years. Fox's Porgy is intensely vibrant and tactile. Parks/Fox spike the opening Overture for example, with haunting visuals from the civil rights era that Americans and the world alike recognize instantly these decades later. Scenic designer Frederica Nascimento has created a simple, functional set that hints at the ghetto of Cat Fish Row, but is more interested visually and viscerally, in the promise of escape to the promised land – the bayou, the river shore, the waterway to a world far away and as illusory as Sportin' Life's happy dust. Lighting designer John Garofalo works his color mood magic as easily in bright Southern sun as under the darkening threat of hurricane, and Joseph Lorenzen's sound design, especially in the hurricane scene, is both evocative and subtle. Karen Perry's costumes are mid-century, with a touch of Southern good ol' boy – perfect.
Fox, with casting director Amy Lieberman, has assembled an extraordinary lineup of singing actors for this run of The Gershwin's Porgy and Bess including NAACP Award-nominee Karole Foreman in the role of Bess, Ovation Award nominee Elijah Rock in his ETC debut as Porgy, Dawnn Lewis as Serena, Washington National Opera bass, K. B. Solomon as Crown, and Frank Lawson as Sportin' Life. Other outstanding members of this powerful ensemble cast: Peggy Blow (Mariah), Philip Brandon (Mingo), Brian Harwell (Detective), Davon Williams (Jake), Ashely Lynette Brown (Clara), Aaron Braxton (Robbins) LeSean Lewis (Fisherman), Constance Jewell Lopez (Strawberry Woman) and Sean O'Shea (policeman). Officiating at the piano, two-time Grammy-nominated music director Kevin Toney leds a tight jazz ensemble of Louis Van Taylor (saxophone and flute), Anne King (trumpet), John Hart (bass), and Rayford Griffin (drums).
Performances of Porgy and Bess run Wednesdays through Saturdays at 8pm and Sundays at 2 p.m. and 7 p.m. Ticket prices are $35.00 to $75.00.
Patrons 29 and under are $20.00
. For more information visit www.etcsb.org or call 965-5400x109.