3 minutes reading time
(571 words)
Artist Interview: WAV Artist Mark Mollgaard
Mark Mollgaard, speaks with a soft-spoken croon. In his picture, featured in the WAV brochure, he poses with a jokingly frantic facial expression –wide-eyed, face tightened and hair disheveled.
"I am in my most creative mode when I transcend my own knowledge of what I am doing. Therefore, when you ask me, 'What are you making?' Don't be surprised if I answer 'I don't know.' When I answer like that, I am in a realm I have literally never been [in] before, and THAT is where my most creative answers originate," says Mollgaard in a post-interview e-mail after fully gathering his thoughts.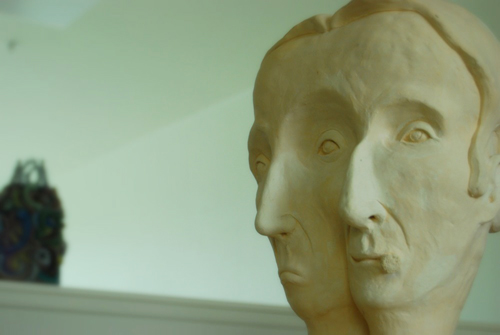 Going back to elementary school in Long Beach, Mollgaard struggled academically. But for Mollgaard, it came as an assurance that art was his calling, motivating him as he surpassed his classmates.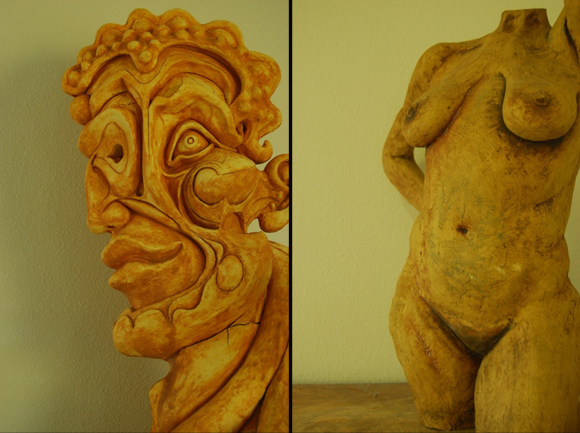 "School is a challenge of conforming – of conforming to what already is – and rules and things. So it's kind of the opposite of creativity," he says.
Beginning in eighth grade, Mollgaard moved to Carlsbad, Calif., a San Diego beach town. And as for his new residence, it was TV-less throughout high school – his mom's decision.
"My mom, she was pretty cool. It was kind of nice not having a TV. She just realized that most of TV is garbage. She just didn't get a TV," says Mollgaard, before mocking someday gawking at a television, jaw-dropped, to express what his mother refused to see.
"She wanted us to be cultured more, I think."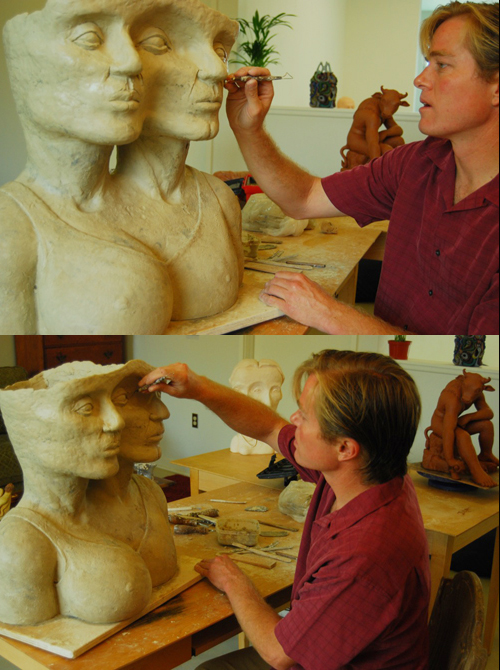 In his senior year at Carlsbad High School, his interest in art intensified. "My mom had a coffee table with these big coffee table books – art books – and there was Van Gogh," says Mollgaard, who had his head in them during the time when he was not socializing with his friends.
"I spent a lot of time looking at those paintings. And I kind I absorbed those paintings a lot."
By the end of his senior year, Mollgaard was creating some of his first sculptures. And his teacher pushed him. "My teacher was really encouraging me and I loved it."
Yet, it wasn't till after he graduated when Mollgaard decided to take-up art in life. The revelation of how he was destined to pursue art hit him in his bedroom, working on a sculpture. He even remembers his thought process when choosing the profession. "I just realized 'This is what I want to do. This is what I can do, it's what I love,'" he says, reflecting.
"I think that moment is when it struck me."

What motivates Mollgaard is a bit more complex than other artists. So he pauses and reflects with peering eyes, giving himself time to pinpoint the accurate answer. He feels he creates sculptors wanting to spark not only his own personal satisfaction, but to produce art that resonates with people. Nonetheless, he embraces that not all his work would yield the same reaction.
"I create stuff because I can, because it makes me feel good – it's fulfilling. I have a feeling … that it's connected to the world – to people – to the spirits of people," he says.
"But I don't always know how people are going to feel – how people are going to interpret it."
Comments
No comments made yet. Be the first to submit a comment