2 minutes reading time
(407 words)
Soledad Barrio & Noche Flamenca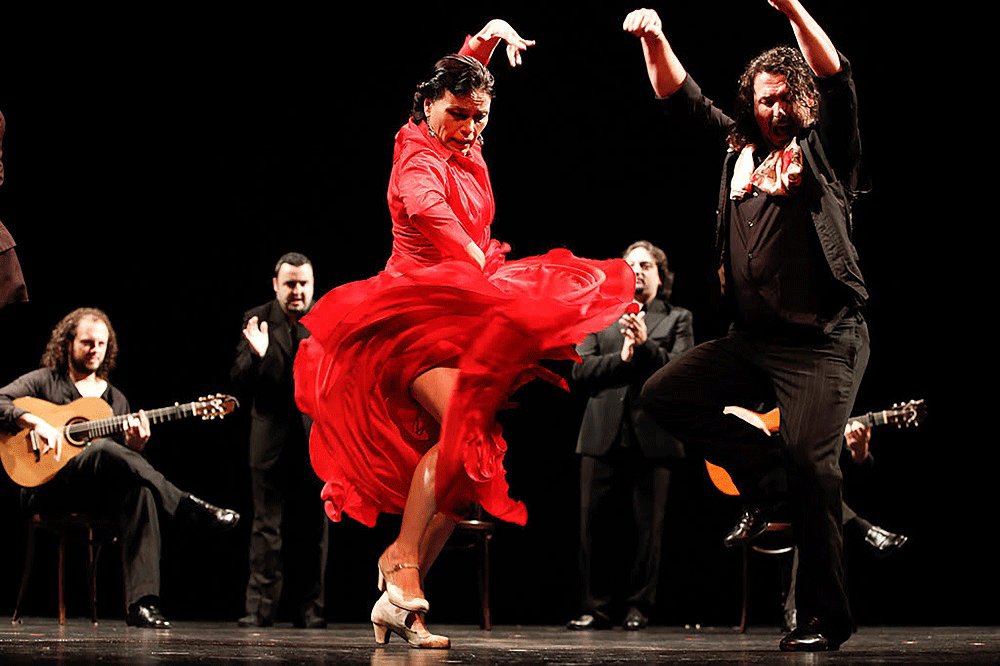 Hailed by critics for their transcendent and deeply emotional performances, Noche Flamenca embodies the essence, complexity and mystery of flamenco.
Fronted by the incomparable Soledad Barrio, a Bessie Award-winning dancer acclaimed for her "smoldering, do-or-die flamenco passion" (The New York Times), this group of commanding dancers and musicians have earned accolades the world over. As a leading flamenco touring company, they embody a truly communal spirit, giving all aspects of flamenco – dance, song and music – equal weight as they seamlessly integrate each component into one spell-binding experience. Noche Flamenca's vitality, energy and passion expresses the very heart and soul of the art form.
Noche Flamenca is recognized as the most authentic flamenco touring company in the field today. Its mission is to create a rigorous theatrical performance through song, music and dance that expresses a diverse aesthetic. The company strives to captivate its audiences through its live performances and to evoke the passion and emotion that is flamenco. Through its educational outreach and residency programs, the company seeks to educate and enlighten people of all ages, races and economic backgrounds regarding the authentic form of flamenco – a form born of ancestral cultural repression and racial expulsion.
Under the direction of Martín Santangelo, the award-winning Noche Flamenca was formed in 1993 by Santangelo and his wife, Soledad Barrio, who was honored with a 2015 Dance Magazine Exceptional Artist award, the company tours throughout the globe, including regular seasons in New York City and performances in North and South America, Europe and Australia.
Santangelo has successfully brought to the stage the essence, purity and integrity of one of the world's most complex and mysterious art forms. Noche Flamenca has been recognized with awards from the National Dance Project, the National Endowment for the Arts, New York State Council on the Arts, the MAP Fund, and the Lucille Lortel Award for Special Theatrical Experience, among others.
EVENT SUMMARY:
· Soledad Barrio & Noche Flamenca
· The award-winning Noche Flamenca is recognized as one of the world's premiere touring flamenco companies that seamlessly integrates dance, song and music into one spell-binding experience
· Fronted by the incomparable Soledad Barrio, a Bessie Award-winning dancer acclaimed for her "smoldering, do-or-die flamenco passion" (The New York Times)
· Fri., March 3 / 8 p.m. / UCSB Campbell Hall
· Tickets are $30-$45 for the general public and $19 for all students (valid student ID required)
·
Tickets/Info.: (805) 893-3535, www.ArtsAndLectures.UCSB.edu
Comments
No comments made yet. Be the first to submit a comment