4 minutes reading time
(850 words)
Artists Opening: Group Exhition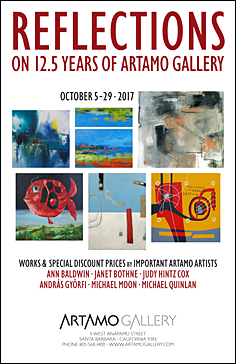 Ann Baldwin. Janet Bothne, Judy Hintz Cox, Andras Gyorfi, Michael Moon, Michael Quinlan
October 5 - October 29, 2017
Artamo Gallery
,
Santa Barbara, CA
An Opening Reception Thursday October 5, 2017 from 5:00 pm to 8:00 pm
ARTAMO GALLERY reflects on the past 12.5 years of presenting powerful and thought-provoking works by its outstanding artists. The exhibition from the gallery inventory features paintings from all these years. As a special thank you to our collectors the artists offer deep discounts on their work during show-time.

ANN BALDWIN was born and raised in London, England, and began painting seriously after moving to the Bay Area in 1991. Here she formed the connection between her love of literature and her work as a visual artist, focusing first on Shakespeare and then on Proust — the men, their characters, and the text of their work. Her collages are a sensual and emotional response to the theatre, layering images from old programs, incorporating excerpts from scripts, pasting on phrases which instantly bring to mind the experience of play-going. She explores both the visual effects of text and its tendency to carry meaning whether intended or not.

JANET BOTHNE grew up in Massachusetts and studied Fine Art with a focus on painting at the University of Massachusetts, Amherst, in the early 1980's. From there she went on to numerous endeavors including antique restoration, freelance portraiture and illustration, and painting commercial murals. She moved to the Los Angeles area in 1996 where she married her artist's eye with computer skills, becoming a graphic designer and humorist for a silk-screen company — but her passion for drawing and painting pushed its way to the forefront of her life in 2003, when she quit her job to pursue her dream. Over time, her foundations in realism have given way to a fresh, bold abstract expressionism that allows her to explore color as her sole focus and subject matter.

JUDY HINTZ COX is a contemporary abstract artist and started painting thirty years ago while living in South America after serving as a Peace Corps volunteer in Ecuador. Her initial shows were in Peru and Brazil and through the years she has had over 60 exhibits (including single, dual and group shows) around the globe. Judy's abstract expressionist paintings are characterized by the presence of thick and vibrant color. These works serve as a striking contrast to her minimalist pieces, which evoke a sense of serenity via a mostly white palette.

ANDRÁS GYÖRFI was born in Kaposvár, Hungary, a regional capital about 120 miles southwest of Budapest. After learning privately from the painters Molnár József and Ruisz György he moved to Budapest in 1981, where he earned a degree as an architect at the Ybl Miklós Training College. Before András Györfi began exhibiting his paintings in 1991, he had illustrated for several well known Hungarian magazines for a couple of years and in 1993 Györfi designed a stage setting for the theater of Sopron for a Raymond F.Simon drama. In 1994 he had painted in the United States for some time and shown in exhibitions then. From 1994 to 1999 he managed the Polaris Gallery in Budapest and also did studio work in Aachen, Germany. Györfi's works are appreciated both in Hungary and internationally, and he is today considered one of the best and most promising Hungarian contemporary painters.

MICHAEL MOON, born and raised in Southern California, knew he wanted to be an artist since the second grade. From this time until graduating from college he sporadically continued his interest in painting, drawing and art history and after finishing his M.A. in Educational Psychology, he began a combination of formal study of art at Art Center College of Design, Pasadena, California, and UCLA. Influenced especially by El Greco's passion, the impressionist's love of color, and the expressionist's love of paint, for the next years he painted essentially in solitude. During this time he also began to be influenced by Eastern thought as well as the practice of meditation. During this time he began to integrate Eastern and Western thought in the symbolism of his paintings.

MICHAEL QUINLAN is a New York-based painter and graphic designer. After earning degrees in law and business and working briefly as an attorney in his hometown of Chicago, his brain took over and steered him into creative art. He has worked in design, art, and advertising ever since. Michael is drawn to the little details of life: patterns, shapes, intersections, colors. He is also fascinated by how language — with its colloquialisms, idioms, and varied meanings — shapes our everyday existence. Michael believes language, French language in particular, is in itself a work of art. Armed with a voyeur's propensity to observe, and a mash up of collected tastes and interests, Michael uses words, shapes, colors, and sounds seen, said, imagined, heard and overheard in real life, film, literature, art, music, memories, dreams, and popular culture to formulate his abstract expressions.
Tuesday–Sunday, 12:00–5:00 PM
First Thursday until 8:00 PM
and by appointment only
Comments
No comments made yet. Be the first to submit a comment