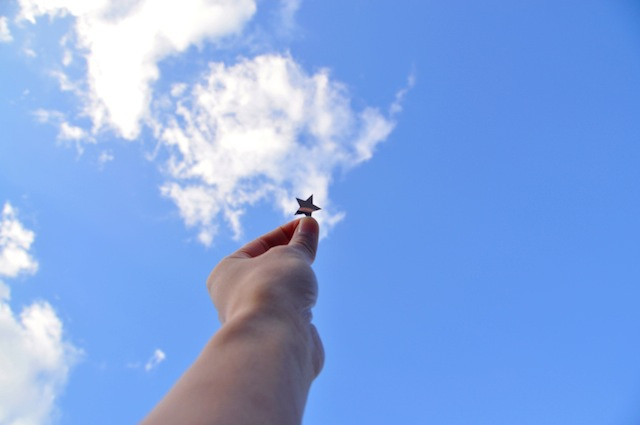 Reach for the Stars: a New Look at the Way You Set Your New Year's Goals
A New Year is on the horizon and with that comes renewed ambition and hopes for great things to come in the year ahead. You'll likely set goals or resolutions hoping to redirect your actions towards more purposeful behaviors and lifestyle patterns. This is good and I highly recommend it, especially when we're talking about your health!
However, this isn't an article about how to set goals. Stephen Covey pretty well mastered that subject matter in his book 'The 7 Habits of Highly Effective People' so read that if you need to learn how to set goals. Rather than discuss the "how" of goal setting, I want to help you think about the "what" of your resolutions.
If you knew you couldn't fail, what three goals would you set for your life?
Often times we set our New Year's resolutions by judging our future goals based on our past failures. "I didn't loose the 10 pounds that I resolved to loose at the beginning of the year so this time I'll try to loose 15." Do you determine the coming year's resolutions based on last year's failures? That thinking makes your goals for the coming year seem like a punishment rather than a challenge to become something greater. While reflection is helpful in determining the actions needed to achieve your goals, it shouldn't be used to beat yourself up for what you didn't do or achieve the first time you set that goal.
Instead, focus on the positive of the past year: Did you adopt a regular exercise program? Did you stop eating fast food and quit drinking soda? Are you now eating vegetables with all your meals? It doesn't have to be a monumental achievement like smoking cessation in order to be considered a positive change. Every positive change you make in your health will directly impact another area of your life in an equally positive way. Embrace the small steps along the way because each one is necessary in building you into the person you were created to be.
"Beloved, I pray that in all respects you may prosper and be in good health, just as your soul prospers."
3 John 1:2
Don't beat yourself up over goals you've missed in the past. Chances are you've still made headway in the right direction and that is something to build on. C.S. Lewis once said "Aim at heaven and you get earth thrown in. Aim at earth and you get neither." So go ahead and dream big! Shoot for the stars! You may not get the stars, but you won't end up with a fist full of mud either.
If you knew you couldn't fail, what three goals would you set for your life?
Those goals needn't be health related—but just a thought to pause and ponder here; How much more attainable would those three goals be if you were healthy? If you had more energy? If you felt fantastic? If you were mentally tougher? If you had a balanced lifestyle? Those three goals you'd set for yourself are unique to you. They have been placed upon your heart because they are meant for you to achieve and deep down you know that.
It may feel uncomfortable to set big goals but if it were easy, it wouldn't be worth it. Many people shy away from challenges to the point of avoiding anything with even the word "challenge" in it. When I tell people the name of our outdoor group fitness program is "Body Blast Challenge" I'm often responded to with a remark such as "That sounds too hard for me". But, what they don't understand is it's the very challenges that you endure in life that give you the strength to grow to new levels. Just as resistance (training) grows stronger muscles, so too does your internal fortitude grow with the resistance of life's challenges met from chasing your dreams.
If that dream has been placed inside of you, you will not be able to rest until you are actively pursuing it. It's ok to challenge yourself with big goals this coming year. Besides, challenges build character, right! At the very least you'll have that.
Now, if you knew you couldn't fail, what three goals would you set for your life?