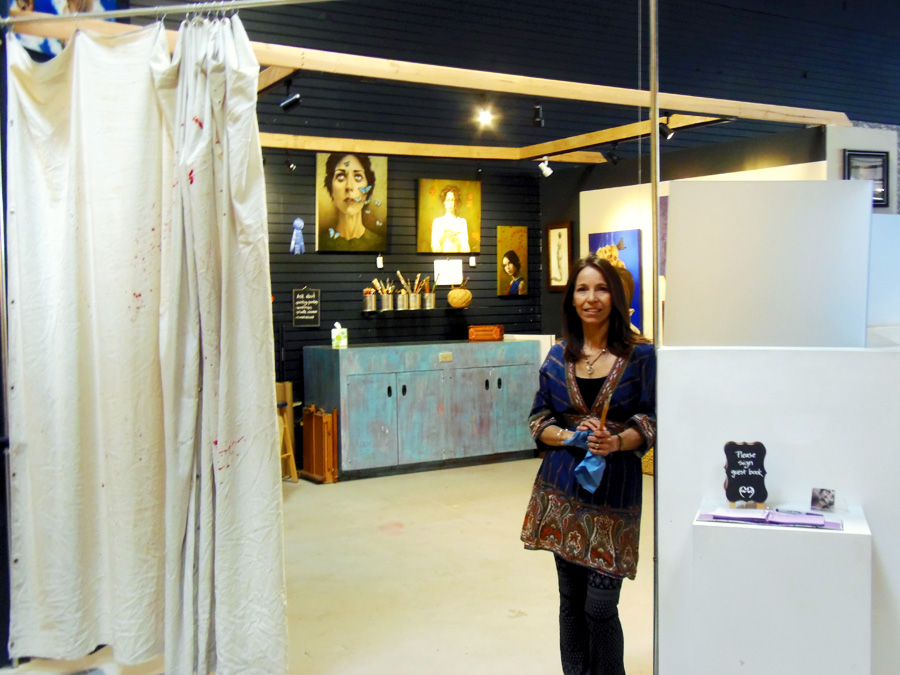 Local Artist Mariana Peirano welcoming us to her studio.
Mariana Peirano
is another artist who I think we should keep an eye on. I don't remember where I first saw her painting "just when it all falls apart", but I fell in love with it. Although the painting is eerie, I love it because the girl in the painting reminds me of a remarkable young woman who is no longer with us named Chloe Blohm who I had the amazing opportunity to meet through her mother. Chloe was also artist, and in fact, I commissioned her first painting which graces the top of my staircase. I am so fortunate to have the opportunity to interview the artist of that beautiful painting. Funny how things work out.
When I first met Mariana last year she was in the studio next to Eva Ryan, but has since moved to a bigger studio on the first floor at HUD Ventura.
After a series of failed attempts through emails, we were finally able to connect.
According to the

Argentinean

born Mariana, she was born an artist, however at some point in her early adult life she unconsciously moved away from that idea and became an elementary school teacher. Her struggles as an immigrant child prompted her to become a bilingual teacher and help those in similar situations. During those years, her art was limited to creating classroom materials for her students and her own children.
Some years later she rediscovered her true nature and became an artist again.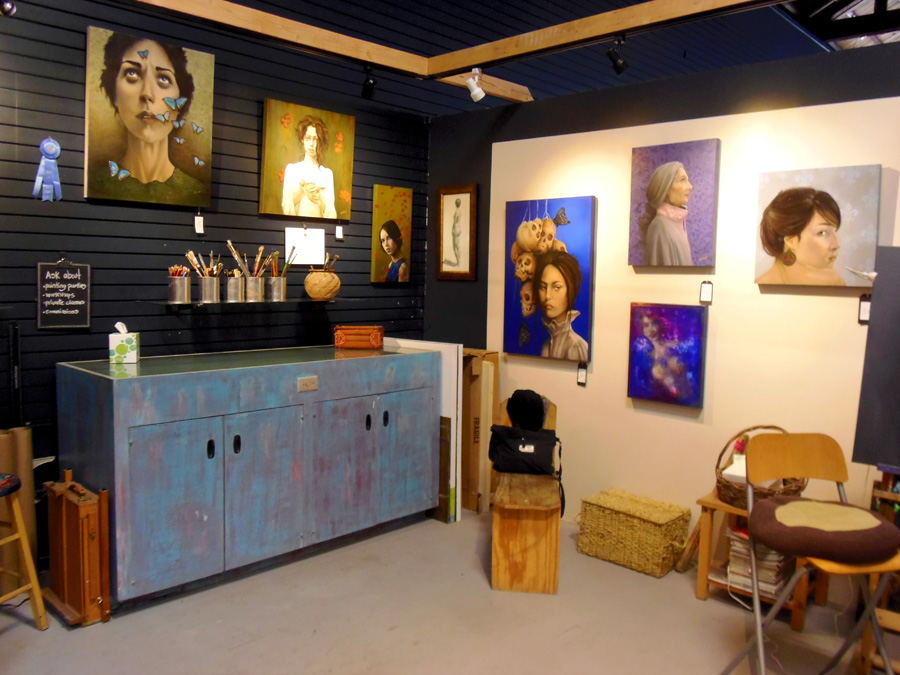 Did you choose, or were you chosen to create art work?
I'd like to believe that the universe had a plan for me to be an artist from the moment I was born. According to my mother, I was drawing since I could hold a pencil. As I got older it actually became a bit of a an issue with her because that's all I wanted to do!
Do you visualize your Art before creating? Do you know what it will look like before you begin? What's your process?
My process reflects my belief that I'm merely an instrument for the creative forces of the universe. I'm inspired by images that evoke a strong emotional response in me. And so sometimes I write poems to decipher the messages I receive from those images. Then the words and the images become my painting. Through my art I like to reveal the dramatic experience of self discovery and the monumental transformations that occur in our human life. I hope to provoke thought and introspection in the viewer.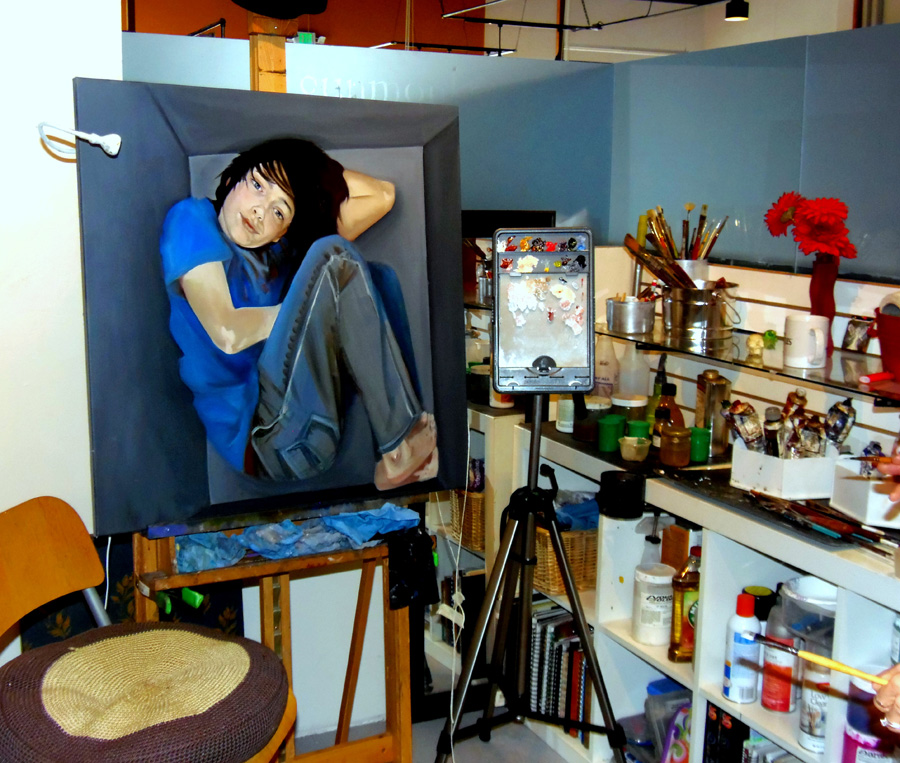 Mariana's nephew was playing around in the box and her husband snap a picture, she discovered the image and decided to paint it.
How does the city you live in influence your creativity?
Ventura has been a huge influence in my art. It is here that I basically got back into my art after many years away. It is thanks to the support and encouragement of the people I met here that I am able to call myself an artist again. Having been part of the Buenaventura Art Association and now being a resident artist at the HUD gallery have made a tremendous difference in my artistic life and I'm truly thankful for all the support I've received.
In your words, what does it mean to be a
"
creative
"
?
To be creative is to Be. We are all creative beings. We are constantly being creative in our ordinary lives, every time we solve a problem, find a different perspective, take risks, find a different route, put together an outfit or a recipe, etc. We are being creative whenever we think! I'm constantly in awe of how creative humans are.
What is your favorite experience as an artist?
My favorite experience as an artist is how I can be in a different world when I paint. I disconnect from the outside world and connect with an inner source that is beyond explanation. It's how I recharge.
I feel most empowered when
…………
.
I first start a painting.
I think all artists reference their childhood experiences within their art in some way, no matter what age they are at while making art.
Do you think that your art could reflect your childhood experience/experiences at all? If so, how?
We are the sum of our experiences to a certain extent so I'm sure that my childhood experiences have somewhat influenced my work, as they may have for other artists. However, I'm not one to look at the past very often. I suppose I'm more concerned with the future but mostly I work hard to stay in the present.
Who do you feel has influenced art most this century?
I think there are many artists who have had a strong influence. Dali, Picasso and Khalo are ones that come to mind. I think art is very subjective and it does not need to be a famous or popular piece necessarily to have an impact on the viewer.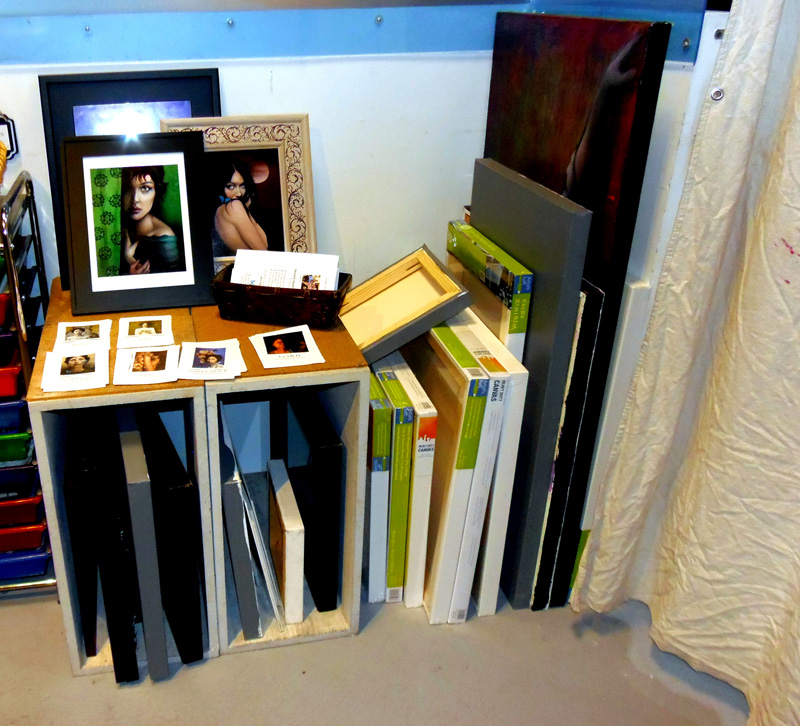 Who first influenced you artistically?
I have to say that my junior high and high school teachers were a great influence for me. Specifically, one of my high school teachers was a great mentor and introduced me to the classical masters. My work has been greatly influenced by the classical masters. When I discovered Bouguereau I immediately became enamored with his work. His realistic paintings and mythical themes fascinated me. At the same time, I find myself admiring Dali's surreal work. I'd like my work to merge Bouguereau's delicate rendering of the human form and Dali's imaginative and surreal expression.
Is there something happening in your career that you are looking forward to? Any exciting projects on the horizon?
I understand that the definition of success can vary dramatically from one artist to the next. For me success has to do with the satisfaction of creating work that is skilled, moving and reflective. As I move forward in my art career, it is my main goal to continue improving my oil painting skills. Recently I became acquainted with artist David Kassan's work and I'm looking forward to applying what I've learned from his technique in my own paintings. Having been away from it for so long, I welcome with excitement any opportunity to just paint.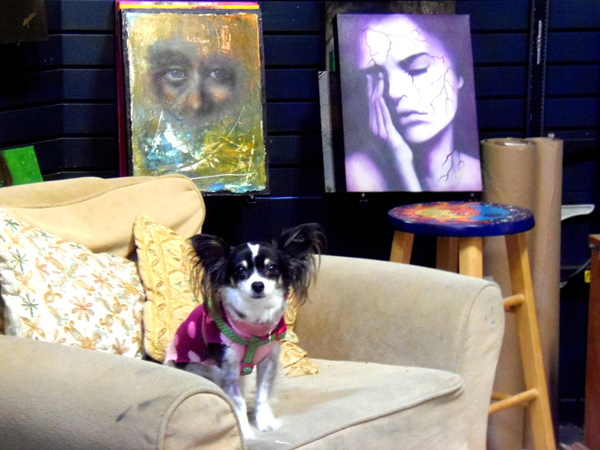 The photographer's assistant for the day, ChiChi.
I'm really excited about collaborating on a project with artist Nash Rightmer. We've decided to work together as artists to bring awareness to the homeless situation in Ventura. Although we don't have everything planned out yet, we are hoping to have a show once the porject is complete and donate a percentage of the proceeds to benefit the homeless.
Describe yourself in 5 words.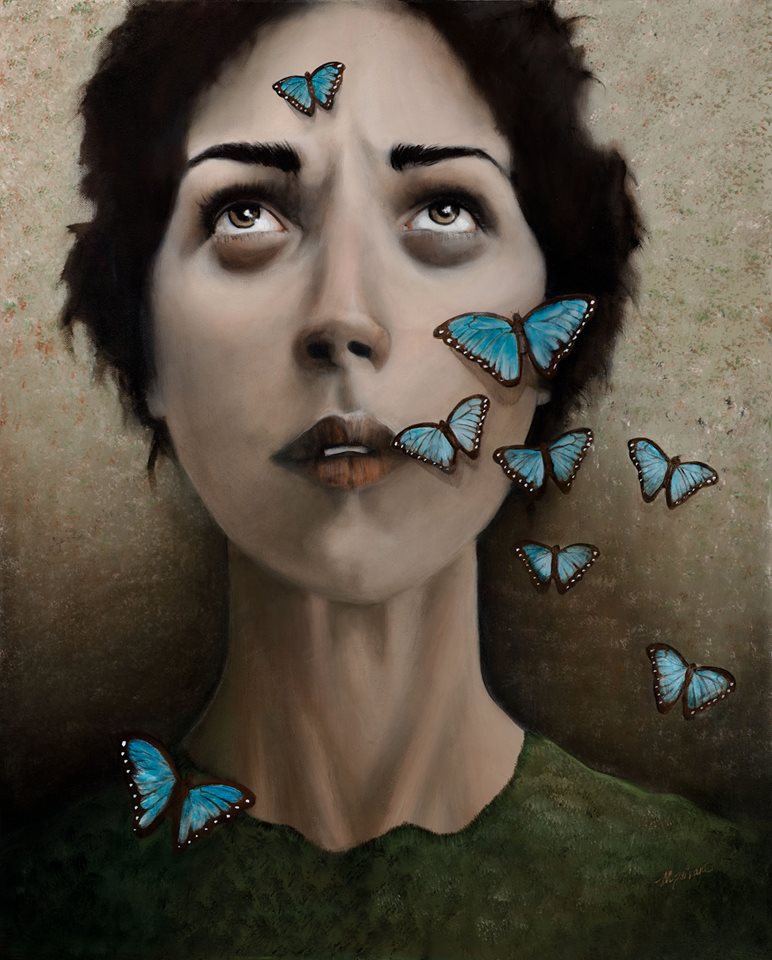 acrylic & charcoal 24 x 30
1st place at San Buenventura Art Association
29th Annual Open Competition 2015
1793 E. Main Street Ventura, California 93001