1 minute reading time
(211 words)
Fashion Tip of the Day: The Best Lingerie for your Body Type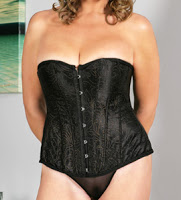 Lingerie can be a very scary thing. Most women don't even attempt to go near it.
However, if you know what's right for your body type, then you don't need to be scared anymore!
For example if you're fond of your chest, choose something that is tighter and will allow you to have more cleavage. If you're unhappy about your weight then wear darker colors to make you look slimmer and sexier.
Nevertheless, you want to attract men to your sexiest areas and not the ones you aren't fond of!
Tall women usually look best in a traditional bra and panties with a garter belt. This will be sure to show off those long legs and create a classic beauty that most men love.
Image via styletips101.com
Athletic women may want to try boy shorts, which will really show off a nice butt. Match it with a cute bra to complete the look.
Petite women look great in long silky gowns! This will allow them to look longer and taller.
Image via yandy.com
Plus-size women usually prefer corsets because they're able to show off their chest and accentuate their beautiful curves. Not to mention, the corset sucks in the waist, giving you that hour glass figure!
Comments
No comments made yet. Be the first to submit a comment