3 minutes reading time
(642 words)
Carli's Bistro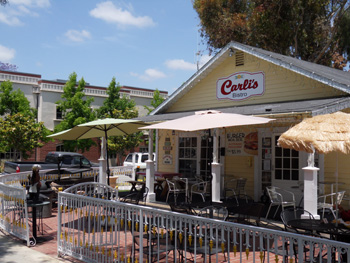 Tucked away in Old Moorpark, off the beaten path, Carli's Bistro is found with a feel of a beach house; frayed bamboo looking umbrellas contributes to this feel on their outdoor front patio. I love how they have their patio in the front because they are right across the street from the AMTRACK train tracks and can catch that every once in awhile, as well as just be entertained from the people walking by. It's very low key and quaint so you get a feeling of "kick off your shoes and stay awhile" eating in the historic area; being in a rush is not what Old Moorpark is about.
Although Carli's Bistro is open for both lunch and dinner, offering mostly sandwiches, I categorize them as a lunch hotspot. There's also a fancy restaurant two doors down that people go for dinner so for Carli's, lunch is their territory.
Ever since I returned to the West Coast from going to school in Pennsylvania and taking many trips to Philadelphia for their famous cheesesteaks, I can't help but get huge eyes if I see it on a menu out here in California. As soon as my eyes caught the words of cheesesteak on Carli's menu, I knew nothing else was going to compare and that's what I was getting. Of course, I know nothing is ever like Philly's because we are California and we have to make it our own, but I'm on a mission to find the best cheesesteak I can in California so when I have my craving I know exactly where to go.
I of course took Evan to try the famous Philly cheesesteaks whenever he came to visit, so he is just like me when we see cheesesteaks on the menu- he's getting it. We normally like to order different things so we can try more of the menu, so when we do see cheesesteak, we battle over who gets to order it and who has to order something else. In our case, Carli's was more than perfect for us because they had many variations of their cheesesteak sandwich so we both got one!
All of the cheesesteak sandwiches start with the classic steak, onions, and cheese and then from their they get creative with what they layer on top. Mine was a Texas meets California with freshly cut tomatoes and drizzled BBQ sauce and Evan's was a classic California inspired one with avocado and ranch dressing.
*shivers and gags* (I'm not a fan of ranch dressing......at all.)
My sandwich was amazing; there's something about that cool tomato with hot meat that gets you. Combined with the grilled onions gives it just the right smokiness and the BBQ sauce, come on, enough said.
Every sandwich comes with choice of fries or homemade chips. Yep, thats right, I said homemade chips. Freshly made everyday in 100% canola oil, they have a great crispy crunch. I love when restaurants take the time to have something on their menu that's homemade. To me it shows they want to put time into their business to make your experience memorable and different from Joe Schmoe down the street.
The only downfall of making homemade chips though is making sure you are constantly making them or having a way to keep them fresh. Unfortunately, we didn't get as fresh of a batch as we probably could have, but I'd order the homemade chips again and again because I don't hold grudges.
Although Old Moorpark isn't like Main Street of Ventura where it has tons of shops and restaurants, it still has some cute stores and good food. It's something to check out and definitely enjoy a nice lunch at Carli's Bistro. It could be fun to even make a day of it and take the train!
313 E. High Street
Moorpark, Ca 93021
805 529 6675
CLOSED
Comments
No comments made yet. Be the first to submit a comment