3 minutes reading time
(659 words)
Forget pumpkin mania, it's time for all things eggnog!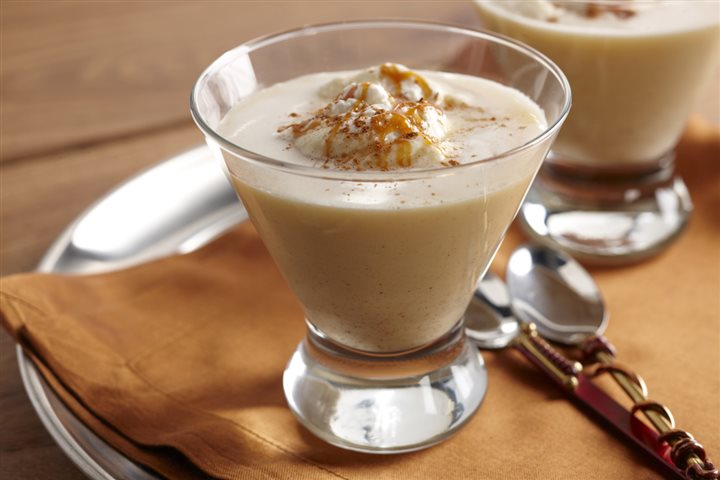 Step aside pumpkin spice — your 15 minutes are over (at least for another year). The holidays are quickly approaching and it's time for eggnog to have its moment.
While pumpkin permeates the culture every fall — from coffee flavoring to air fresheners — too often eggnog gets relegated to a glass that shows up on tables just a few weeks a year. Creamy, spicy, sweet and often spirited, eggnog is the quintessential holiday beverage. In the spirit of the season, here is everything you need to know about all things eggnog:
* Although eggnog's origins are rooted in 14th century England, it didn't really hit its stride until the American colonies got started. In Europe, milk and eggs were expensive in those days, so only the wealthy could afford to drink something that contained both. In the Americas, colonists had their own dairy cattle and chickens, so it was easy and inexpensive to make the drink that became known as eggnog.
* Typical eggnog includes milk and/or cream, spices like nutmeg and vanilla, some form of alcohol, such as rum and raw eggs. In the olden days, homemade eggnog contained alcohol in the hopes that it would kill any bacteria that might be present. Today, we add spirits for enjoyment, confident that all-natural pasteurized eggs like Davidson's Safest Choice mean the raw eggs in eggnog are safe. Davidson's patented pasteurization process has eliminated the risk of Salmonella and other viruses and bacteria.
* Of course today, you can find eggnog in cartons in the grocery store, in many varieties. If you're an eggnog lover you've probably tried them all ... and come to the conclusion that no matter how good store-bought eggnog might be, nothing beats homemade. Fortunately, it's easy to find eggnog recipes online, and all the ingredients – such as cream, pasteurized eggs, spirits and seasonings – are readily available in your local grocery store.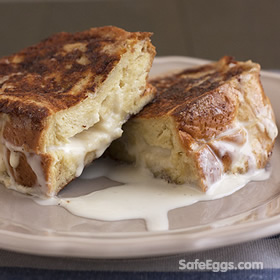 Eggnog-Stuffed French Toast
* Eggnog isn't just for drinking. It's a flavorful, festive ingredient in a range of dishes, from breakfast options like Eggnog-stuffed French Toast to lunch yummies like classic Monte Cristo sandwiches dipped in an eggnog batter and pan-fried. And of course, eggnog has a place of honor in holiday desserts with dishes like Chocolate Eggnog Truffles. Incorporating homemade eggnog into recipes is easy, and it brings out the rich, authentic eggnog flavor that makes holiday dishes special.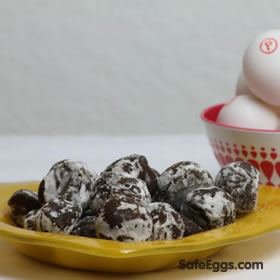 Chocolate Eggnog Truffles
You can find plenty of eggnog, eggnog-inspired and eggnog infused recipes online at sites like www.safeeggs.com. Here are two eggnog recipes from the safe egg aficionados at Davidson's:
Caramel Apple Pie Eggnog
Ingredients:
4 Safest Choice pasteurized eggs
1 can (21 ounces) apple pie filling
1 1/2 cup milk
1 teaspoon apple or pumpkin pie spice
whipped cream for garnish
caramel ice cream topping for garnish
cinnamon sticks (optional)
apple wedges (optional)
Directions:
Combine eggs and apple pie filling in a blender. Blend on high speed until very smooth, scraping container as needed. Add milk and apple pie spice. Blend on high speed until smooth.
Pour into glass or mug and top each serving with whipped cream and caramel topping. Sprinkle with additional apple pie spice and garnish with cinnamon stick or apple wedge, if desired.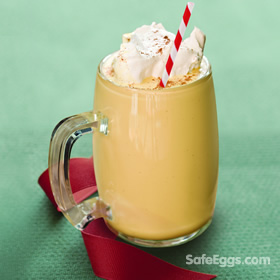 Classic Eggnog
Makes 20 servings
Ingredients:
12 Safest Choice pasteurized eggs, separated
1 1/2 cups granulated sugar
4 cups heavy cream
2 cups whole milk
2-3 cups dark rum, bourbon or brandy (optional)
2 tablespoon vanilla extract (optional)
ground nutmeg or cinnamon to taste
Directions: Place egg yolks in a large bowl. Beat with electric mixer until combined. Gradually add sugar, beating until mixture is thick and pale yellow. Stir in cream and milk, then rum and vanilla, if desired.
Cover and refrigerate until chilled or as long as overnight. Just before serving, beat room temperature egg whites with electric mixer until soft peaks form. Stir egg yolk mixture, then gently fold in beaten egg whites. Pour eggnog into punch bowl. Sprinkle with nutmeg.
Comments
No comments made yet. Be the first to submit a comment