2 minutes reading time
(488 words)
Have a fun and flavorful Friendsgiving with simple, delicious recipes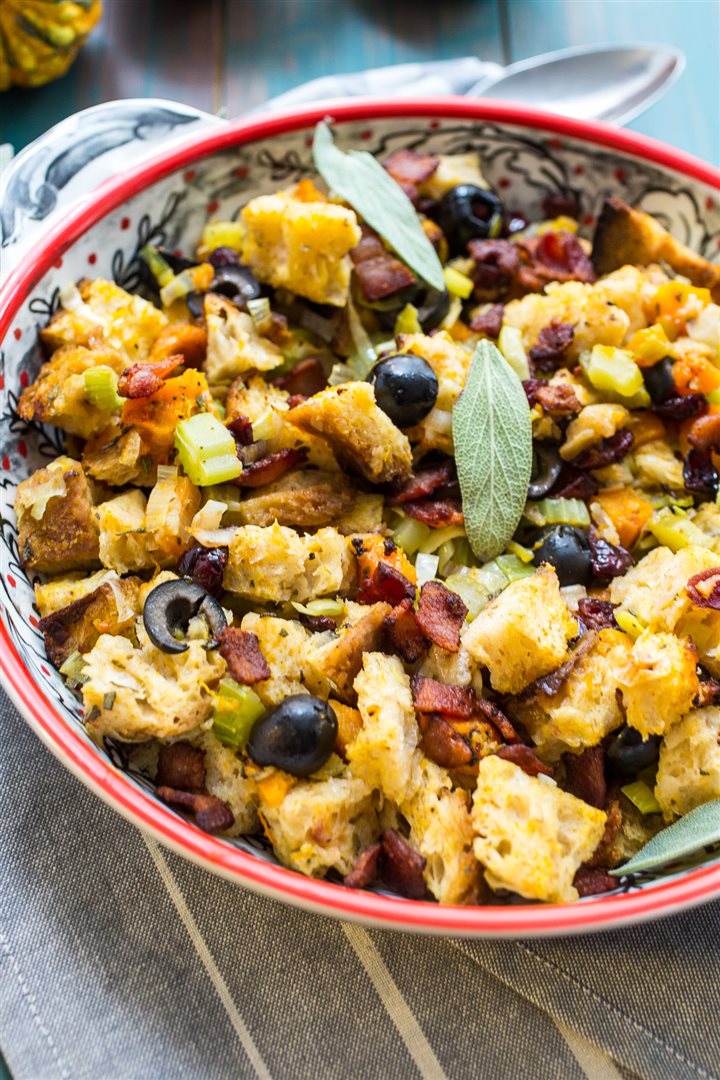 For most, Thanksgiving is all about tradition. Many of us have family recipes we look forward to eating year after year, and family and friends we are excited to see every Turkey Day. Thanksgiving family customs may run strong, but for those who like to have fun in the kitchen and celebrate the season with pals, Friendsgiving is becoming a popular yearly ritual.

Friendsgiving is a time to get together with friends and eat a delicious and creative meal. Sushi? Sure! Pizza? Please! Other Friendsgivings may be made up of Thanksgiving staples with the volume turned up (how about a new spin on the classic relish tray?). In any case, Friendsgiving is a time to have fun, eat well and give thanks with friends.
A holiday classic in their own right, California Ripe Olives are the perfect ingredient to give your Friendsgiving dishes a little twist. From the relish tray to the mashed potatoes, there's always a place on the table for the ever-versatile ripe olive. For a new take on a traditional stuffing, try combining sourdough bread, butternut squash, cranberries, bacon and California Ripe Olives. The sweet squash and cranberries, crunchy bacon and ripe olives combine for a flavor and texture punch that will leave your guests wanting seconds — maybe even thirds.
So this year for Friendsgiving, try dressing up your recipes with versatile and delicious California Ripe Olives to make your dishes pop.
For more tasty recipes featuring California Ripe Olives, visit www.CalOlive.org.
Butternut Squash, Ripe Olive and Cranberry Stuffing
1 medium butternut squash, peeled and cut into ½ inch dice
1 ½ teaspoons grapeseed oil
salt and pepper, to taste
6 tablespoons butter, divided
1 medium leek, white parts only, cleaned and sliced
2 cups chopped celery
1 tablespoon chopped fresh sage
4 heaping cups sourdough bread chunks
¾ cup dried cranberries
6 slices thick cut bacon, cooked and crumbled
1 (6 ounce) can extra large California Ripe Olives, sliced
1 ½ - 2 cups chicken stock
Heat oven to 400°F and line a rimmed baking sheet with parchment. Add the diced butternut squash and drizzle with grapeseed oil and season with salt and pepper. Roast for 35-40 minutes or until tender and lightly browned. Set aside when finished.
While squash is roasting, melt 2 tablespoons of butter in a large non-stick skillet and add leeks and celery. Sauté for 10-15 minutes, or until the leeks begin to soften, stirring frequently.
In a large bowl combine the roasted butternut squash, sautéed leeks, celery, sage, bread, dried cranberries, bacon and olives. Season with salt and pepper and add chicken stock until bread is moist but not soaked with liquid.
Transfer to 9x13 baking dish and top with remaining 4 tablespoons of diced butter. Reduce the oven temperature to 350°F and bake for 30-35 minutes. The top of the stuffing should be golden brown and crunchy.
Remove from the oven and serve immediately.
Comments
No comments made yet. Be the first to submit a comment