5 minutes reading time
(937 words)
Hop on Board All Things Rail in California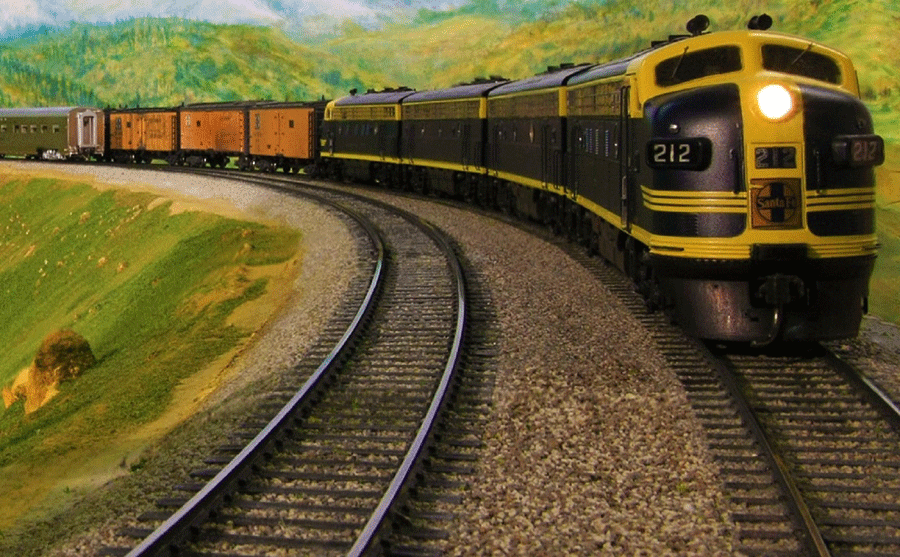 Since the early days of the Gold Rush to the present, trains have played an integral part in Californian transportation – advancing
the development of the West and making it the one of the most eminent regions of the United States today. Commemorate this
rich history of railroading by embarking on off-the-beaten-track expeditions and perusing locomotive-inspired exhibitions that
accurately capture the essence of "trainsportation."
Yosemite Mountain Sugar Pine Railroad
This exciting, four-mile railroad excursion in Yosemite Park will take its passengers into a history filled with powerful locomotives
hauling massive log trains through the Sierra Mountains, mighty lumberjacks felling timber and flumes carrying lumber to the distant
valley below. The Sierra National Forest's majestic woods serve as the perfect backdrop for this journey back in time. http://ymsprr.com/
San Diego Model Railroad Museum
All aboard the world's largest operating model railroad museum! This unique venue contains accurate and playful recreations of
famous railways throughout the Southwest that will delight visitors of all ages. In addition, the recently added Centennial Railroad
Garden – an open-air model railroad – celebrates the 100th Anniversary of Balboa Park and enables visitors to directly interact
with the layout through smart phones or tablets. http://www.sdmrm.org/
Sierra No. 3™
Located in Jamestown's Railtown 1897 State Historic Park, Sierra No. 3 is the most widely seen steam locomotives in the world.
This "Movie Star Locomotive" has shared the big screen with film legends such as Gary Cooper, Grace Kelly, Paul Newman and
Clint Eastwood as well as starred in classic shows like "Gunsmoke," "The Lone Ranger," "Bonanza" and "Little House on the
Prairie," making it the archetypal steam locomotive.
California State Railroad Museum
While visiting Sacramento, step into America's most visited railroad museum and honor the important role of railroads in the U.S.
while learning about how the West developed and prospered as a result of the First Transcontinental Railroad. The museum
features 21 restored locomotives and cars, engaging exhibits, a $1 million toy train collection, and excursion and themed trains. https://www.californiarailroad.museum/
The Charles O. Sweetwood
Behind every piece of rolling steel there is a story – and the Charles O. Sweetwood train car at Portola's Western Pacific
Railroad Museum puts a very real face to a historical train car. Not only is it dedicated to the first Western Pacific Railroad
carman killed in action as a medic during the Korean War, but it also serves as a rolling blood collection system. It is credited for
accumulating of over 25,000 pints of blood from volunteers, saving thousands of lives in the process.
The Historic Skunk Train
Once a vehicle for moving massive redwood logs, today the Skunk Train is a unique traveling experience through Mendocino
County offering scenic sights of the rail line among towering old-growth redwood trees, over wooden trestle bridges and through
majestic stone tunnels. And for train buffs, there's an extra seat in the cab of the diesel locomotives across from the engineer
providing a bird's eye view of the redwood route. https://www.skunktrain.com/
Central Coast Railroad Festival
Get ready to expand your interests in railroads! Designed to attract the attention of avid and casual rail fans as well as curious
folks from across the western United States, this locomotive-centered festival, hosted by the San Luis Obispo Railroad Museum,
presents historical, educational and recreational events ranging from history walks and talks to excursions and an impressive array
of model trains. http://www.ccrrf.com/
South Coast Railroad Museum
The Goleta-based museum explores the fascinating history, technology and adventure of railroading through the Golden State. The
museum's centerpiece is Goleta Depot, a country railroad stationhouse built by Southern Pacific in 1901 during the completion of
museum's centerpiece is Goleta Depot, a country railroad stationhouse built by Southern Pacific in 1901 during the completion of
the Coast Route joining San Francisco and Los Angeles. Visitors can also climb through the interior of retired Caboose No. 4023
or hop on the miniature train Goleta Short Line and ride the loop through the Depot. http://www.goletadepot.org/
Southern Pacific Depot Restaurant
Dining in style on the rails made train travel glamorous in the early 1900s. Today, you can experience that same elegant style at
Visalia's Southern Pacific Depot Restaurant. The historic, mission-style train station, celebrating its 100th birthday this year, now
hosts an elegant restaurant that pays homage to the glory days of railroad travel. Indulge in a cocktail, like the Depot Dubonnet or
Southern Belle, as you honor trains past and present. http://depotvisalia.com/
The Napa Valley Wine Train
One of the few, active historical passenger railroads in the United States, the Napa Valley Wine Train offers an engaging and
memorable experience that echoes the glory days of train travel with fine dining service, multi-course meals cooked to order,
Napa Valley scenery and ultimate relaxation. The Napa Valley Wine Train features exquisitely resorted vintage Pullman railcars
faithfully restored with Honduran mahogany paneling, brass accents, etched glass partitions and luxurious armchairs that evoke the
spirit of luxury railroad travel of the early 20th century. http://winetrain.com/
16th Street Station
This significant station was a powerful force in Oakland's development and made the city a major transportation hub in its early
years. Once the place of disembarkation for African-Americans who left the South, the station is now frequently used for special
events, movie sets and music video sets such as "Hemingway & Gellhorn," Mumford and Sons' music video "Babel," and a Beats
Headphones commercial featuring E-40 and Draymond Green. http://www.16thstreetstation.com/
Railroad Square
This historical train depot, located in Santa Rosa, is home to the Northwestern Pacific Railroad Historical Society Museum as
well as restaurants and boutiques. Constructed by Italian stonemasons, Railroad Square is one of the few buildings in Santa Rosa
that survived the 1906 San Francisco Earthquake and it is also listed on the National Registry of Historical Places. The museum
includes hands-on equipment, photos of the bygone train era and a working miniature train for folks of all ages to enjoy. http://www.railroadsquare.net/
Comments
No comments made yet. Be the first to submit a comment