2 minutes reading time
(472 words)
One-room living: How to live large in a small space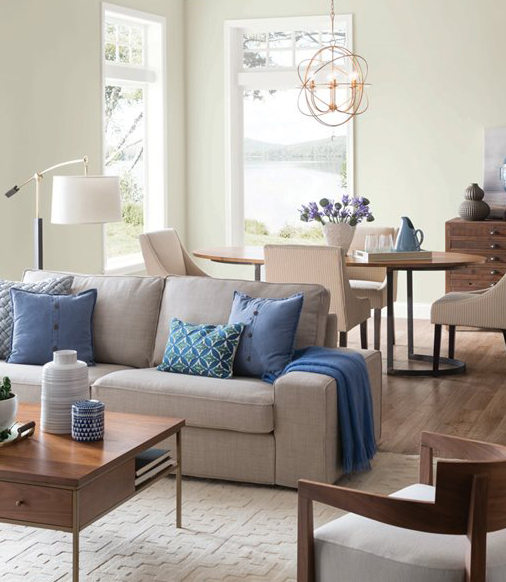 As we seek to simplify our lives, the desire for small-space living — even one-room living — seems more attractive than ever. But whether you're ready to join the tiny house movement or just want to get the most out of a compact space in your home, there are easy things you can do to make a small space look, feel and function like a larger one.
"There's no need to sacrifice great design if you live in a small space. A few simple changes are all you need to make it feel bigger, more beautiful and a reflection of your personality," says Jackie Jordan, director of color marketing, Sherwin-Williams.
Look overhead and underfoot. Consider using every conceivable space to please the eye —even the ceiling. "I love the idea of reflecting the shape of your dining room table with a bold accent color on the ceiling above it," says Jordan. Another idea: define a space at the floor level with an area rug beneath a couch and side table.
Multitasking solutions. If you're always multitasking, your furniture can do the same. Place an ottoman with a hidden storage compartment or flip-top serving tray beside a comfy chair. Move a twin bed next to the wall and add big patterned pillows to create seating space by day, and sleeping space by night. The pillows can also provide extra floor seating for entertaining.
The answer is written on the wall. Walls can also be multifunctional. Sketch Pad, a clear gloss coating, can turn any surface into a dry erase board, and goes over any paint color. Instead of cluttering up the walls with bulletin boards, write directly on the wall by a computer desk, or scribble messages and doodles in the kitchen. Simply wipe it clean with a dry eraser.
Have lofty ambitions. Consider creating a sleeping loft. It's not only cozy, but leaves extra living space below. A Murphy bed that folds up discretely into the wall is another space saver.
Find a focal point. It can make a space feel larger. Try painting a corner, such as a reading nook, in a bright, bold color for a mini-room effect. Or paint a piece of furniture or picture frame and elevate it to something special.
Get creative with cabinetry. Take advantage of cabinetry with built-in storage features, from pullout racks that create added pantry space, to bathroom cabinets equipped with laundry hampers, hairdryer hooks and bins for grooming items.
Expect the unexpected. Instead of painting the outside of your front door to make a bold statement, paint the inside of the door with a pop of color, such as bright yellow Cheerful or Magenta Juneberry.
With these tips, you'll find that good things really do come in small packages. For more tips, visit sherwin-williams.com.
Comments
No comments made yet. Be the first to submit a comment