6 minutes reading time
(1103 words)
Dancing with Our Community Stars Contest and Charity Fundraiser 2013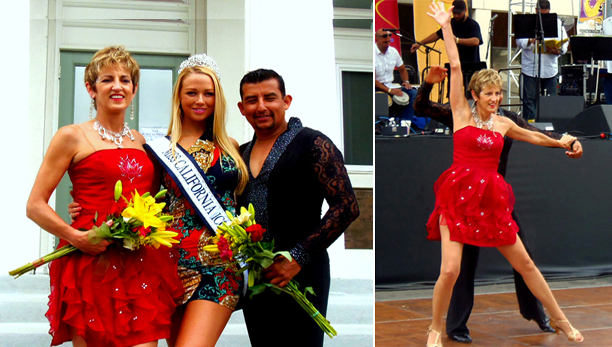 Community leaders danced for the greater good during the '2013 Dancing with our Community Stars Dance Contest and Charity Fundraiser' during the 20th Annual Oxnard Salsa Festival.
This past Sunday six community stars strut their stuff across the dance floor to raise much-needed funds for their charity of choice. The salsa-dance contest is patterned after ABC's hit TV show, 'Dancing with the Stars.' The contest features three men and three women who were paired up with some of the region's best dance instructors to learn salsa moves and routines that were performed in front of the audience at the Festival this past Sunday, the 28th of July at Plaza Park in downtown Oxnard. Since its inception, the contest has raised over $300,000 for local charities.
The 2013 contest sponsors are Ventura County Credit Union, Republic Services of Oxnard and Sugar Beets Restaurant and Bar.
The dancers competed for the coveted 'Judge's Choice Award' for the best routine, while also competing for the 'People's Choice Award', which was awarded to the star who raises the most money for their charity.
Mary Pinto Casillas took first place among the women, and Juan Gonzalez won in the men's category.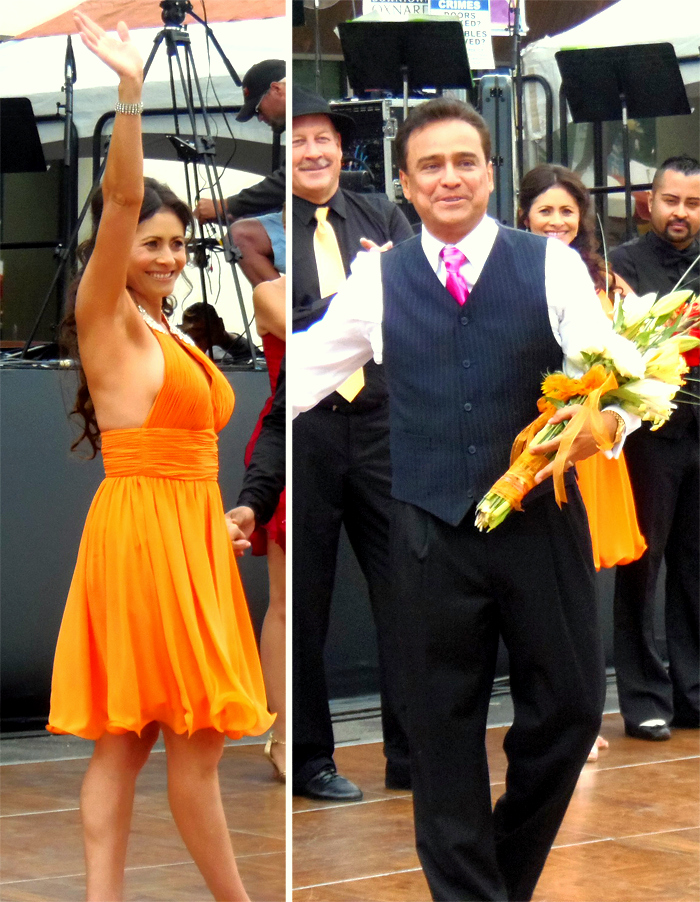 Introducing the Oxnard Salsa Festival's "Dancing with Our Community Stars" dancers: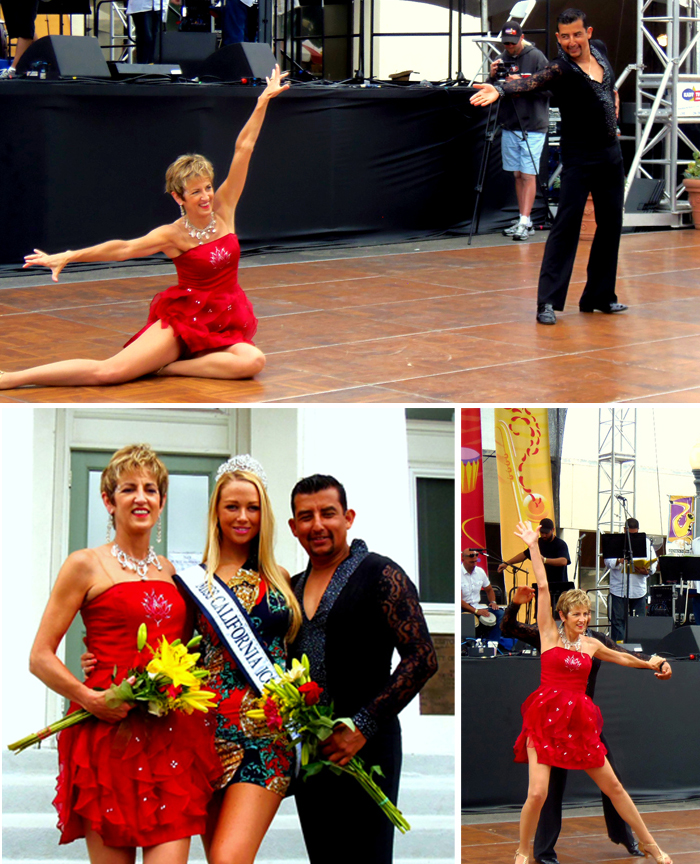 Margie Cochrane
, Regional Publisher/CRO for the Ventura County Star, dancing for CASA Pacifica with instructor, Jesse 'Chuy' Rodriguez; (m) Miss California Teen Icon Monique Dagget
Margie Cochrane
is an experienced newspaper executive with expertise in advertising, marketing and business development. Cochrane started her career with E.W. Scripps Company in 1983 at the Rocky Mountain News in Denver. Over the course of her 15 years in Colorado, she held numerous sales and management positions. Her earlier career pursuits included Director of Advertising for the Arizona Republic where she helped to develop and launch 18 community newspapers in the greater Phoenix area. She also served as SVP of Sales for the Milwaukee Journal-Sentinel where she was responsible for implementing a performance based program and new CRM system. She holds a BA degree in Journalism from the University of Iowa. She currently serves on several boards including United Way of Ventura County, the Greater Conejo Chamber of Commerce, KCLU, Casa Pacifica and the California Newspaper Publishers Association. Cochran resides in Camarillo with her husband, Ed.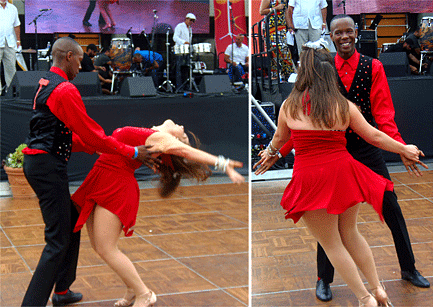 Terrance Dixon
, for the Ventura County Star, dancing for Gull Wings Children's Museum with dance instructor.
Terrance Dixon
works in advertising at the Ventura County Star and has been a Ventura County resident for the last six years. He has a deep passion for working with children and serves as a member of the Board of Directors for the Gull Wings Children's Museum. Dixon also volunteers with the Boys and Girls Clubs of Port Hueneme and Oxnard coaching youth football, basketball and track. He also serves as a coach and board member with the North Oxnard Warriors Youth Football Program. Dixon recently graduated from the Ventura County Leadership Academy (VCLA), and will volunteer through a mentoring program to help out underprivileged, troubled and at-risk youth. His volunteer work will also include opportunities to make presentations to young people who are on probation or parole to help reduce the crime rate and recidivism amongst Ventura County's Youth. Dixon resides in Port Hueneme with his wife and two sons.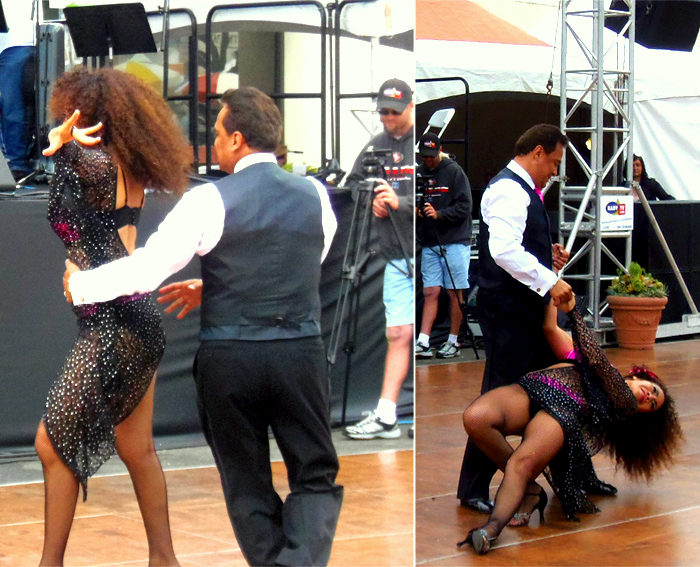 Juan Gonzales, dancing for Teatro de las Americas with instructor, Diana (Tere) Porter;
Juan Gonzales
has served as the Executive Administrator for the Law Offices of Richard Francis and Associates for the last 20 years. Prior to joining the firm, he worked in the insurance industry. As the firm's ambassador and voice in the Hispanic community of Ventura County, he helps to ensure that the community has access to quality legal services. As a local businessman, Gonzales sits on the board of the Oxnard Downtown Management District and has served twice as president of Los Empresarios, a BNI (Business Network International) chapter. His involvement with youth includes serving as coach in the Warrior Football program, Northside Youth Baseball and AYSO soccer. Having an interest in music, Gonzales is the lead singer of the band, MYST, playing Rock En Espanol and Classic Rock. He also has performed with the Half Measures Group and Teatro De Las Americas theater companies while also serving as Board President for Teatro. He and his wife, Ellie have four grown children and five grandchildren. They reside in Oxnard.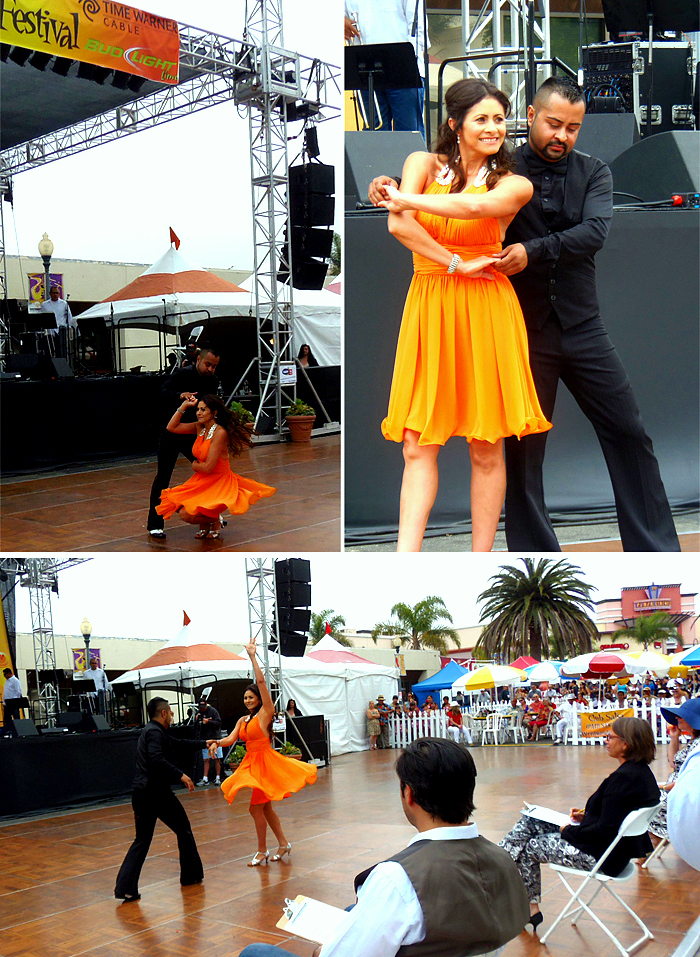 Mary Pinto Casillas, professor at Oxnard College dancing for The Rebozo Festival, dancing with instructor, Ricky Campos;
Mary Pinto-Casillas
, a fifth year volunteer 'Madrina' with the Rebozo Festival, Casillas is a professor in the career and technical education division at Oxnard College. She started her career in the support staff and later transitioned into teaching. Casillas has assumed many leadership roles at the college including department chair and secretary of Oxnard's Colleges' Academic Senate. In her role, she enjoys teaching students the skills they need to secure employment while providing them with an opportunity for increased confidence and self-esteem that comes with reaching a goal. Casillas has a BS in Business Administration and a MS in Business Organizational Management from the University of LaVerne. She was born in Yucatan, but was raised in Oxnard. She has two grown sons and resides in Oxnard with her husband, Arturo.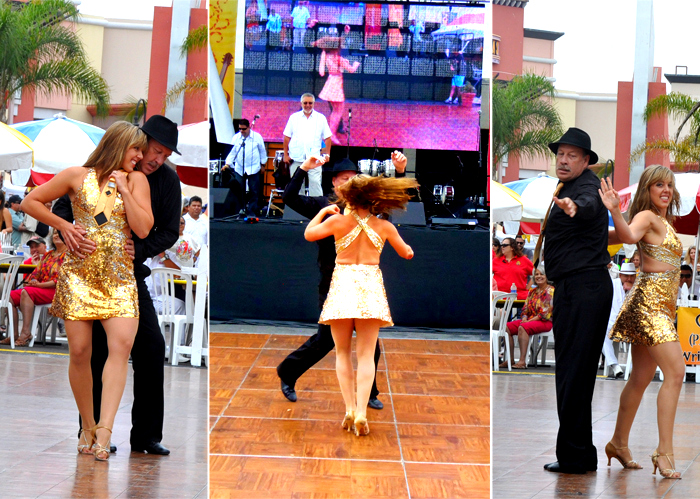 Joe Schroeder, President/CEO of Ventura County Credit Union for Food Share, with instructor, Christina Maggio;
Joe Schroeder
is a long-time leader in the California credit union movement and is President/CEO of Ventura County Credit Union. Schroeder has more than two decades of senior-level credit union management experience as President/CEO at three of southern California's largest credit unions and serves as vice president over both operational and marketing departments. Schroeder earned his bachelor's degree in communication arts and an MBA from California State Poly Pomona. He has served on the board of the CO-OP ATM Network, an FSCC audit committee and was a founding member of the Marketing Association of California (now Marketing Association of Credit Unions). He is currently a member of the California Credit Union League's Collaboration Committee as well as its Government Affairs Committee. He also recently was added to the board of Member Business Lending (MBL) based in Salt Lake City, Utah. Schroeder resides in Ventura with his adult children and wife, Karen.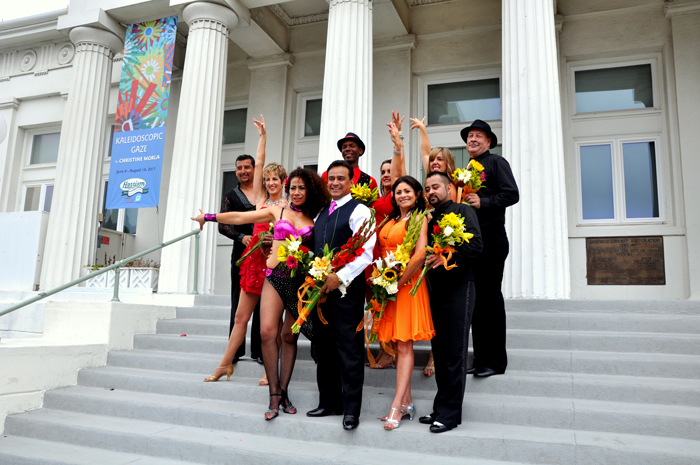 About the Oxnard Salsa Festival
The Oxnard Salsa Festival was launched in 1994 by the Oxnard Downtowners to bring people into the downtown business district to celebrate Oxnard's multicultural heritage and agricultural roots. The Festival, which celebrates everything salsa…..the music, the food, and dance, runs from 11 a.m. to 7 p.m. both days at Plaza Park, Fifth and 'B' Streets. www.oxnardsalsaFestival.com.
Comments
No comments made yet. Be the first to submit a comment