5 minutes reading time
(1047 words)
River Sauvageau: A True Renaissance Woman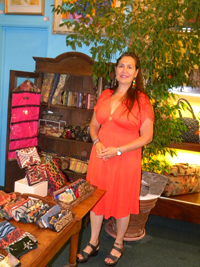 Studio Sauvageau is much more than a boutique, it is the heart and soul of owner and designer, River Sauvageau. After 23 years of making exquisite handbags, River reflects on the journey that led her to become one of Ojai's most unique designers.
When I walked into Studio Sauvageau, I was absolutely captivated by the beautiful colors and the elaborate designs. The unique handbags caught my attention and I instantly knew that this designer was something special. As soon as I introduced myself to the designer, River Sauvageau, I immediately sensed her kind heart and could hardly wait to learn more about her amazing talent.
River was raised in Montreal Canada and in upstate New York. Her mom was a single mom and worked often. Together they spent summers at her grandparent's farm outside of Montreal. River's love for design started very early. Her grandmother began allowing her to use her sewing machine as young as 7 years old. Her uncle was also a cutter at a coat making business and would bring home scraps of fabrics that she could sew on the weekends. As a little girl, she learned how to make clothes for her Barbie dolls and by 12 years old, she started making her own clothing. Her early love for bright colors and interesting patterns led to her work with tapestry fabrics.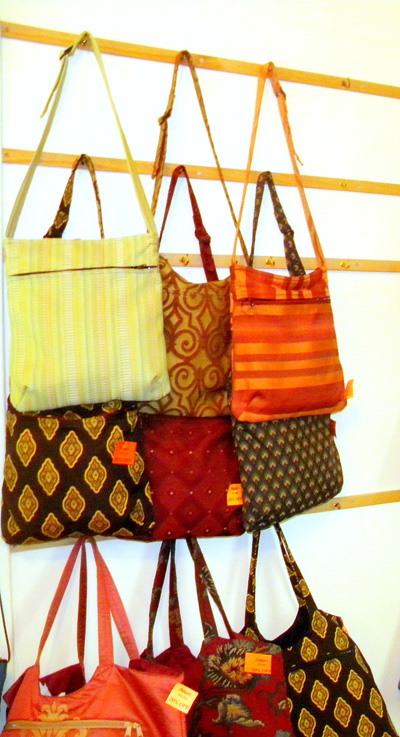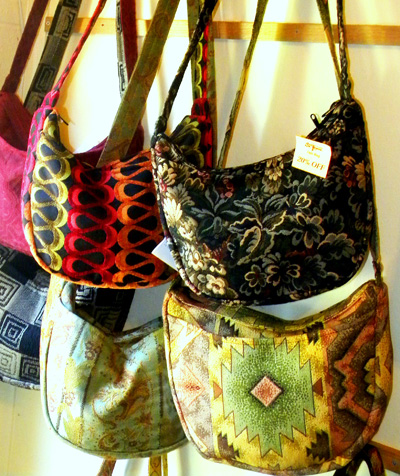 Although River began making clothing as early as 12 years old, it was not until her late twenties, early thirties, that she realized she wanted to become a designer. Before that, she worked in the food service industry as a waitress, a cook, and a manager. However, River's fascination with making things soon took over again. She had lots of experience before she began her own business. She worked for a company that specialized in making inflatable costumes for parades. River explained having developed some patterning techniques that they never had before. She also costumed many theatrical productions and did wardrobes for individual performers. River's list of experience continued, having worked with Ojai's Children's Theater, the California Art Commission, and Ojai Mardi Gras. For 17 years now, she's also proudly led the making of a street mandala for Ojai Day.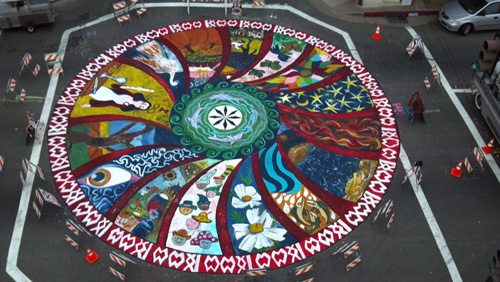 Through all these experiences, River learned how to develop her own business and has been a designer for 23 years now. She has been in her Ojai location for 12 years and calls her boutique, Studio Sauvageau. When asked about the unique name, she explained that she wanted something that referred to her as a designer. She also chose the word "Studio" as an umbrella for other local artists to come in and work together. Speaking of which, a good friend of River's, Susan Evergreen Hericks, also showcases her unique and elaborate headdresses and headbands in the boutique. River hopes the name Studio Sauvageau will encourage more artists to combine their pieces with her unique handbags.
The beautiful and distinctive fabrics come mostly from European countries such as Belgium and France. River also gets fabrics from distributors that she's been doing business with for a long time. Lastly, wherever she goes, she always keeps an eye out for fabrics that have a range of colors and patterns. Recently, she noticed more men had been coming into her studio praising her bags and asking if she had anything for men. As a result, she has been bringing in more plain fabrics in order to make unisex or non-gender specific styles. River also specializes in wallets, card carries, cell phone bags, change purses, checkbook covers, backpacks, cosmetic bags, jewelry bags, luggage, and many more. However, when it comes to her favorite to make, River says she loves making her Patch Purses.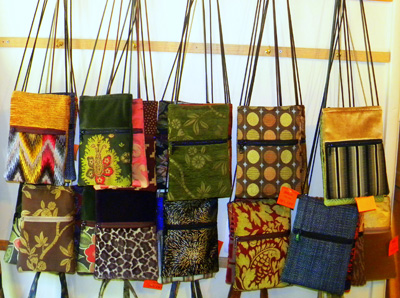 Her job deals mostly with cutting the fabrics while a seamstress that she's been working with for 11 years, does most of the sewing. Her Patch Purses are her favorite due to the combination of different fabrics. She enjoys choosing which fabrics will go together and mentions that the wilder combinations always sell first. As I looked at the Patch Purses, I couldn't help but to ask how she described her personal style. River laughed and described it in one word: eclectic. She says she has always loved to come up with ideas that are different and unique. Colors, patterns, and fun are the aspects that allow her to do such a great job.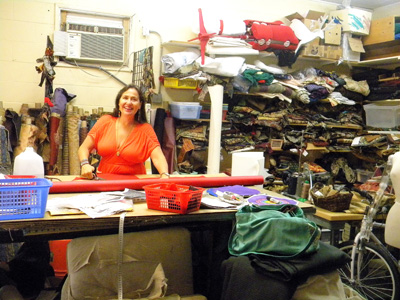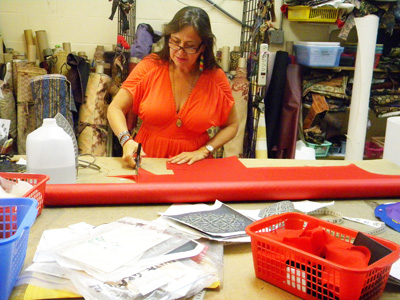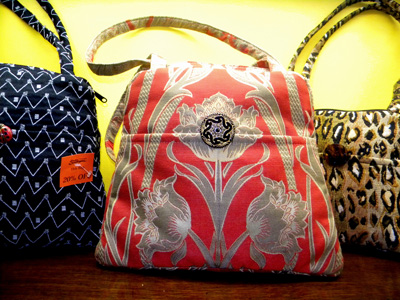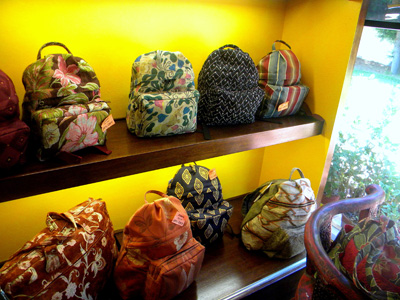 Despite her success in Ojai, River isn't looking to open up more locations. She explained that the first 10 years of her business were dedicating to marketing nationally and internationally, selling to almost 400 stores at one point. However, after undergoing some personal changes in her life, she's dedicated the last 10 years to focusing on her boutique and the associated website. River says she is the happiest she has ever been. She loves the fact that she can make one-of-a kind pieces as opposed to making things in bulks. Her line is more artistic than ever before and now she is able to interact with the end user rather than the buyer.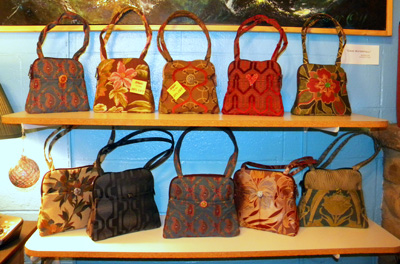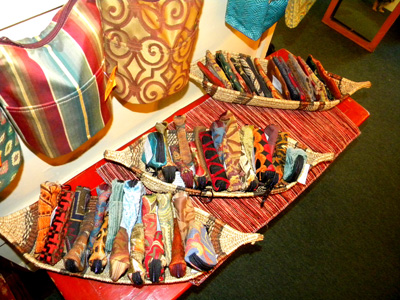 One thing she hopes to accomplish is to work with younger people for a more established web presence. Also, as she continues her business, she hopes to come across more challenges that can inspire her to do things she has never done.
Her advice to those wanting to start a career as a designer is to "just keep making stuff." She urges aspiring designers to share their work with friends and family, to wear them whenever possible, and to give them away. She proudly stated, "Put your heart and soul into it and love it." Her most important advice is to never give up because the more you do it, the better you will become. As I smiled and took in her wise words, she added one last statement, "Business is about relationships, building and sustaining relationships. Your customers are your friends and supporters. People really appreciate that kind of feedback and that relationship." River truly believes the most important and rewarding part of her business is creating and maintaining relationships and after speaking with her, I am so honored I had to opportunity to do so.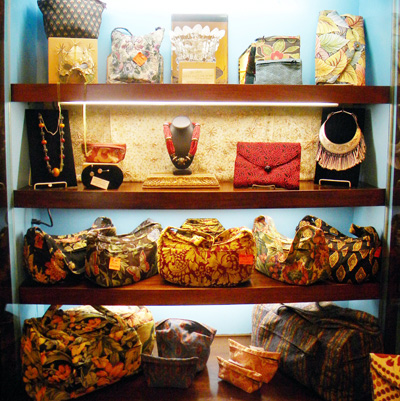 Comments
No comments made yet. Be the first to submit a comment