4 minutes reading time
(744 words)
Getting Off Caffeine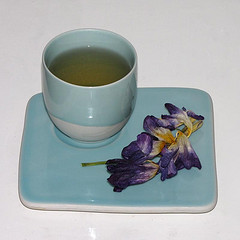 If you have any of the symptoms of adrenal fatigue, getting off caffeine is essential for full recovery and for future prevention.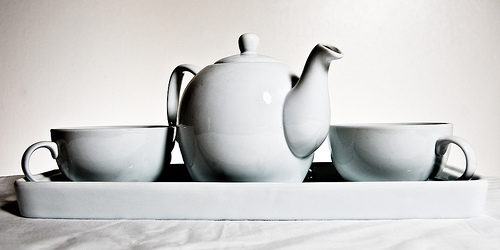 I've been an every morning, strong, green tea, black tea, or yerba mate drinker since 1999. Over the years I've needed stronger and stronger brews to motivate me through morning tasks, to help hold my focus on the computer, and to establish an upbeat mood. I've even been making an extra cup in the early afternoon these past few years, and then last spring, my body began to cry out with symptoms of adrenal fatigue: weakness, exhaustion, and a pounding heart when lying down to nap or sleep. Also, my kidneys started aching off and on, and I experienced constant breast tenderness not associated with my monthly cycle. I remembered my Mom telling me that she noticed too much caffeine worsened her fibercystic breast disease, and with that memory, I decided to quit caffeine.

I substituted my morning caffeinated teas for herbal energizing teas that I bought at my dear friend Kirsten's amazing lil' shop in San Luis Obispo. It's called The Secret Garden Organic Herb Shop, and it's half outdoors with plants & herbs, garden adornments, and a wall full of mason jars alphabetized with over 200 herbs, spices, and custom herb and tea blends.

When I went there and told Kirsten I needed help getting off caffeine, she helped me decide which of her herbal tea blends would be best for me. She filled some small bags with the blends we chose featuring Korean ginseng, eluthero, ashwaganda, and my favorite; tulsi (holy basil). An excellent herbal blend she has, specifically as a coffee substitute, is called No Average Joe, which yields sustained energy, alertness and focus.

Steeping one of these blends in the morning helped me through to the early afternoons. For about two weeks, I'd feel the caffeine withdrawl headache and tiredness, about an hour after waking up in the morning, and again right after lunch. What helped most was forcing myself to lie down, even if it was for only 5 minutes, and then I'd have some energizing tea.

For that first two weeks, when I got really tired in the early afternoon after lunch, if I had time, I would lie down for 20 minutes, which helped my energy level come back up tremendously. I'd listen to my breathing, making each breath deeper and slower, and focus on relaxing each muscle in my body separately. I'd arise after 20 minutes with way less headache, and only about half of the time would I feel like I needed to make myself another cup of energizing herbal tea to make it through til the end of the day. At night, I made sure to hit the pillow early, around 9:00, because I knew my body was going through so much healing and re-balancing work. Then, like clockwork after two weeks, the caffeine withdrawl headaches and tiredness completely subsided! Thank Goodness! I was so relieved and amazed at how quickly my body adjusted, renewed itself, and was willing to adopt new patterns of behavior.

If you can't make it to The Secret Garden Organic Herb Shop in SLO, there's fantastic herbal tea available at most natural food stores that I've absolutely fallen in love with lately for it's unique flavor and its energizing, uplifting, memory-sharpening, healing, and immune-boosting effects. It's called Tulsi or Holy Basil, and you'll usually see it sold as individually bagged & boxed "Tulsi Tea" brand. I love the Sweet Rose and Original flavors of Tulsi Tea brand, which I steeped in a cup alongside a bag of Green Jasmine (best brand: Choice) for a mild caffeine effect when I was stepping gently down from my stronger caffeinated brews. You can also get straight Tulsi powder in bulk at CoOp Natural Foods in SLO, which dissolves in hot water. I like to steep 1/2 tsp of this straight Tulsi powder with a bag of Relaxed Mind by Yogi Tea.

If you can make it to The Secret Garden, it's located on the creek in downtown San Luis Obispo next to Frog & Peach Pub's back patio. You can access it through Mission Plaza, OR through Mission Mall on Higuera St. which is across from Garden St...when you get to the creek, turn left. The phone # is (805) 544-4372...I hope you enjoy your sweet Secret Garden experience!
A delicious cookie recipe to enjoy with you tea.
Comments
No comments made yet. Be the first to submit a comment