2 minutes reading time
(442 words)
Artist Opening: Trevor Norris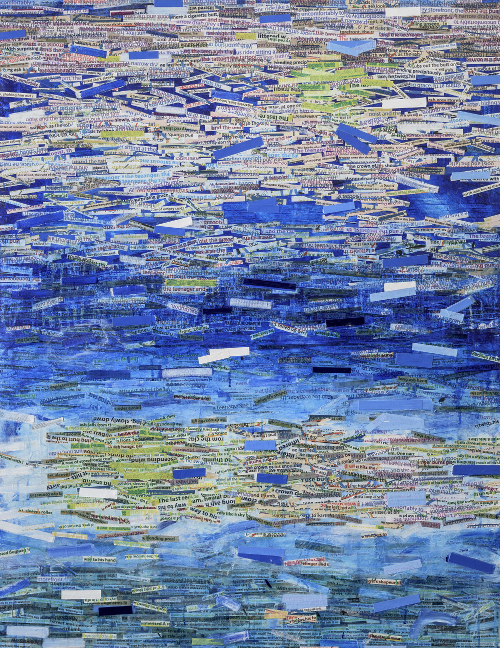 July 1 - July 30, 2016
Vita Art Center
,
Ventura, CA
HOUSE INSIDE OUT AND OTHER STORIES

The works shown in House Inside Out and Other Stories pay homage to my family history, and to some amazing examples of unintentional and ephemeral art that I see everyday on walls driving around Southern California. It's not graffiti that interests me, most of it made in a far too self conscious and ego driven manner - I am more intrigued by tagging painted over with colors that don't match, in shapes that don't conform to anything familiar. Combining these influences, I aim to reveal the personal in a universal way without resorting to a literal narrative. You will not be able to 'read' my story in these paintings.
Some history - A troupe of Spanish gypsies, travelling around southern England in 1917, stop to sell their wares and sharpen kitchen knives at a small village - Potten End. Spanish gypsies are the immigrant scapegoats - Don't mix with them, the men will steal your daughters is the common 'wisdom' Turning this prejudice on it's head, my grandfather falls for a sixteen your old gypsy girl, entices her from the caravan and marries her quickly, before the caravan and she can leave.
My olive skinned, black haired mother was the only offspring of this 'fairy tale' union. Unable to always repress her colorful origins and impulses, she painted, painted over and repainted the interior of our little English row house in riotous gypsy colors. She expressed herself emotionally with more intensity and volume than most of our translucent neighbors could handle. We were the outsiders.
I am an outsider, a member of Queerwise an LBGTQI writing group for the over fifties and a visual artist. Writing and performing my stories informs my paintings. Making the paintings, layering text and paint, scraping back again, unearths memories for the stories. Not always happy memories by far, but always colorful. It is a fair exchange, a conversation even.
Los Angeles is my home now. Here I'm free of academic art restrictions. I live amongst half Spanish women looking eerily like my now passed, mother (many also share her name, Sylvia) and around buildings painted with the same colors on the exterior that I remember from the interior of our home. Like my mother had, and despite some dire living conditions, Latinos seem compelled to paint with joy. I try to do the same.
432 North Ventura Ave. Studio 30
Gallery hours: M-F 10-4 pm Sat. & Sun. by appointment
Comments
No comments made yet. Be the first to submit a comment