4 minutes reading time
(828 words)
Review: Compañía Nacional de Danza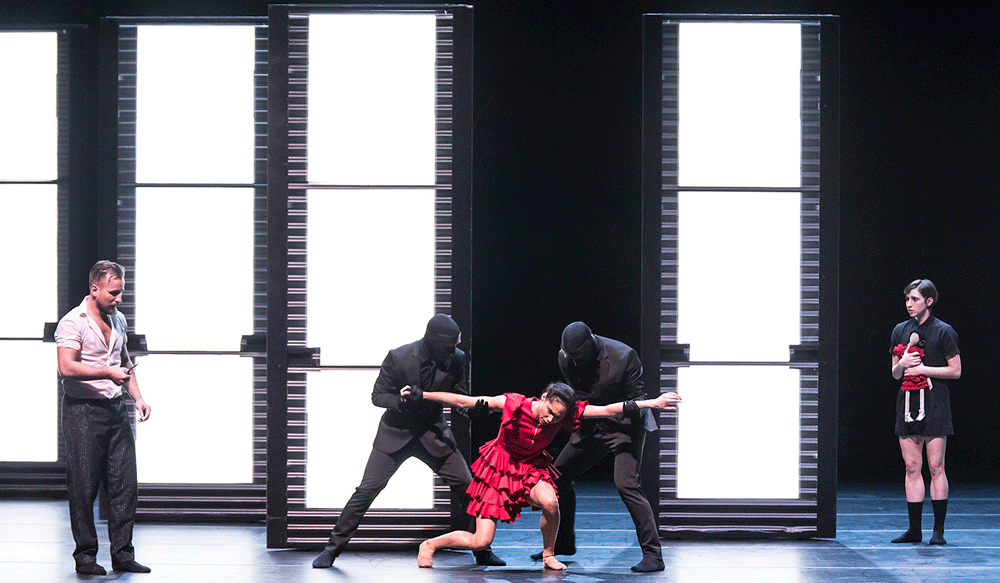 Kayoko Everhart as Carmen and Daan Vervoort as Don José .Photo by David Bazemore
Review
Dance
UCSB Arts & Lectures presented Spain's national dance company, Compañía Nacional de Danza, for its contemporary adaptation of Carmen over two nights, Tuesday, March 6 and Wednesday, March 7, 2018 at The Granada Theatre.

While the dancers possessed great skill and gave theatrical performances, the piece as a whole fell short of a truly contemporary retelling.

Carmen is an opera-comique first performed in Paris on 3 March 1875, where its controversial characters and broken conventions shocked audiences. Set in Seville around the year 1830, the opera features Don José, who is lured away from his duty as a soldier and his beloved Micaëla by the gypsy factory-girl Carmen, whom he allows to escape from custody. After Carmen returns to Escamillo, another soldier, Jose stabs her to death with a dagger out of rage and jealousy. With this ending, the opera indicates fatal consequences for claiming and exercising one's sexuality, fostering European paternalistic moral codes. To retell or adapt this story while maintaining the original plotline is a hard task; Compañía Nacional de Danza succeeded in updating roles and perspectives, but when the audience gasped at a red cloth reeling from Carmen's dead body, it eradicated any proposition of contemporaneity, or at the least, any semblance of change.

Compañía Nacional de Danza's Carmen is an indisputably maximalist piece, and eventually its elements became all too expected. The musicality landed like an obvious statement. Tempos hastened movements, higher notes elicited dramatic flairs. For all of its bravado and fuss, I was left distracted. The dancers demonstrated great facility, the props transitioned seamlessly stage left to stage right, the music had great potential. Despite efforts to impact the audience, as they so often can and do, the sum of these parts merely translated into a stage over capacity. In attempting to achieve technical perfection, Carmen manages to achieve a tangential skeleton of the story, relying on artifice and craftiness in an attempt to accurately portray rather than focusing on the fundamentals of the theater, returning to the most basic units to delve deeper into the themes of Carmen-- passion, violence, love and jealousy.

The stage, costuming, and props of this adaptation of Carmen are inscrutable so that the viewer can read this story as one that happens anywhere. "Love and violence and its consequences are not limited to Seville, Spain" is the idea, with which I agree wholeheartedly. However, in attempting to capture this universality through a lack of stylistic influence and aesthetics, we lose the origin point from which the story arises. And so a contemporary interpretation seemed to be some kind of dystopia, void of the technical and stylistic elements that inhabit the original opera. The soldiers were dressed in suits and carried briefcases, implying corporate executives. There were some hints to the 1960's. But these details were lost in the black and grey, utilitarian stylistic choices that permeated act two. I would have liked to see a contemporary interpretation that considered the story's history and origin. The story was placed in the frame of a child's perspective, and the bullfighter was cast as a movie star, both of which were modern choices. Nonetheless, these choices could have carried more weight by changing the course of the plot, as opposed to just perspective, in order to tell a story that is represented in our world today.

To interpret this story anonymously or omnisciently feels ignorant to the many that have endured experiences of domestic violence. When we excavate the deeply seated gender differences and its consequences in an antiquated story, we make more room for new stories that reflect and evolve our present. When we resort to the anonymous, dystopia setting, universality becomes a cop out, a way to avoid taboos and naming names. When we rely on the aesthetics of the noplace to illustrate the anyplace, we do not recognize the people, places and things that make up our own homes-- the homes we have occupied, that hold love and violence and jealousy and passion and longing. When we see these same themes portrayed in a setting that is unrecognizable, it is alienating, instead of comforting.

This show reminded me that contemporary adaptations encourage questioning and reimagining for even greater intersectionality, accuracy, and representation of the current age. Once the show ends and exists in a past, we immediately realize archaic modes of retelling. With this notion, I suppose there may be no such thing as a truly contemporary adaptation, or at least no right answer. In this respect, Compañía Nacional de Danza's Carmen functions as a critical piece on genre and adaptation, form and history. Can an outdated story be authentically adapted in a rapidly ever-changing present?


Santa Barbara Premiere - One of Only Three U.S. Dates!
Compañía Nacional de Danza de España
Johan Inger's Carmen
José Carlos Martínez, Artistic Director
1214 State Street
Santa Barbara, CA 93101
Tuesday, March 6 and Wednesday, March 7, 2018

Related Posts
Comments
No comments made yet. Be the first to submit a comment