10 minutes reading time
(1937 words)
Psst, did you hear? March 2018

This week we have

3

amazing restaurants serving Easter Brunches in the Funk Zone on Sunday, April 1st, 2018.
(

Am I the only one who thinks it wierd that Easter is on April Fool's day??

)


Guests Can Indulge in Chef Weston Richard's Sweet and Savory Dishes,Craft Cocktails, Beers and Fine Wine Selections for a Holiday in the Funk Zone
Les Marchands and Chef Weston Richards present their imaginative brunch menu for Easter Sunday. Diners seeking early holiday breakfast or a casual afternoon lunch with friends and family will find a variety of dishes with broad appeal. Inspired by spring renewal, Chef Richards's menu showcases local ingredients combined with hand-crafted breads from sister operation, Helena Avenue Bakery. Several Easter specials by Chef Richards are served throughout the day.
Chef Richard's pleasing market Easter menu includes starters of House-Made Ricotta with Mixed Berry Jam & Brioche Toast; and Smashed Avocado with Orange, Furikake, Radish & Scallion on Sourdough. Fresh spring plates include Breakfast Poutine with Sausage Gravy, Cheddar Cheese & Poached Egg; Smoked Local Halibut with Crème Fraîche, Capers, Shallot & Toasted Rye; Brussels Sprouts Caesar Salad with Parmesan, Pancetta & Garlic Crouton; Gruyère Waffle with Applewood Smoked Ham, Mustard Aioli & Arugula; and Scrambled Eggs and House-Made-Bacon Sandwich with Arugula & Blue Cheese Cream Fraîche. In addition to Chef Weston's Easter special of Ham- Cured Porchetta Smoked Over Local Red Oak with Crispy Fingerling Potato, Brussels Sprouts, Butternut Squash, & Poached Egg, house favorites include Fried Chicken with Cheddar-Jalapeño Biscuit, Sausage Gravy & Over-Easy Egg; Shakshuka: Baked Eggs, Tomatoes, Charred Peppers, Onions & Feta; and Tres Leches French Toast with Cinnamon Whipped Cream & Mixed Berries.
Guests can indulge in Les Marchands' Classic Stirred Cocktails featuring eight daytime-friendly drinks that complement the menu including the essential Bloody Mary, Bellini, and Aperol Spritz. Also available are Les Marchands' classic brunch cocktails Buck's Fizz with Sparkling Wine Orange; Bliss with Ruby Grapefruit Vodka, Mandarin, Lemon & Sparkling Wine; Michelada with Beer, Lime & Assorted Sauces, Spices & Peppers; Sazerac with Rye, Absinthe, Peychaud Bitters & Sugar; and Clear Conscience with Vodka, Muddled Cucumber, Orange, Lime & Ginger. Also, and not to be overlooked are Les Marchands' well-matched offerings of wines and beers.
Easter brunch is family-friendly, and pricing ranges from $9-$16. Easter Brunch is served Sunday, April 1st, 2018 from 11:00 a.m. until 3:00 p.m. Reservations are highly encouraged and walk-ins are welcome; call 805-284-0380 for reservations or visit OpenTable.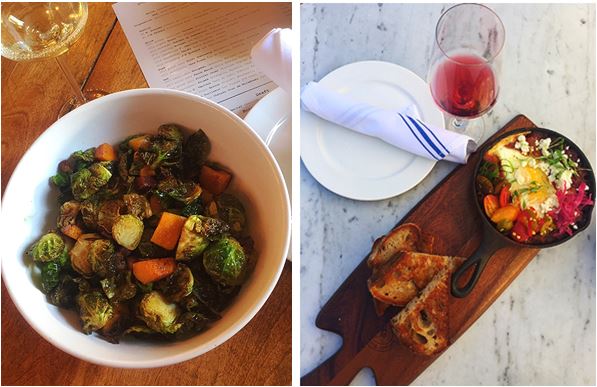 Clockwise: Brussels Sprouts & Shakshuka
photos courtesy of Les Marchands

Chef Jason Paluska Photo Credit ©Rob Stark 2016
Chef Jason Paluska Presents Spring Market Dishes for a Family Easter Dinner in the Funk Zone
Executive Chef Jason Paluska and the team at The Lark announce their specials to celebrate the holiday dinner on Easter Sunday. Specials in addition to their traditional market-driven à la carte menu include Grilled California Asparagus with Crispy Scotch Egg, White Truffle and Marigolds; Crispy Duck Confit with Green Garlic Pain Perdue, Rhubarb, Braised Easter Egg Radish, Fava Beans and Lime Basil; and Rainbow Carrot Cake with Cream Cheese Mousse, Golden Raisin Jam, Salted Pecans and Cinnamon Mint.
The Lark also offers their complete market-driven dinner menu that has made the restaurant popular, including signature dishes of Crispy Brussels Sprouts with Medjool Dates; Southern Pimento Cheese Toast; Early Spring California Vegetables; Grilled Japanese Hamachi Collar; Grilled Kurobuta Pork Belly; Caramelized Diver Scallops; Cast Iron-Roasted Sonoma Chicken; and Slow Cooked California Lamb Ribs.
And to toast the arrival of spring, The Lark's talented bar team has designed three hand-crafted cocktails perfect for welcoming the change of season in Santa Barbara County. New additions to The Lark's specialty drink menu include California Sweet Tea with Rye, Hibiscus, Strawberry and Bitters; Riviera Negroni with House-Infused Grilled Pineapple-Vanilla Gin, Salers Aperitif and Dolin Blanc; and Spring 75 with Ford's Gin, Cardamom, Sparkling Wine and Snap Peas. The Lark's fresh market drinks are influenced by the California climate and are designed to complement the extensive seasonally changing menu of small and large plates by Executive Chef Jason Paluska. All spring drinks are priced at $14 and are now available; guests can also choose a selection from The Lark's award-winning wine list, craft ales or lagers. www.thelarksb.com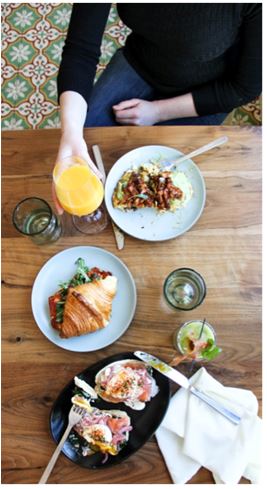 Food & Cocktail Photos by Kaitlin Chamblin
LOQUITA CELEBRATES EASTER SUNDAY WITH "SAN SEBASTIAN"-STYLED BRUNCH IN THE FUNK ZONE
Loquita

celebrates Easter Brunch with a lavish "San Sebastian"- Style Brunch designed by Chef Peter Lee. Loquita is an ode to the roots of Santa Barbara's culture and is a favorite of local food lovers and travelers who herald the restaurant's inspired Spanish cuisine flavored by the coastal city's rich ingredients.
A "San Sebastian"-Styled Brunch is inspired by Spain's most renowned resort on the Bay of Biscay, known for its vibrant restaurants and bars. At Loquita, the brunch re-creates the beach-side environment with a bountiful buffet of over 15 dishes, including all-you-can-eat tapas and signature paella served with bottomless fresh fruit mimosas and sangria.

Among the many options are Chef Lee's Tortilla Espanola with Potato, Onion, Saffron Aioli & Spinach; Little Gem Ensalada with Lemon Vinaigrette, Pickled Red Onion, Radish & Fine Herbs; fresh baked Helena Avenue Bakery Pastries; Butifarra Paella with Jamon Soffrito, Gigante Beans, Maitake Mushroom & Mustard Aioli; and Verduras Paella with Artichoke, Piquillo Pepper, Swiss Chard, Royal King Trumpet & Herb Aioli. For Dessert, finish with Torrijas, the traditional Spanish Easter dessert – Spanish French Toast with Cara Cara Orange & Crema Catalana. Options for kids include Grilled Cheese; Chicken Tenders; and Torrijas for dessert.
Included in the brunch are bottomless pourings of Loquita's fruit-rich beverages – Sangria Rojo withTempranillo, Torres Orange Brandy & Lemon; SangriaBlanco with Albarino, Gin & White Peach; and Spanish Mimosas (for guests 21 and over).
Pricing for the all-you-can-eat buffet brunch is $75 per person for adults; and includes the house-crafted sangria or mimosas. Children 12 and under are priced at $45 per person. Taxes and gratuity excluded.
Easter brunch hours are 11:00 a.m. – 3:00 p.m; Those that prefer dinner for the Easter holiday can enjoy Loquita's à la carte menu from 5:00 p.m. Reservations are highly recommended for both brunch and dinner. www.loquitasb.com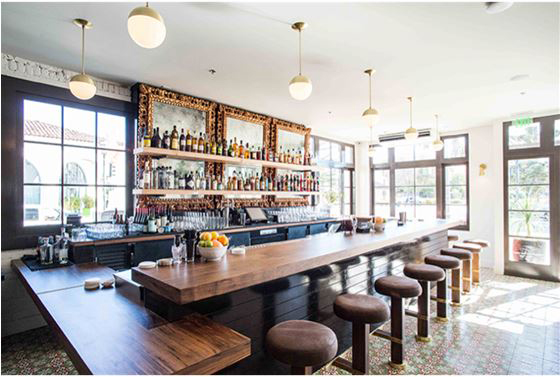 Loquita / Photo by Rob Stark

S

pring

is in the air and now you can drink it. Alberto Battaglini of S.Y. Kitchen presents three new spring cocktails inspired by the warming temperatures, first of the season local market produce, herbs and botanicals. In addition to the restaurant's list of specialty drinks, Battaglini now offers three dazzling new cocktails – the Fennel & Raspberry Sour; Pineapple & Basil Mojito; and La Gritona. The hand-crafted spring cocktails are priced at $14. www.sykitchen.com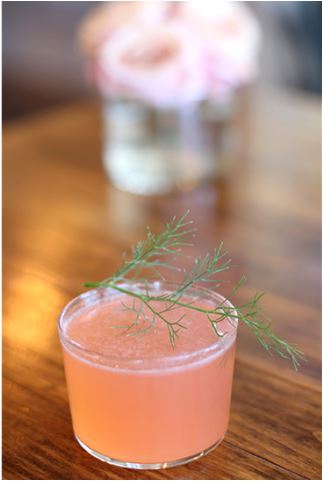 fennel vodka, fresh raspberry, lemon, lime, simple syrup, dill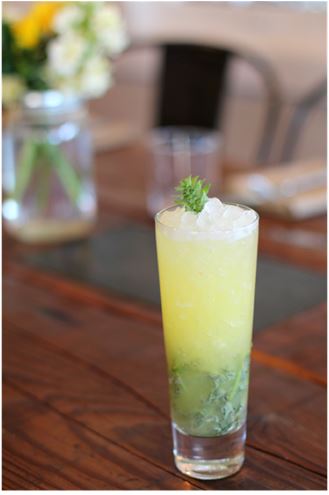 the real mccoy 3 year private barrel, pineapple, basil, lime, sugar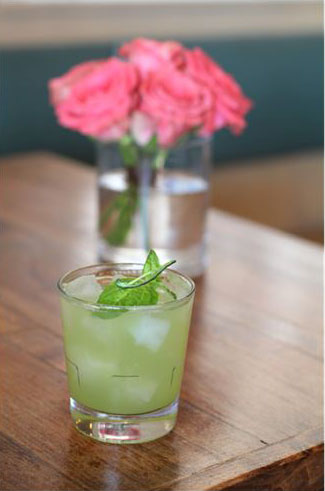 tequila, mescal, basil, jalapeño, cucumber, salt
Photo credit: Elisabetta Antonacci

BOB'S WELL BREAD BAKERY, the iconic bakery and restaurant that holds court at the entry of Los Alamos, adjacent to the Santa Ynez Valley, announces its annual pre-order of the bakery's signature Hot Cross Buns and Easter Panettone. Bob's classic Italian fruit-studded Panettone makes a perfect house gift for any Easter gathering. Place it at the center of the holiday table and serve it with coffee, tea or dessert wine or use the holiday bread to make a perfect French toast or bread pudding. Order Bob's unforgettable Hot Cross Buns, baked only for this holiday, or choose from Bob's rich selection of artisanal pastries and desserts available for dining in take-out. Pre-orders are available from March 15th through the end of the day March 26th and may be picked up from March 29th – April 1st.
Phone the bakery to pre-order at 805-344-3000. After March 30th, the holiday specials will be offered on a first come, first served basis as supply lasts. Pricing for the Easter Panettone is $25; Hot Cross Buns are priced at $18 per dozen. See below or visit the website for special holiday hours.
As a special treat, Bob's Well Bread Bakery will be open Easter Sunday serving its soulful menu of delicious breakfast plates and lunch sandwiches perfect for celebrating the holiday with family and friends. Bakery hours are 7:00 a.m. – 6:00 p.m. and the Kitchen serves the café menu from 7:00 a.m. – 3:00 p.m. www.BobsWellBread.com
| | |
| --- | --- |
| | |
| Easter Panettone | Hot Cross Buns |

Los Olivos' The Bear and Star, serving "Refined Ranch Cuisine" inspired by the Parker family at the eponymous Fess Parker Inn continues their collaborative Chef's Table Dinners with Michelin-Starred Chef Josiah Citrin on Wednesday, March 21, 2018.

The six-course tasting dinner championing Southern California restaurant talent, staged in The Bear and Star's state-of-the-art Chef's Room, blends products raised on the Parker ranch with inspiration from Los Angeles County.
The dinner with Chef Citrin begins with the Mélisse signature Egg Caviar – Soft Poached Egg, Smoked Haddock Cream, Cauliflower and American Osetra Caviar; followed by Hamachi with Kumquat, Napa Cabbage, Smoked Bonito and Radish; and Salt Roasted Carrot with Seven Seeds and Fermented Crab. For the fourth course, guestsenjoy Black Cod with Green Tomatoes and Green Garlic Mussel Broth. Served for the main course will be Lamb Rack and Shank with Turnips and Wild Watercress. The evening is completed with dessert – Goat Cheese Cake with Guava, Prickly Pear and Lemon Curd. Stellar wine pairings from Santa Barbara County, France, Germany and Japan have been curated by The Bear and Star's General Manager Robert Williams. The Chef's Table seatings are available at 6:30 and 7:30 p.m. Pricing is $79 per guest for the dinner. Optional wine pairings are recommended at a supplementary charge of $50. For more information, call 805-686-1359; to reserve seats, visit Eventbrite for tickets. The event is sold out, however you can still get on the waiting list. www.TheBearandStar.com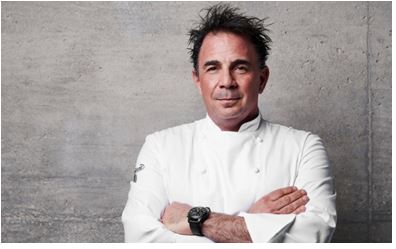 Chef Josiah Citrin photo courtesy of Mélisse

On Tuesday, March 27, 2018, Les Marchands launches spring season with the next installation of their Seasonal Dinner Series celebrating the outstanding bounty from Santa Barbara County farmers, ranchers and fishmongers. Executive Chef Weston Richards' four-course menu is paired with Les Marchands' wines from the Loire, Rhone and Basque regions, curated by General Manager & Wine Director Hayden Felice.
The gathering begins with a course of Olive Oil-Poached Spot Prawns with Smoked Local Mussels, Capers, Tomato and Parsley; followed by Chilled Squid Ink Noodles with Snap Peas, Mustard Vinaigrette, Mint and Calabrian Pepper. For the main course, there is a savory Crispy Lamb Shoulder with Fingerling Potato, Fava Beans, Spinach and Juniper Demi-Glace. Finish the evening with Chef Weston's House-Made Ricotta with Lavender Honey and Black Pepper Lavash.
The Spring Wine Dinner at Les Marchands is priced at $50 per person for the menu, exclusive of beverage, tax and gratuity. Wine pairings are offered for $45. Reservations are available from 5:30 p.m. and advance booking is required; space is limited. For information call805-284-0380 or www.lesmarchandswine.com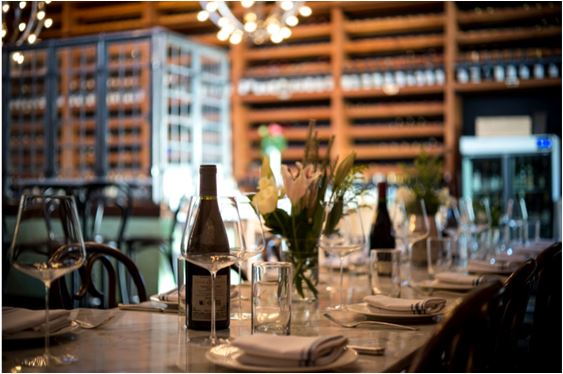 Les Marchands Photo courtesy of Rob Stark

If you are a restaurant within the 805 and want to send us a little seasoning of news, please send an email to This email address is being protected from spambots. You need JavaScript enabled to view it.
Related Posts
Comments
No comments made yet. Be the first to submit a comment