4 minutes reading time
(801 words)
Review: Henry Taylor at Blum & Poe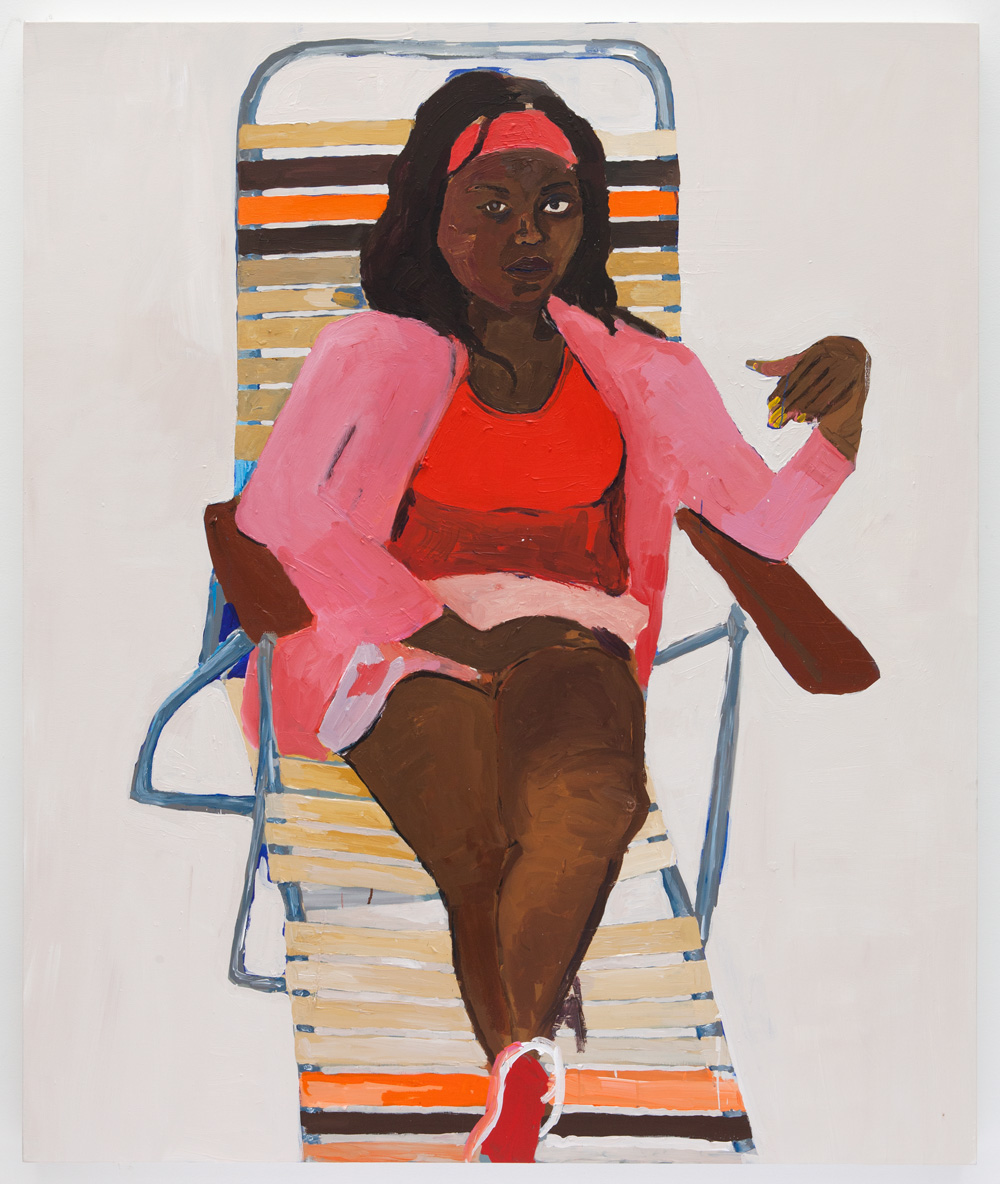 Review-
Oxnard-born Henry Taylor's current solo show takes up the first floor of the Blum & Poe space in Culver City, Los Angeles. Best known for his large, thickly-painted, emotionally-charged paintings, often modeled on photographs, but not photorealism in any sense of the word, Taylor in this exhibition also extends his engagement with installation and contextual concerns.
In each successive room at Blum & Poe, Taylor presents a different relationship between paintings and installation elements to present essentially four distinct presentations within a single, not-too-cohesive solo show.
In the first room we are immediately confronted with a solidly packed earth floor with a large, scraggly, barren tree jutting out of one corner and a chest-high graffiti-covered cinder block wall running across the long side of the room several paces out from the wall. The tree and earth look perfect for a set for Samuel Beckett's Waiting for Godot, their stripped-bare, near-apocalyptic feel providing a singularly raw emotional context for the paintings hung in the room.
Though this and the last two rooms' installation element are well-thought out and could hold up on their own terms to a certain limited extent, in light of the paintings in the show, they seem more like an unnecessary distraction from the paintings, rather than a source of enriching context.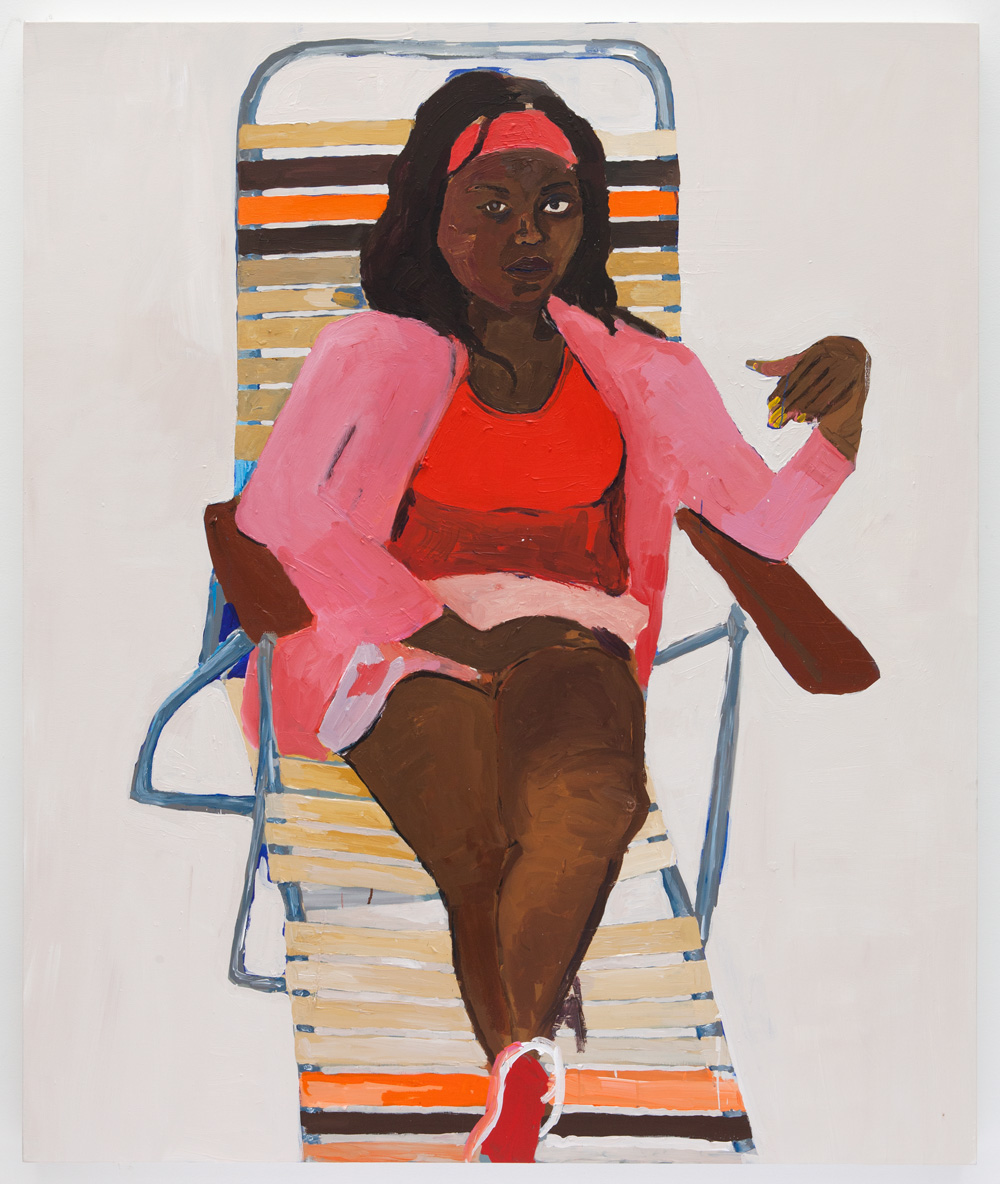 Henry Taylor Terry Ann, stay with yo plan, 2016 Acrylic on canvas
72 x 60 x 3 inches (182.9 x 152.4 x 7.6 centimeters)
Courtesy of the artist and Blum & Poe, Los Angeles/New York/Tokyo
In the second room the floor is covered with artificial grass with a swimming pool set-piece covering most of the center of the floor. The paintings on the walls are closely themed images relating to the pool: a woman floating in the pool, other pool-side denizens, and so forth. At first glance, this room seems exempt from the more typical darkness and froth of Taylor's paintings, but once the paintings sink in, one sees that the emotional texture of the work lends itself to a more ironic critique of the superficiality of the lifestyle depicted.
The third room is a big shift as we are taken into an artist's studio. Here we are in what looks like a working studio, momentarily interrupted and arrested in time, with walls covered by much smaller Henry Taylor paintings, often showing what would only be a detail of his usual paintings. The room convincingly looks as if Taylor could have painted the very show we are witnessing in this room and the artist has just happened to have stepped out to get a bite to eat or something.
The fourth room, Wizard of the Upper Amazon [2016], is pure installation. Though part of the show, no Taylor paintings are in sight. We enter through curtains and whisps of a telltale scent and smoke into what seems to be a typical green room of the type often seen in concert halls and California TV studios, with exit signs, folding stores and theatre-black paint covering every surface. A two-screened black-and-white video is projected in continuous loop across two of the walls above head level, showing what looks like a group of splif-puffing Rastas sitting along the walls in the very same room, as if backstage waiting to go on for a concert. The video is done by a Los Angeles video director, Kahlil Joseph, and the whole set is supposedly inspired by an encounter with Bob Marley in Santa Barbara.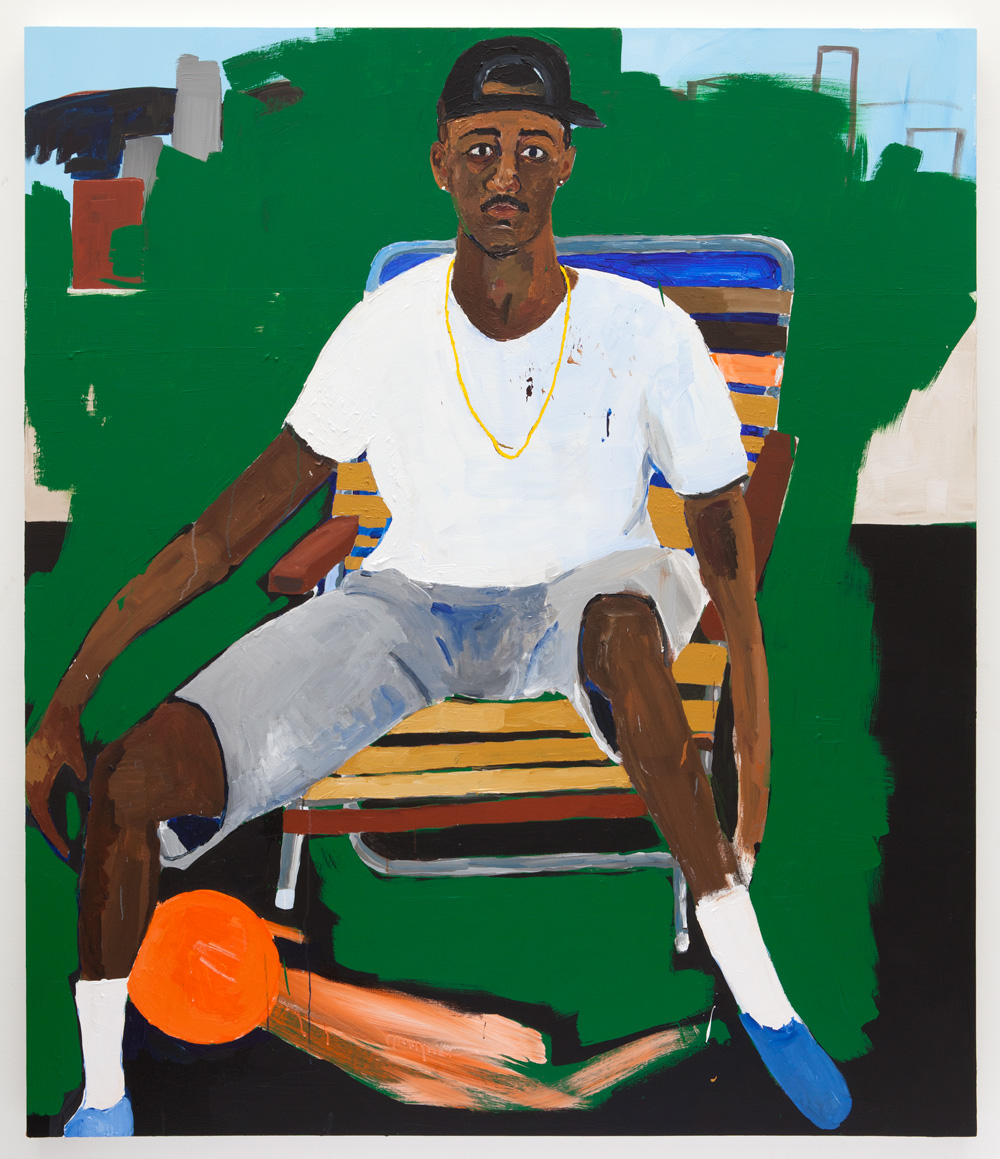 Henry Taylor Anthony Swan, 2016 Acrylic on canvas
84 x 72 x 3 inches (213.4 x 182.9 x 7.6 centimeters)
Courtesy of the artist and Blum & Poe, Los Angeles/New York/Tokyo
There are those who have written that this piece seems out of place in this show or in Taylor's work. I disagree. There is a certain sub-text having to do with memory and time in Taylor's work and this piece seems like an appropriate extension of that discourse within Taylor's already established painting themes.
A considerable extension, yes; but conceptually appropriate nevertheless.
The entire video loop is worth watching and it gives a certain insight into the workings of Taylor's mind or seems to do so. Not only is there this thing about memory running through a lot of Taylor's paintings, but also a sense of close-up viewing of the world, with a scent and physicality pushed to the very front of the picture plane. This up-closeness was especially apparent in some of the paintings in Taylor's last Blum & Poe show. This show's Rasta Room has a similar sense of things, thus reinforcing a specific aspect inherent in many of Taylor's paintings, but not always presented as the main focus.
This is a must-see show by one of the region's most talented native sons.
Comments
No comments made yet. Be the first to submit a comment