5 minutes reading time
(1014 words)
Review:Jason Furlani's Family Trees at the Elite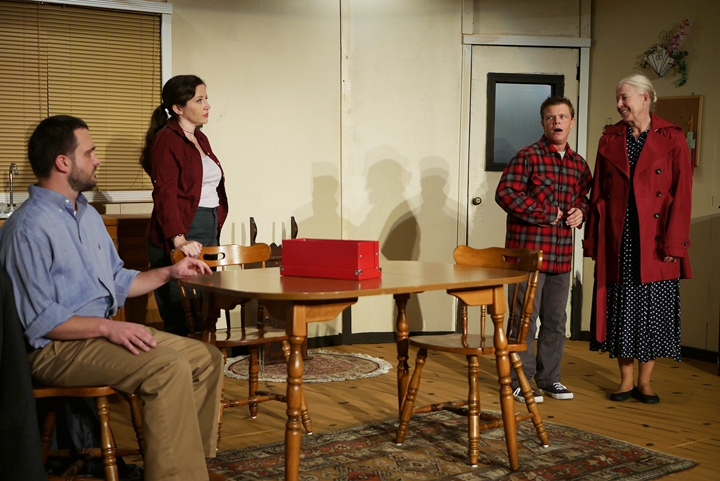 Review-
The
Elite Theatre of Oxnard
presents the world premier of Jason Furlani's
Family Trees
, a rambling, good-natured comedy set in Schenectady, New York. With a set that feels just like my late aunt's house in Schenectady; solid, heartfelt acting, and a very funny script, the play is a great choice for the holidays, full of a warmth and good-will that will have everyone leaving the theatre with a smile.
The plot premise may sound like we're getting a dark comedy: a brother and sister have just lost their mother and are about to bury her ashes in their backyard, where mother will be joining the remains of other members of their family. Each relative is buried under a new tree and identified by that tree. One family member is an oak, another a rhododendron and so on; Mother is getting a cedar. Though this a darkly humorous set-up, the comedy is really not that dark. In fact, it is quite on the light side.
Furlani's great strength is his wit, the play is full of great one-liners and come-backs; but he also creates good situational humor. The whole set-up is funny enough and there are other situations where the very nature of what is going on is hilarious. At one point, mother's cedar becomes a character. So the cast really consists of four actors and a cedar tree.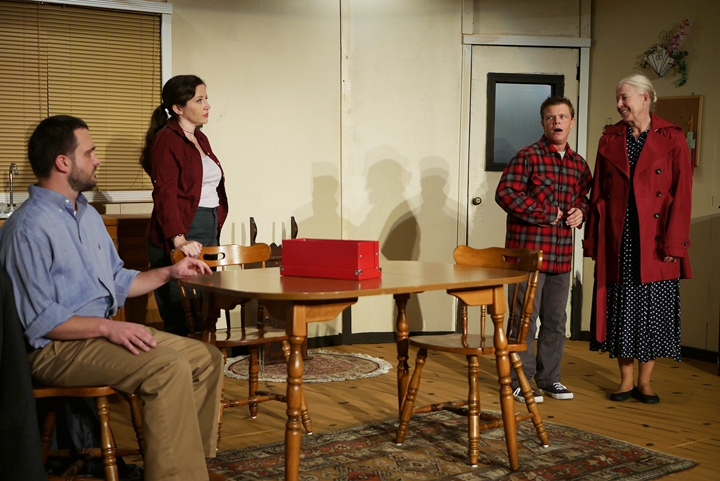 The play opens with college-educated Mike, the brother, wallowing in a quagmire of indecision and joblessness, while his wife supports their family with a low-paying job. Sis has come in from New York, where she works in advertising and is the pride of the family. She is the the more mature of the two and feels a certain need to give her brother some kind of kick in the butt to get his career in gear. Mike, on the other hand feels his sister has forgotten her true roots and the family she left behind to pursue a career in the big city.
Further complications--and the beginning of all the craziness--arise when the nosey neighbor who has been curious for years about all the family's shenanigans, especially in their back yard where the family cemetery cum tree nursery resides, and her son get involved. Comic antics ensue.
We soon begin to suspect that the neighbor's kid has been more involved than either his mother or the brother and sister ever imagined.
As for that cast, Sabastien Montgomerie gives us a thoroughly professional George, the neighbor kid, with some very convincing mannerisms and solid comic heft. He works his part for all he's worth and it works. Dorrie Braun gives us a nosey neighbor we can all hate, night floodlights and all.
Genevieve Levin plays sis, and as she admits in her bio, she needs to keep branching out from playing loving mothers in Simi Valley. She inhabits the Tina part so thoroughly and wonderfully she is practically chomping on the scenery looking for more to do. This is an actress who needs intelligent, powerful, lead parts, or supporting parts with teeth in them. She needs emotional truth. Furlani's script gives her these things.
The brother, Mike, played by evan austin is in some ways the most difficult part, but played by what seems to be the least experienced actor. However, evan austin's manner, his voice, his facial expressions, his diction and intonation all give a very deliberate, grounded, solid, appropriate realization of the character. This is a very lovable and down-to-earth guy.
Working with Levin--and this accounts for a majority of austin's time on stage--the two make a good brother-sister pair. Deceptively good. At the heart of the play, these two have created an engaging brother-sister dynamic that helps sweep the play along.
The set is a fine set and has just the right feel for the play as does the costuming. And the cedar tree? Absolutely hilarious, you'll have to go see how that works for yourself.
We need to be thankful, very thankful indeed, that the Elite puts on premiers like this, working directly with talented writers, giving us plays like Furlani's Family Trees. There are not many--and never enough--community theatres that are willing, or able, to do this.
In a way, the Elite, along with a couple other theatres in the 805 are in a difficult spot: they are really community theatres, limited to nearly non-existent budgets and the thousands of hours donated by a scarily few dedicated folks that allows such theatres to exist in the first place, yet they repeatedly attempt to pull off feats fit for a full-fledged professional theatre. Astonishingly, these theatres give us professional performances far more often than we, their poor audiences probably deserve.
We need to support this kind of theatre, it deserves our support.
Speaking of theatre deserving of support, the Elite has also announced their 2017 season, which begins 3 March with the astounding play, Agnes of God, one of the most significant plays of the last half-century. This will be followed by Engaging Shaw, a romantic comedy by John Morogiello; About Tremont, another world premier; then Steel Magnolias, the well-known dramatic comedy by Robert Harling that is very much worthwhile to see on stage, and then ending the season with a very special play, The Lark, a drama by Jean Anouilh that was translated and adapted by the great Lillian Hellman for very good reasons.
This is a fantastic and wonderfully ambitious line-up. Very few community theatres would ever dare put on a line-up like this. This is a line-up of theatre that matters, that everyone who is truly interested in theatre should see performed.
Season ticket subscriptions are available and if you order before 31 December, you can get a Holiday Season gift deal.
_________________________________________________
Family Trees

by Jason Furlani
directed by William Carmichael
starring evan austin, Genevieve Levin, Dorrie Braun, and Sabastien Montgomerie
produced by Collette Rutherford at the
Elite Theatre
near the corner of Victoria Avenue and Channel Islands Way in Oxnard
for tickets, information, and 2017 season tickets call 805.483.5118
Comments
1
This is beautiful. So grateful for your kind words. Thanks for coming out to see us!