3 minutes reading time
(652 words)
The DRAWING Show - curated by Betty Ann Brown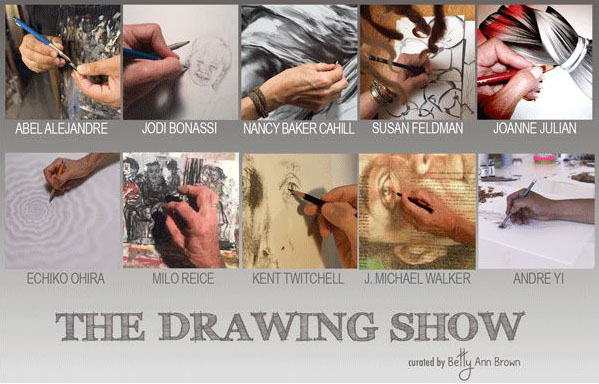 Last Saturday evening
Society 805
attended
The DRAWING Show
curated by Betty Ann Brown
in Los Angeles at
The Loft at Liz's Gallery
.
Drawing is one of the oldest forms of human expression: Over 30,000 years ago, artists drew
herds of bison racing across the rock walls of Grotte Chavet. In more recent times, drawings were considered problem-solving exercises, with emphasis on observation and investigation; they were produced as preparation for the more privileged media of painting and sculpture.Today, many artists use drawing as their primary or only art form. "The Drawing Show" focused on artists whose aesthetic practices focus on drawing.
The Drawing Show exhibit features works from artists Abel Alejandre, Jodi Bonassi, Joanne Julian, J. Michael Walker, Milo Reice, Kent Twitchell, Nancy Baker Cahill, Echiko Ohira, Susan Feldman, and Andre Yi.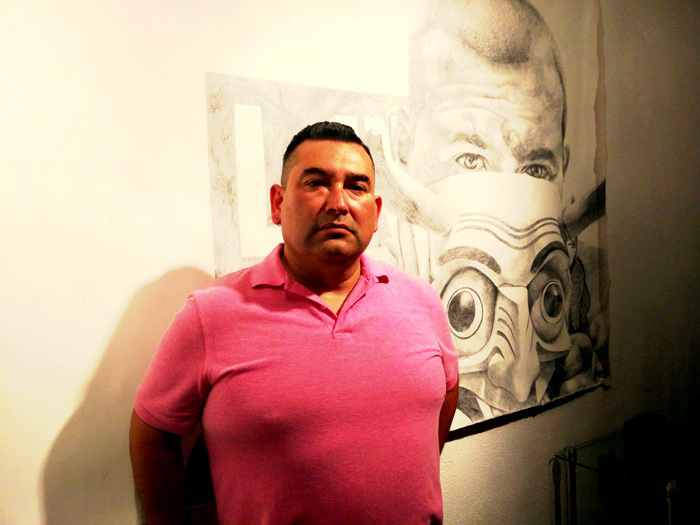 Abel Alejandre was the first artist we met who uses his consummate skill with graphite pencils to produce mural-scaled drawings that grapple with his identity and personal past. Mil Mascaras depicts the artist behind a devil mask from his native Michoacan, Mexico. A lacey bra hangs on one of the devil's horns, suggesting a sexual and perhaps illicit engagement. http://abelalejandre.com/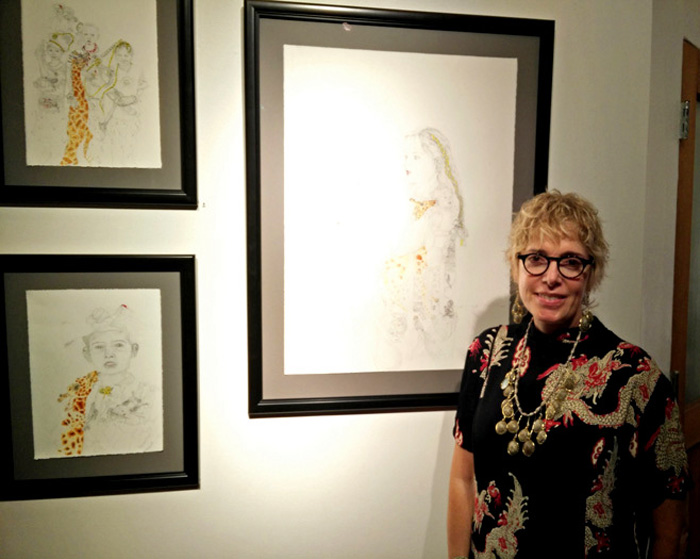 It was a real pleasure talking with artist Jodi Bonassi who creates surreal worlds that are densely populated by both human and spiritual entities. Her series of gun-themed drawings look at the affects of violence on children. It was a real powerful piece on gun violence and children. http://www.jodibonassiart.com/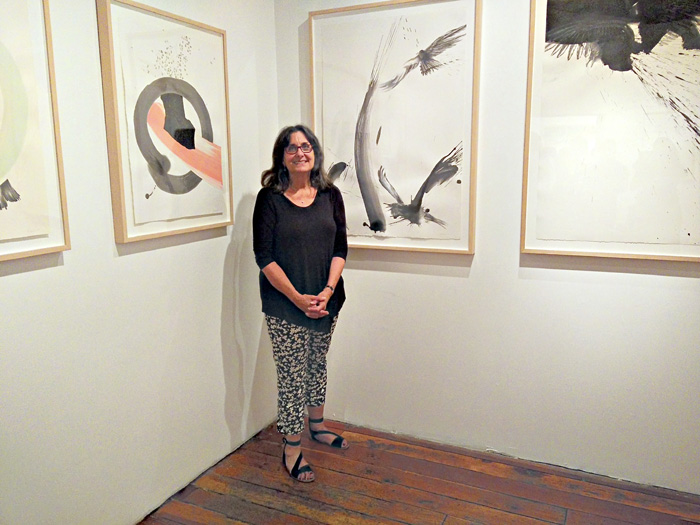 I met Joanne Julian a talented artist from the 805. Joanne's oeuvre is based on Asian traditions, sometimes with specifically Zen iconography (i.e., the remarkable series of Zen Circles), and sometimes with spiritual attention to the natural world, whether it be birds or blossoms. http://www.joannejulian.com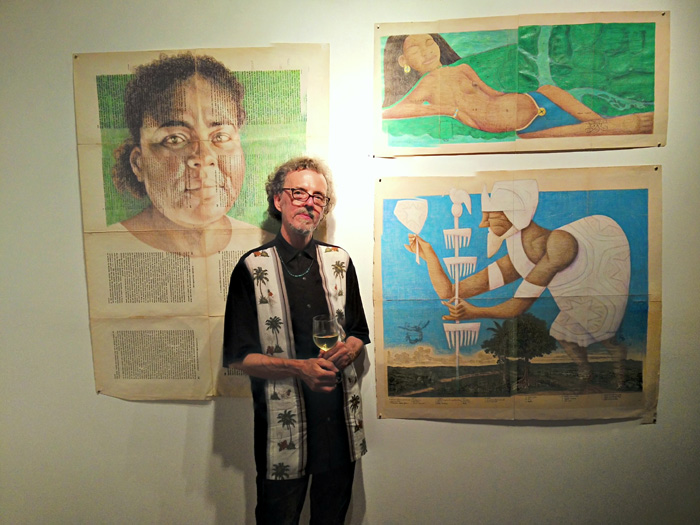 It was fascinating chatting with J. Michael Walker who portrays strong and beautiful women and the powerful spirits that watch over them, in his colored pencil drawings of Afro-Brazilians and the Orishas. I learned a bit of history about Afro-Brazilians and the Orishas and I look forward to more conversations with J. Michael Walker in the near future. http://www.jmichaelwalker.com/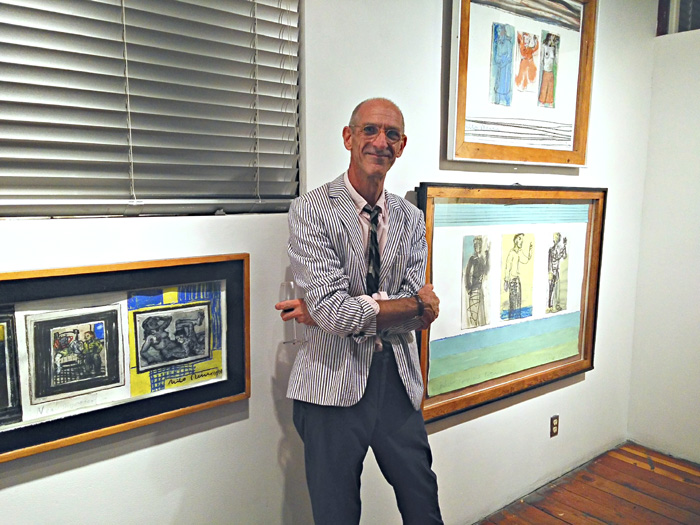 I shared an air vent with artist Milo Reice, which was a treat in the crowded gathering. Milo's sketches allows the history of art to flow through him with expressive fervor. Figures are sketched and scribbled across horizontal bands, inviting viewers to imagine narrative interactions. http://miloreice.com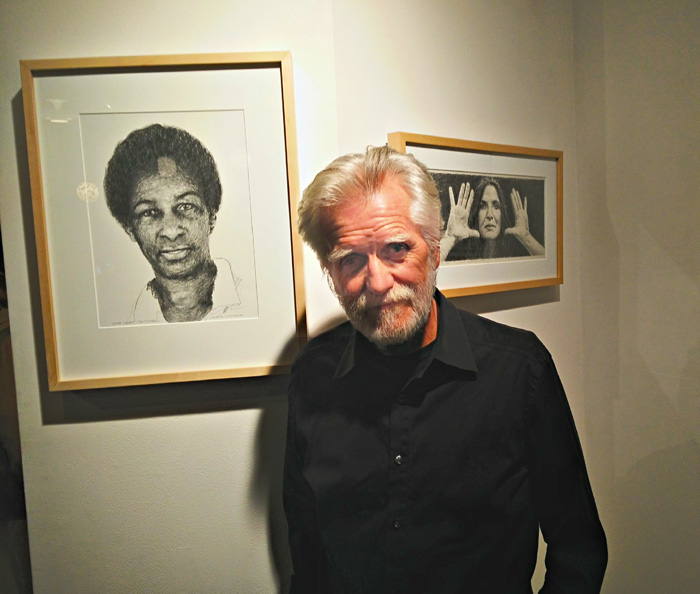 Muralist's Kent Twitchell famed murals are based on the precision of his portraits. For this exhibition, they selected Twitchell's portrait studies of several famed individuals, from Olympic athletes
to jazz singers to the woman who inspired one of his renowned freeway murals. I must say that this is one cool chap, he did not say much, just pointed to his assistant (I'm assuming) and said "give her my card", in a really cool tone. Well I thought it was really cool. http://www.kenttwitchell.org/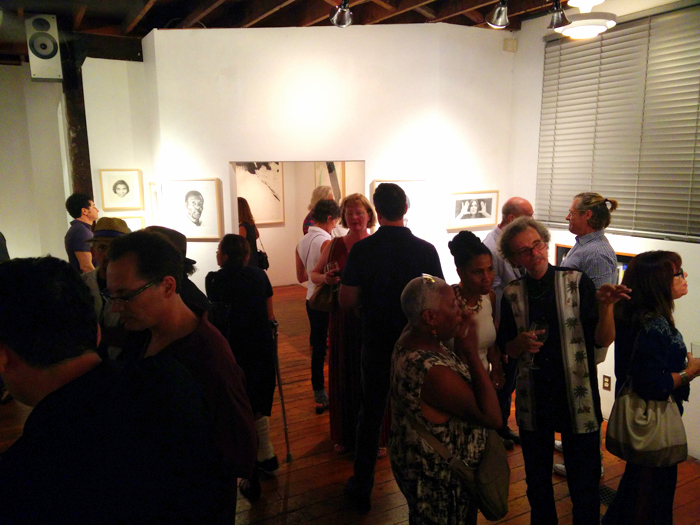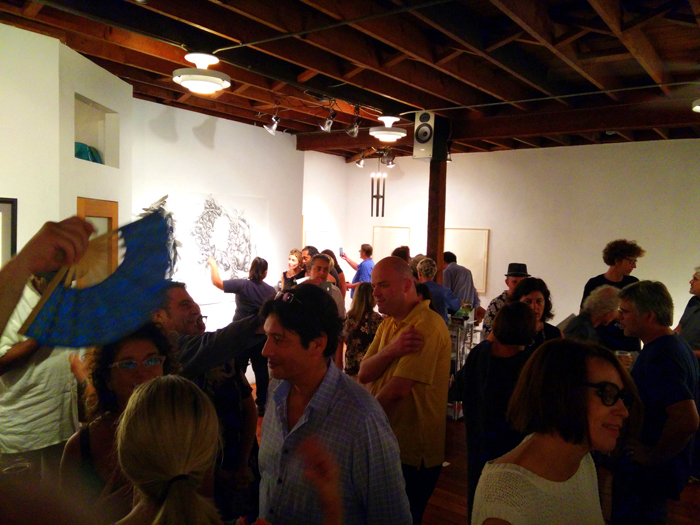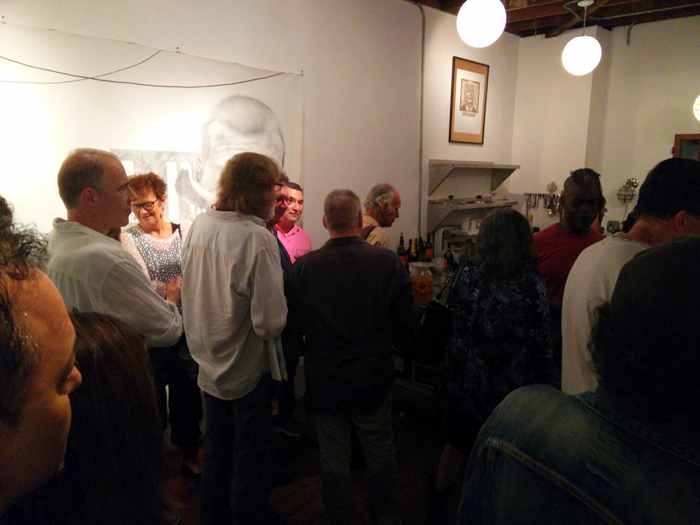 By the time I met the last two artists the place felt like a sauna due to the size of the crowd. I really did not get a chance to talk to them for long, but I found these two women to be quite charming and hope to to talk with them more in the future.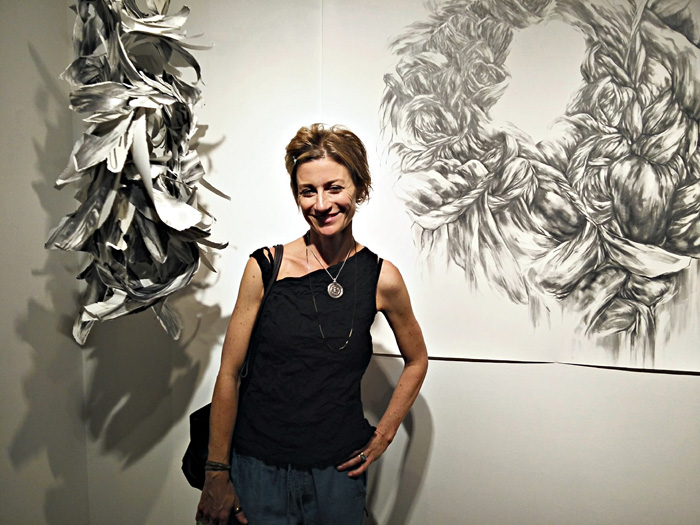 Artist Nancy Baker Cahill creates graphically powerful images of tightly woven abstract images.
At times, she rips her drawings into petal-like shapes that are re-assembled into sculptural forms. I loved her drawings, which are really powerful. http://nancybakercahill.com/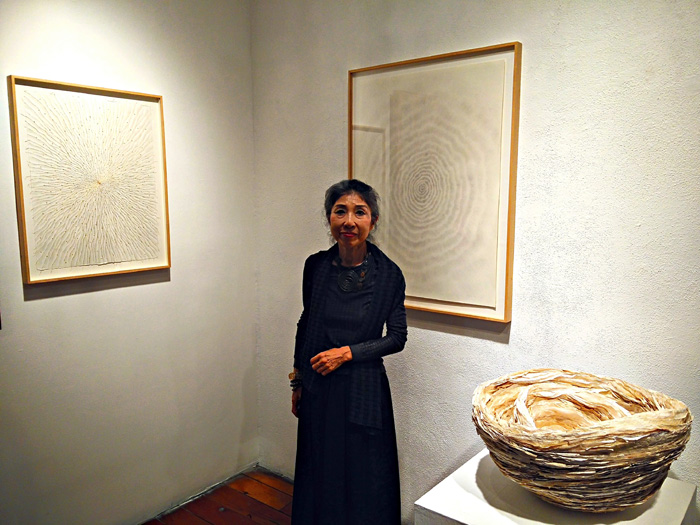 The beautiful Echiko Ohira creates drawings so subtle the viewer must slow down and spend quiet time to see them. Spirals echo in graphite silence, almost disappearing into the whiteness of the paper.
Society 805's Editor Tatiana Wilcox-Ha with the remarkable gallery owner, Liz Gordon
The Loft at Liz's Gallery
Comments
No comments made yet. Be the first to submit a comment