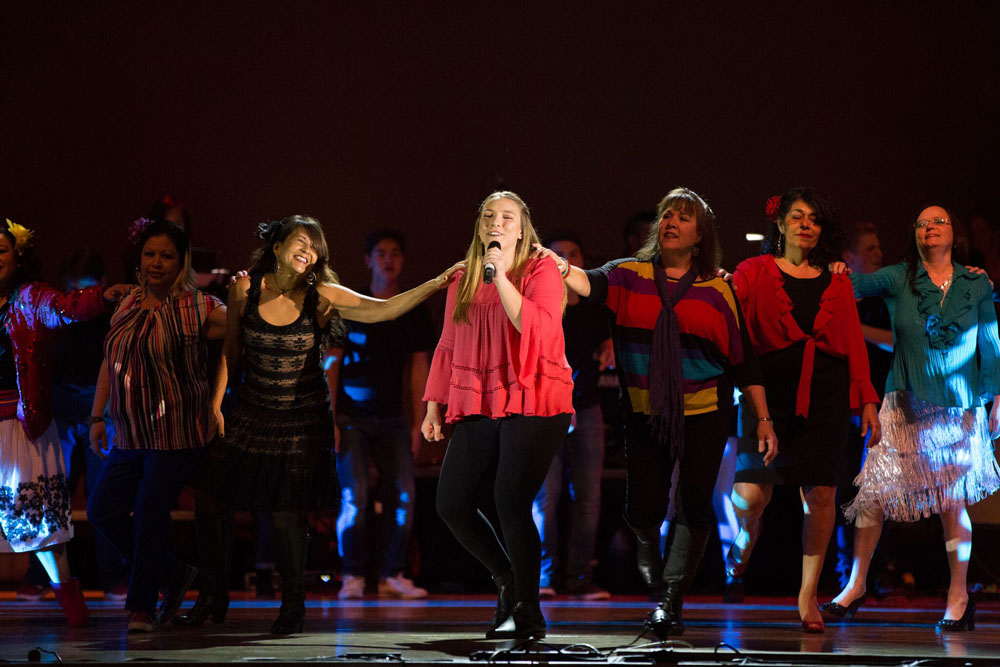 Cassidy Craig's opening number for Festival of Talent backed up by VUSD staff Photo Credit: Loren Haar / Lore Photography
VENTURA EDUCATION PARTNERSHIP presents the 17th Annual
Festival of Talent: "WALKING ON SUNSHINE"
A Benefit Talent Show for VUSD

Ventura, CA – Ventura Education Partnership will present the 17th Annual Festival of Talent: "Walking on Sunshine" on Saturday March 24, 2018 at 7:00 p.m. The performance is open to the public and showcases the amazing talent of Ventura Unified School District students, staff and family members. ,Brian McDonald, Rubicon Theatre Company Associate Artistic Director, will direct the show for his tenth and final year.
Since its inception 17 years ago, the Festival of Talent has raised more than $500,000 for the VEPGrant program, which awards grants to VUSD schools. These small grants have enabled over 500 teachers to provide extra enrichment activities, to acquire new technology, or to undertake innovative projects with their students. The VEPGrant program touches every student who graduates from Ventura Unified, supplementing and enhancing their education.
"We are grateful to live in a community that prioritizes youth and education, that community partners work tirelessly to showcase students' talents and that sponsors care about strengthening student learning by funding innovative classroom grants. Festival of Talent brings together performers, students, supporters, educators, families for a highly entertaining evening that will leave you feeling like you are walking on sunshine. It's a not to be missed experience!" Madhu Bajaj, President, Ventura Education Partnership.
This year's production will feature a variety of acts, including choirs, rock bands, vocalists, cheerleaders, dancers, and a comedian! Don Wood, the show's original and long-standing Master of Ceremonies, returns, as does Musical Director Miriam Arichea, who leads the live band with backup vocals from The Rubicon Harmonix. The show is expected to sell-out, so be sure to purchase tickets early.

"Thanks to the talents of director, Brian McDonald, and musician, Miriam Arichea, Festival of Talent, while performed by amateurs associated with the Ventura Unified School District, is as close to a professional show as one can get. It is a "must see" for all Venturans." - Bart Bleuel, Kiwanis Member and Chair of Festival of Talent.
Festival of Talent will take place at the Ventura High School auditorium on Saturday, March 24, 2018 with preshow entertainment beginning at 6:30 p.m. and the show at 7:00 p.m.
TICKETS FOR PUBLIC:
General Admission Tickets are $10 in advance; $15 after March 18
VIP Reserved Seating $25
WHERE TO PURCHASE TICKETS
General Admission Tickets may be purchased online or in person at all VUSD School sites and the VUSD Trudy Tuttle Arriaga Education Service Center (ESC) through March 16. From March 19 – 24, tickets may be purchased online, at the ESC, or at the VHS Auditorium box office on the evening of the performance. VIP Reserved Seating reservations can be made online through March24 and at VHS Auditorium box office on the evening of the performance.
ABOUT VEP: The Ventura Education Partnership (VEP) supports and enriches education in the Ventura Unified School District through community partnerships. This all-volunteer, non-profit organization fosters recognition of the work of district teachers and staff, and enlists the participation of parents, businesses and community members in the education of our children.
Over the past 11 years, VEP has raised more than $1.3 million to provide small grants to teachers through the VEPGrants program. VEPGrants have touched every child in VUSD and have had a lasting impact on learning by incentivizing innovation in the classroom and incubating new programs district-wide.
ABOUT KIWANIS CLUB OF VENTURA:
For nearly 100 years, Kiwanis members have volunteered in service of Ventura's children and the community with an emphasis on youth and vulnerable adults, while providing their members opportunities for fellowship, leadership and business relations. Ventura Kiwanis has student clubs in seven VUSD schools, plus one at Ventura College and an "Aktion Club" for adults with developmental and intellectual difficulties. We mentor the participants to grow "out of themselves" by participating in community service projects and developing leadership skills. In addition to other activities in the Ventura community, Kiwanis partners with VUSD by serving on the VEP Board and supplying volunteers for Festival of Talent, Bravo, and Kiwanis Basketball Tournaments at Buena and Ventura High Schools. Since 2006, Kiwanians have raised over $150,000 in scholarships to VUSD students, and has proudly sponsored a meaningful Holiday party for special needs students for over 35 years. Ventura Kiwanis has been the title sponsor for Festival of Talent since its inception in 2002.