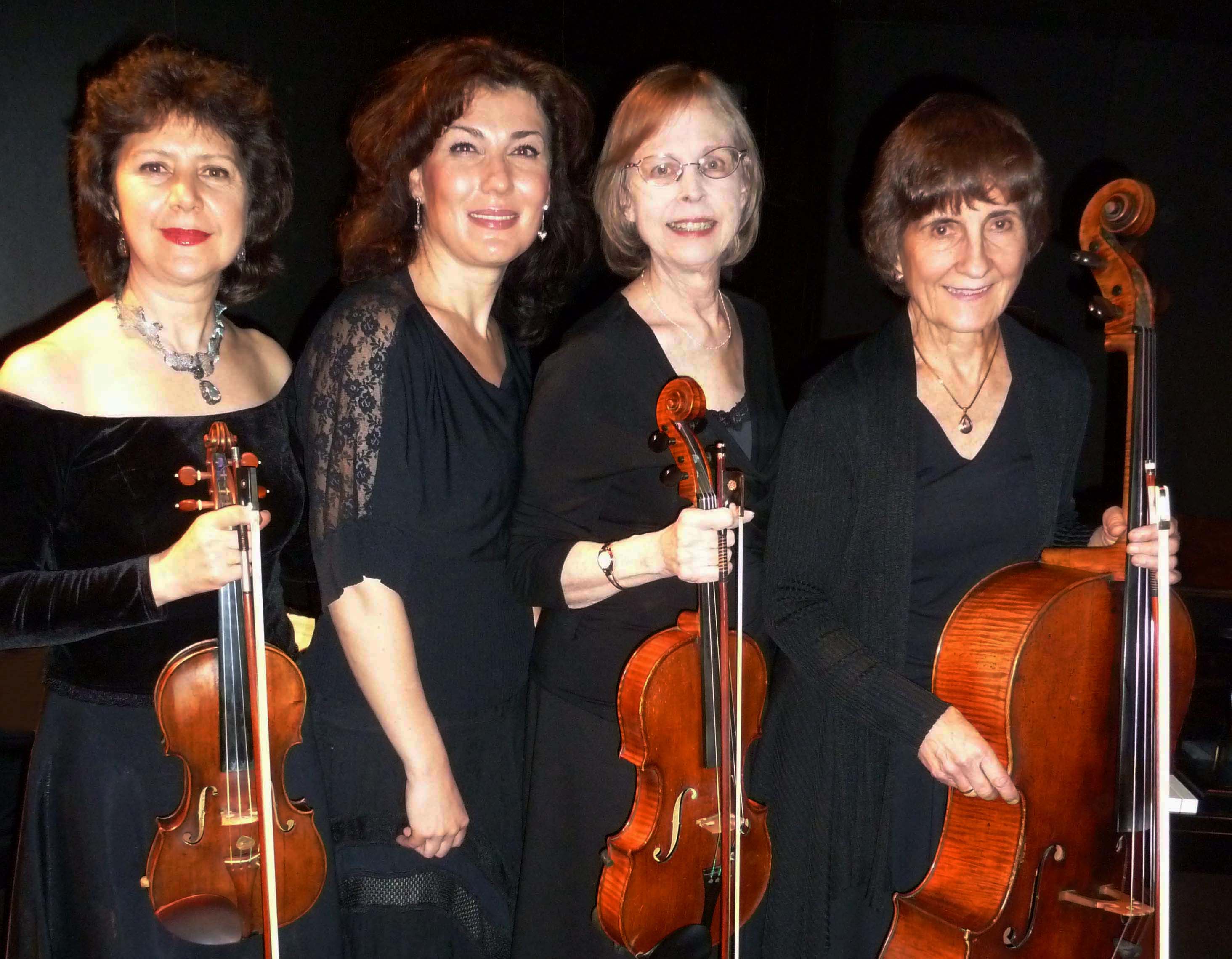 CLASSICAL CONCERTS ON THE HILL PRESENTS
THE LUMINOSO PIANO QUARTET
IN AN AFTERNOON OF CHAMBER MUSIC
THOUSAND OAKS, Calif. – The Luminoso Piano Quartet will present AN AFTERNOON OF CHAMBER MUSIC: Piano Quartet, with music by Handel, Widor, Dvorak and more, on Sunday, May 20, 2018 at 2:00 pm at the Hillcrest Center for the Arts, located at 403 W. Hillcrest Dr. in Thousand Oaks. The afternoon features classical favorites performed in an intimate setting. A concert in the Large Rehearsal Room is like attending a concert in the Château de Versailles in Paris! (Well, it has mirrors and is about the same size, less the artwork and history, but you can just close your eyes and imagine you are there!) The Luminoso Piano Quartet features Araksia Nazlikyan, Violin; Diana Ray-Goodman, Violin & Viola; Jan Kelley, Cello; and Ornela Ervin, Piano.
The Luminoso Piano Quartet is led by Violist Diana Ray-Goodman, who maintains a private violin and viola studio in Thousand Oaks. "We are excited about this program!" says Ray-Goodman. "Widor is a little known composer. His Piano Quartet is a lush piece full of Romantic power." Charles-Marie Jean Albert Widor (21 February 1844 – 12 March 1937) contributed to French music as an organist, prolific composer, conductor, teacher, and writer. He is most known for his ten organ symphonies which, along with the rest of his compositions, he edited over and over again throughout his career. Widor was a leading organ recitalist of his time and travelled throughout Europe and Eastern Europe. He was invited to play the inaugural concerts on many of organ builder Cavaillé-Coll's greatest instruments, including the famous organs at Notre-Dame de Paris, Saint-Germain-des-Près, the Trocadéro and Saint-Ouen de Rouen. Sadly, Widor was overshadowed by his contemporaries Saint-Saëns, Franck, and Debussy.

Diana Ray-Goodman received her BA in Music from CSU Northridge and worked on her Master's degree with William Magers at Arizona State University. She has played in several orchestras including the Phoenix and Santa Barbara Symphonies and the Thousand Oaks Philharmonic. She is a Member and Evaluator for the Music Teachers' Association of California. A member of the music faculty at CSUCI, she is also a Registered Teacher with the Suzuki Association of the Americas and a Member of the American String Teachers' Association.

The quartet also includes Araksia Nazlikian, who began her violin studies at age of 7 in Erevan, Armenia. Presently living in LA, she has played in various orchestras, including the Monterey Symphony, San Luis Obispo Opera, and the Fresno & Thousand Oaks Philharmonic orchestras. Jan Kelley, cello, grew up in Wyoming, received most of her musical education at the National Music Camp at Interlochen, Michigan, and then received a B.A. from Carleton College in Minnesota. Over the years she has played concerts with most of the orchestras from Santa Barbara to San Diego, including a world tour in 1967 with the Los Angeles Philharmonic under Zubin Mehta. Albanian pianist Ornela Ervin received her artist diploma from the Academy of Fine Arts in Tirana, Albania. Upon graduation she moved to the United States and currently resides in Thousand Oaks where she maintains a large studio of award winning students and performs regularly with her piano duet partner Raya Sadigursky.
Tickets are $15 for general admission and $12 for seniors and students and may be purchased at the Hillcrest Center for the Arts Box Office or by calling (805) 381-1246 or www.hillcrestarts.com.