Christine Leong & Andrea Vargus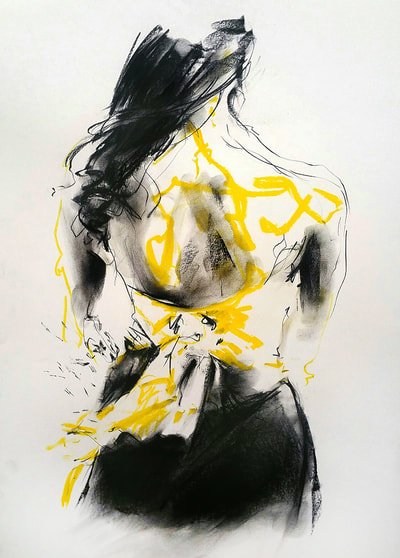 Andrea Vargas "On the Horizon"
A Line in the Sand

Christine Leong & Andrea Vargas
Fox Fine Jewelry presents works by Christine Leong & Andrea Vargas from March 15 - May 13. An Artist Receptionist will be held on March 17 from 6-8 pm.
"A Line In the Sand" is a collaboration between Christine Leong and Andrea Vargas. Their friendship is unique in that they work on pieces of art together, combining different mediums and techniques. This isn't the first time they have collaborated either – in 2015, they worked on a series of 10-foot tall tapestries of hand painted silk, evoking water and fire, at the Ventura County Museum. Usually, one will work on the background before giving the piece to the other to complete the artwork. Now, at Fox, they work together to show just what makes Ventura home in the midst of travelling all over the world, illustrating poetry within minerals without reservation.
Christine, from Hong Kong, has a special talent for painting Koi fish and florals on rice paper. She has been using rice paper for 30 years, and recently has explored and started painting wearable art on raw silk. This is similar to rice paper but more uncontrollable, leading to "happy accidents" with her dyes. In 2002, Christine moved to Camarillo, and has won many awards and exhibits her work internationally, even displaying at an event for the 2008 Olympic Culture Festival. When she's not creating beautiful art, she teaches and does art demonstrations.
Andrea was raised in the San Francisco Bay area, where the vibrant murals and diversity influenced her passion for community histories and art. She went to school at UC Berkeley, where she studied rhetoric and public discourse before moving to Los Angeles in 2004. There, she studied art while working on independent projects in animation and illustration. A world traveler, she has been featured internationally. Her art often depicts ecological relationships, light, and aspects of transformation, and her favorite pieces have an element of surprise in them.
Monday – Thursday 10:30 – 7pm
Friday and Saturday 10:30 – 10pm