John White has had a blessed life. He is a happy man with a twinkle in his eye and a full heart who understands just how lucky he has been.
The son of a brewmaster in San Francisco, John was on track to follow in his father's footsteps (or become a professional golfer, a whole other story) when offered a job in the brewery industry in South America that would require some 'single line drawing'. In his search for a drawing class, he stumbled upon the Giacomo Patri School of Art Fundamentals For The Absolute Beginner, was offered a free drawing class…and the rest as they say, is history!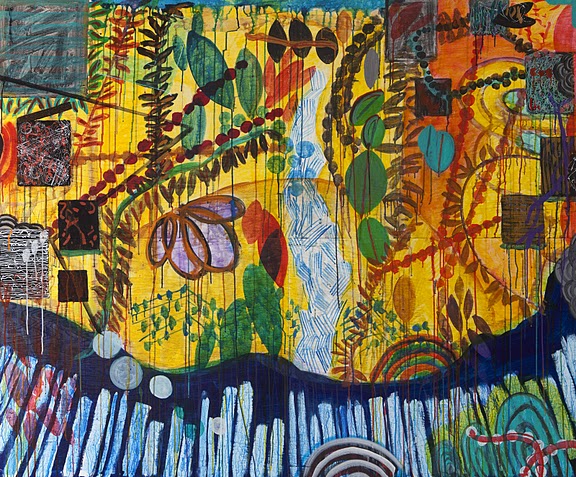 When John speaks of artist/activist Patri he becomes emotional. Mr. Patri opened the doors to a world unknown to the young man and White soaked it up. He gave up everything and moved into the school: lived and breathed The Arts and eventually taught at the school before going to Otis in LA.
After Otis, John moved into a studio in Venice ($50/mo.) and worked as a night watchman at a phsychiatric hospital. This job morphed into Mr. White becoming a counselor for patients about to be discharged. Sitting in the office with a friend one day, he saw a young woman, a new employee, walking down the hallway. "Here comes trouble", says he of the future Sylvia White …….and so it began! Helping John organize the mound of boxed mail under his mattress (including a grant he had not responded to) started Sylvia on her path of helping artists to succeed. (The Sylvia White Gallery www.artadviceonline.com)
John has had a career as an artist, performer and educator. He taught at UC Irvine for 17 years, so talking with him is like taking part in a favorite History of Art course! He has a way of making even the bad times sound like you wish you had been there. He is always filled with gratitude for the myriad of blessings in his life. Listening to him, I am aware of a courageous and willing spirit that took full advantage of all the blessings and opportunities put before him! He just was the right man with the right attitude in the right places at the right times!
As I look around John's studio in the rear of the Sylvia White Gallery building in Ventura it is filled with eye candy: sketches on board, on paper, on scraps, stacks of finished work and walls filled with works in progress. The color dances around the room with an infectious joy and the shapes lead happily from one story to another. He has paintings stacked from his recent retrospective. Lifelines: John M. White A Retrospective of Performance, Installation, Sculpture, Painting & Drawing.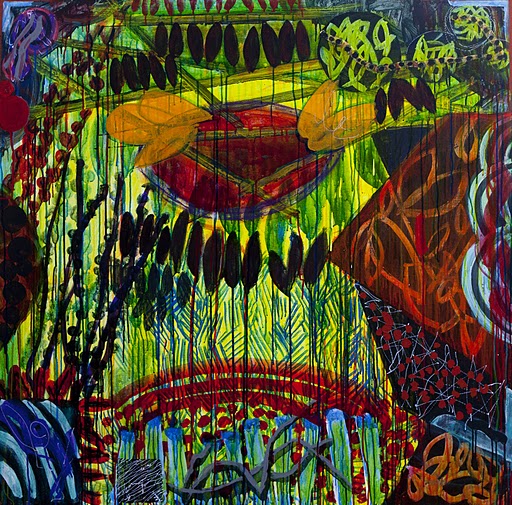 John's recent paintings for his breakthrough series, Solimar Beach Elements, are filled with the color and "shorthand renderings of nature's abundance"*.They draw your attention in and toss it around as if you were standing on the dune. Despite all the color and joy, there is nothing sweet about John's work.** White is working on a new series that promises to be a thought provoking, multi-layered experience for both the artist and the viewer.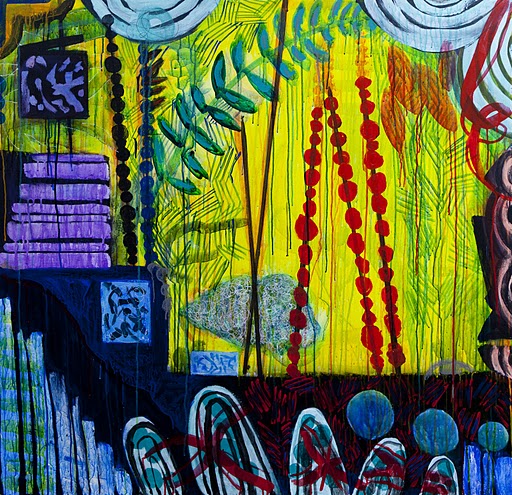 John White exudes a contentment with what has been, what is, and an excitement as to what is to come.
As I'm leaving the Gallery, there is pleasant banter between John and Sylvia and a sense of ease and grace in the building that I feel honored to be privy to. Thank you John!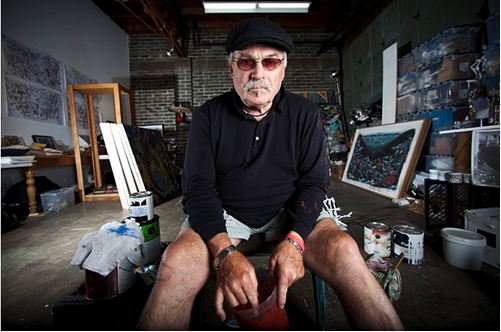 *from catalogue for Lifelines: John M White excerpted from Lies, Marks & Matter in John White's Art by Betty Ann Brown
**from review of Solimar Beach Elements by Ashleigh Norman