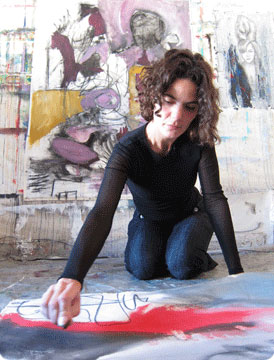 RIMA MUNA
Rima Muna, though she has been living in Ventura for a while, has recently started working in a studio at the Bell Arts Factory with Maribel Hernandez and showing her work more publicly locally. Society805 recently conducted the following interview with Rima via the internet.
S805
Where were you born? Where did you grow up? When did you first know you were an artist?
RM: I was born in Beirut, Lebanon. I grew up overseas in England, Greece, and Dubai. I was always drawing. It wasn't until high school when my friends would ask me to draw delicate illustrations for biology class that I knew I had a talent that I could pursue …
S805
How did your unique international upbringing influence and encourage your interest in art?
RM: My parents immersed us (my sisters and I) in art and culture at a very young age. When I was a kid, we went to Paris and London and went to lots of art museums and shows. They encouraged me from the beginning, and travel helped broaden my perspective on life and art.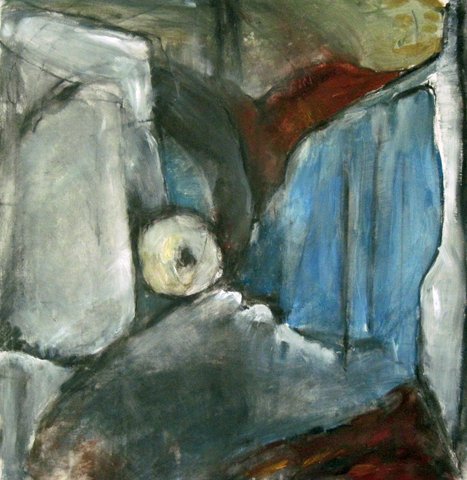 "Sisyphus" 30x32 acrylic on canvas
S805
What media do you work in? Which do you prefer to work in?
RM: I work in acrylic paint mostly. I like using graphite pencil as well. I like to work on canvas and my paintings can be pretty large.
S805
Who or what are your biggest influences?
RM: When I was in high school, my biggest influences were the Impressionists (especially Monet) for their color. Later, the Abstract Expressionists (de Kooning, Kline) for their passion and movement.
S805
What is your art training?
RM: I studied graphic design and photography at University of Oregon. My degree was in visual design so it meant I took a range of classes from performance art to figure drawing classes. It was varied. It wasn't until I graduated that I became interested in painting. I earned a Masters in Art Education from UCSB and taught art to high school.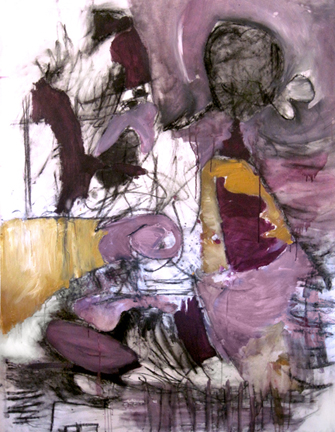 S805
Tell us a little about your experience as a High School Art Teacher. Were the students generally receptive

to

learning

about

creative mediums?
RM: I had great fun working with high school students. They were really receptive to all mediums …
S805
What is your creative process like when you begin working on a new piece of art?
RM: I start with an emotion, a piece of music. I like to be quiet first and listen to the authentic marks that want to come out.
S805
Are you a resident of the 805? Where is your studio?
RM: Yes, I live in Ventura and my studio is located at Bell Arts Factory (Studio #80) on Ventura Avenue.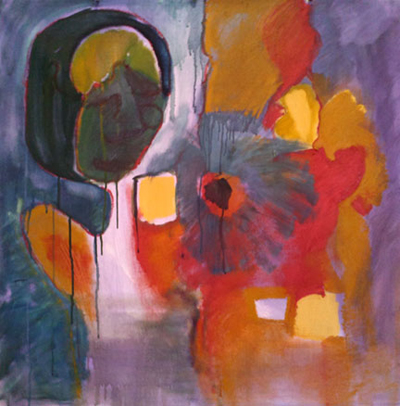 S805
What would we see if we were to walk in your studio right now?
RM: My show for the month is about celebrating Mexico. It is a collaboration between myself and my studio mate Maribel Hernandez and you would think you just walked into a room in a house in Mexico! It is a lot of fun.
S805
What would you like people to know about your work?
RM: My paintings are healing and transformative. Someone asked me "How long have you worked on these paintings?" I said "All my life because I bring who I am and all the experiences that have made me who I am, to the canvas." My soul to your soul.
Please visit Rima's website